User:NoelWilson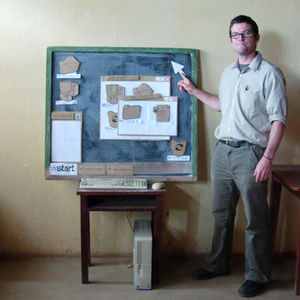 Team Culturing Information
WHO are you?
Name 'Noel Wilson'
Location (city, country) 'San Francisco, CA, USA'
Contact Information (email, skype, phone) 'noel@catapultdesign.org'
Picture
Introductory Video
Resume/CV 'Industrial Designer, worked in rapid prototyping, children's playgrounds, freelance in Australia, wood & metalwork training in Malawi, 'bicycle empowerment' also in Malawi, freelance in London, and now Design Consultancy with Catapult Design in San Francisco'
WHY are you motivated to support/develop this work?
Do you endorse open source culture? 'I see it as natural phenomenon, that concepts of ownership have been layered on top of. I endorse finding harmony between the two and believe experiments like GVCS are a step in that direction.'
Why are you interested in collaborating with us? 'I want to experience the methodology, actions and outcomes of this experiment'.
How do you think that the GVCS can address pressing world issues? 'Patiently'
What should happen so that you become more involved with the project? 'Improved personal time management. Professional engagement.'
What are you missing in the project? 'A clear illustration of the concept aimed at the layperson (just found the .org website , big step in the right direction) '
What are your suggestions for improvement of the project? 'Improving concept illustration. Improving presentation simplicity '
WHAT are your skills?
List all of your skills in these areas: Communications - Organizational - Computer Support - Finances - Design - Natural Building - Electronics - Automation - Metallurgy - Engineering - Fabrication - Agriculture - Energy - Architecture - Video/Graphics/Art - PR/Marketing - Education - Construction - Industry - CNC - Chemistry - Product Design - Other'
'Product Design & Visual Communications'
How have you already contributed to the project? 'I have only written a blog about GVCS so far'
HOW can you help?
How are you interested in contributing to the work of GVCS development? 'Product Design & Visual Communications: CAD, sketching, graphic/visualisation generation.'
Can you volunteer to work with us, and if so, how many hours per week? 'I can only volunteer a few personal hours.'
Are you interested in working with us for pay? If so, what services can you offer, and what is your hourly or per-project rate? 'Professionally through the firm I work for I may be able to engage with GVCS. We have two SWX licences (I know this may have an open-source resistance paradox), and good CAD & graphics capacity. The rate would depend on the project details'
Are you interested in purchasing equipment from us to help bootstrap development? 'Not at this time'
Are you interested in bidding for consulting/design/prototyping work? 'Yes'
Are you a True Fan? If not, why not? 'No. I can only contribute my skills as a resource. I will call myself a genuine fan though.'
Would you like to see yourself working with us on a full-time basis? 'Not at this time'
Are you interested in being part of the world's first, open source, resilient community? The GVCS is the preparatory step for the OSE Village Experiment – a 2 year, immersion experiment (2013-2014) for testing whether a real, thriving, modern-day prototype community of 200 people can be built on 200 acres using local resources and open access to information? We are looking for approximately 200 people to fill a diverse array of roles, according to the Social Contract that is being developed. This may be the boldest social experiment on earth - a pioneering community whose goal is to extend the index of possibilities regarding harmonious existence of humans, ecology, and technology. 'I need to learn more about OSE & GVCS before I answer this question.'