50 hp Power Cube
1641 cc - 60 hp
CAD
Download Sketchup - File:Pc50.zip
Note: This model is a first attempt at framing a Volkswagen engine in a Power Cube. The pumps shown are crude models of triple pumps for powering three independent hydraulic circuits for a LifeTrac.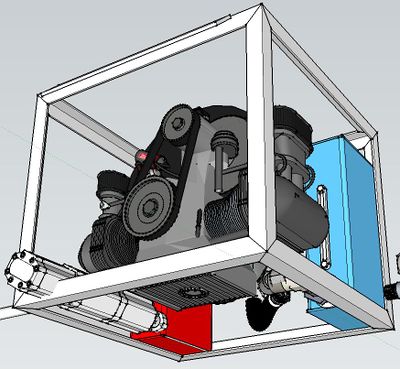 Note: This model shows a cooler that was used for the prior 28 hp power cube. For updated cooler information see the following link: Selecting A Cooler
Next Steps
Next steps are to design a light weight Power Cube of 50 hp for the OSE Car - as in OSECar Rhizome. Integrate with work of Yann Log. *Make it out of aluminum for car - http://opensourceecology.org/wiki/50hp_Power_Cube. Build on June 23, 2013 Gary work - File:50hpCube.skp
Use vw 50 hp
Use mitered corner aluminum - 1/4"x2"x2" angle
Fit in fuel tank - 5 gal. Secure off shelf or weld
Source a 28 gpm pump from surpluscenter, at the RPM of the VW
Get a hydraulic cooler and fan sized to 2x the existing power cube
Get a hydraulic reservoir - off-shelf or weld, aluminum
With this design, we can take it to a welder. We can CNC plasma cut the aluminum. 1/4" for the sides, essentially same as former power cube but aluminum instead of steel.
More
Assume that the Pump mounts directly on top of the bell housing of VW engine
Use existing dimensions of engine compartment of Wikispeed in Sketchup or OSE Car in Rhizoma
The engine may stick out the top of the Wikispeed engine compartment - but that is ok.
Select pump for RPM of VW bug engine
Use Hydraulic Calculator from Surpluscenter
Links