D3D Plotter Log
Sun Nov 7, 2020
Took 2 hr 24 minutes - stippling takes a long time.
Fri Sep 11, 2020
Excellent results with sine wave squiggles - see Melanie Log. Print took 28 minutes on D3D Universal 2. Card stock used. Lots of ink used, with ball pen.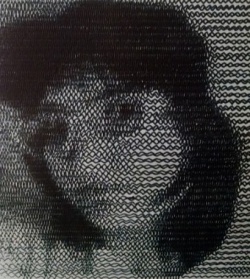 Tue Sep 1, 2020
Used File:Doesitpenplot.zip - 20:30, 30 August 2020 version.
Sun Aug 30, 2020
Fri Aug 28, 2020
Using D3D Universal 2 and Gcodetools in Inkscape, Melanie Log generated this and Marcin Log plotted with the D3D:

Using File:Address.gcode.zip
Result of address: lifting is not found in code.
Using File:Ohlogopointillism.gcode.zip - get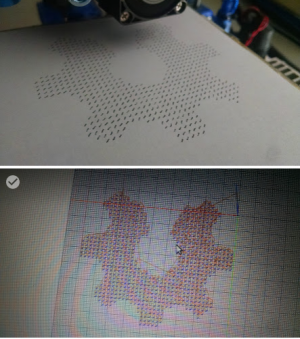 More pictures at https://photos.app.goo.gl/7nbzcjjrx5aXbT6ZA
The OSH Logo is great - lines are drawn, not points. Proper lift between lines exists. The deflection in the arm of the D3D Universal provides the 'spring' action - no dedicated spring is needed.