Hay Rake/Research Development
Research
Hay Rake Function is to move hay into windrows for ease of baling.
Window is a row of cut hay or crop.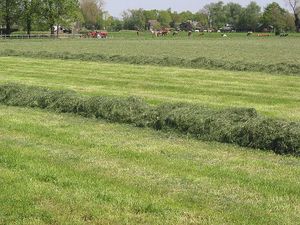 Baling is the process of compacting cut hay into round or square packages called bales.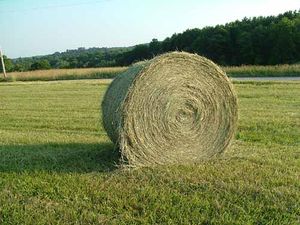 Theory
Raking Action continuously lifts and contacts the hay at an angle as to move the hay to one side of the hay rake.
Relevant Links
Conceptual Notes
Development
Overview
Raking System
Reel
Reel Plate - is the metal component that holds the reel bars in place. The reel bars are joined between two reel plates.
Reel Bar - are long metal square bars that connect the two reel plates and provide a mounting surface for the tines. 4 or 6 reel bars should be used.
Tines - are thin bent metal bars that attach onto the reel bar for raking hay as the reel rotates.
Reel Coupling - is a metal component that connects the reel plate to the shaft of the reel hydraulic motor.
Reel Guards - are fixed metal round bars that mesh with the front of the rotating reel and prevent hay from catching onto the tines and being hurled behind the hay rake.
Hydraulic System
Reel Hydraulic Motor - rotates the reel when powered.
Structural System
Top Frame
Top Frame - consists of two metal square tubes that connect to the tow pin and jaw at the front, the top reel frame around the middle, and the wheel mounts at the rear.
Reel Frame
Top Reel Frame consists of two metal square tubes that each connect to two points on the top frame and two points at the top of the reel guard frame.
Reel Guard Frame consists of two metal square tubes between which mounts the reel guards and at the side of which fastens the hydraulic motor mount.
Reel Hydraulic Motor Mount
Design
Industry Standards
| Industry Standard | GVCSTool |
| --- | --- |
Funding
Wanted: List of expenses for prototyping and documenting GVCSTool
Peer Reviews
Wanted: Peer reviews from the scientific community regarding the R&D of GVCSTool
Experiments and Prototypes
Wanted: Empirical data on performance
Experimental Results
Prototype Notes, Observations, etc.
Failure Mode Analysis
Testing Results
Recommendations for Improvement