Humanity Plus Presentation
See original blog post: http://blog.opensourceecology.org/?p=1361
You can view a video of Marcin Jakubowski's presentation on building post-scarcity, resilient communities at the Humanity+ Summit:

Watch live video from techzulu on Justin.tv
You can download a copy of this presentation, minus the text below, in PDF format.
Slide 1
Thank you. I will discuss our work on building the World's First, Replicable, Post-Scarcity Resilient Community.
Slide 2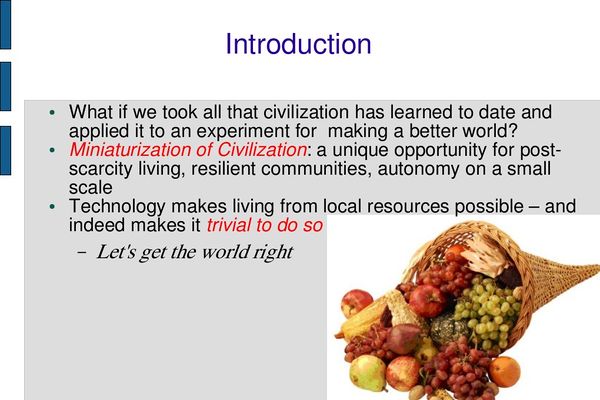 Imagine if you could take all that society has learned to date, and applied it to creating a better world. You would come up with post-scarcity, resilient communities. This can be done by miniaturizing civilization - or building a complete community on the smallest possible functional scale while retaining prosperity and autonomy. This is a well-defined problem statement - and the nature of our experiment. Why bother? Because the world is made up of communities - if we can get one right - we could get them all right.
Slide 3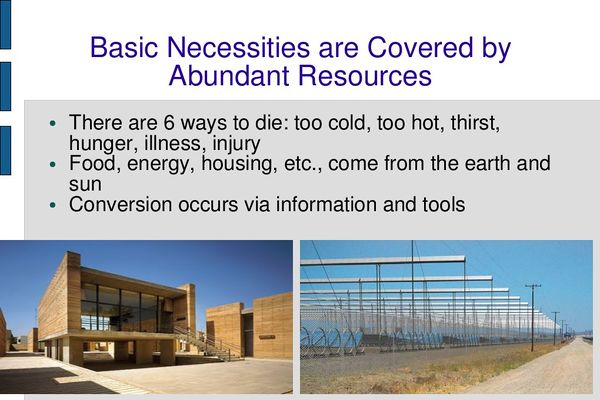 If energy comes from the sun, and nature provides all materials, then prosperity comes down to access to energy. For the USA - all the energy it needs could be produced from .3% of its area - using existing, commercially feasible solar concentrator technology. Energy is not an issue. Next.
Slide 4
If we have energy, then we can have material prosperity. Take ubiquitous clay, and you can smelt aluminum. This is also known as advanced civilization. Take ubiquitous sand and you can refine silicon. This is also known as the digital age.
Slide 5
For technology - space age Star Trek replicator is here. With 3D printing, you can download a design from across the globe and print it out to create a MiniChina on your desktop.
Slide 6
We are developing a small subset of technology known as the Resilient Community Construction Set (RCCS). This is a small set of tools sufficient for building advanced civilization. We include cars and tractors, machinery, power generation, and adaptable digital fabrication, among others. The digital fabrication component can be used to build a copy of the entire toolset from scrap steel.
Slide 7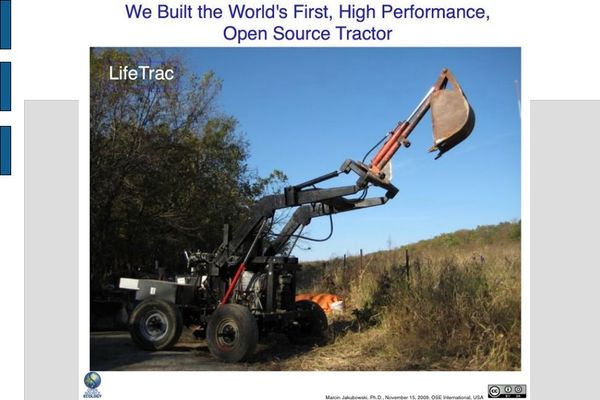 We have built some parts of the RCCS: the open source, high performance tractor, LifeTrac - the charismatic megafauna of our operation. We'll cut the tractor from steel...
Slide 8
with our open source CNC torch table, which can also make a copy of itself.
Slide 9
...and Compressed Eearth Brick (CEB) press for making building blocks. It is open source, it was crowd funded including a fabrication workshop, and you can now buy one - the world's first, high performance, OS, CEB press. hgytffrr
Slide 10
RepRap took the bottom out of commercial 3D printers with factor of 30 cost reduction. We have shown similar for the CEB press- $2500 in materials - while the next competitor costs you 10-20 times more off the shelf.
Slide 11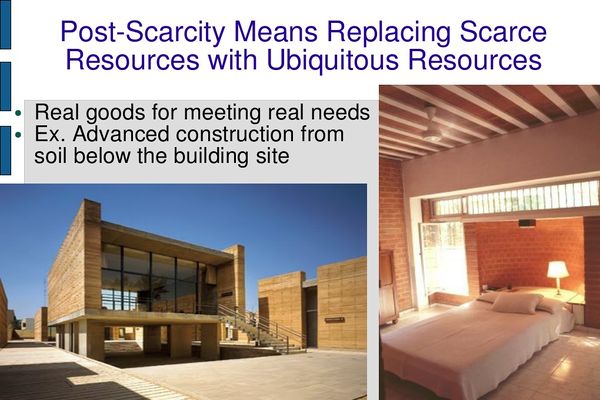 Is this an example of post-scarcity economics for real needs? How about if you can build dirt-cheap, advanced structures, from soil below the building site.
Slide 12
All in all, we're interested in resilient communities - replicable everywhere - or Viral Village. We want to build ecocities capable of advanced levels of production, integrated with nature and with their supporting natural resources. If a given community uses its local resources to live - the population explosion is unlikely because of direct resource feedbacks.
Slide 13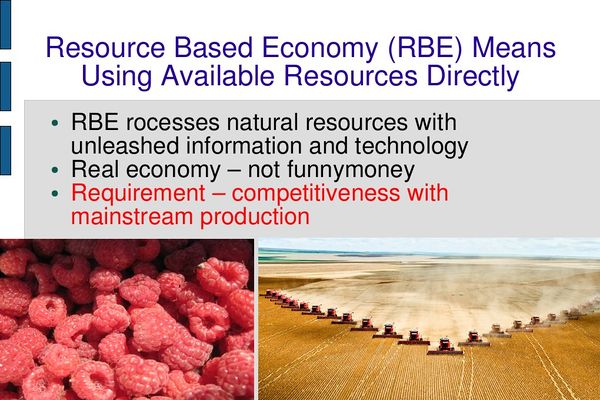 Can a resource-based economy work? A resource-based economy means that we are processing natural resources around us using unleashed information and technology. We then create an economy of products, not federal reserve notes from thin air. The only requirement for success is competitiveness with mainstream production - which we're beginning to demonstrate.
Slide 14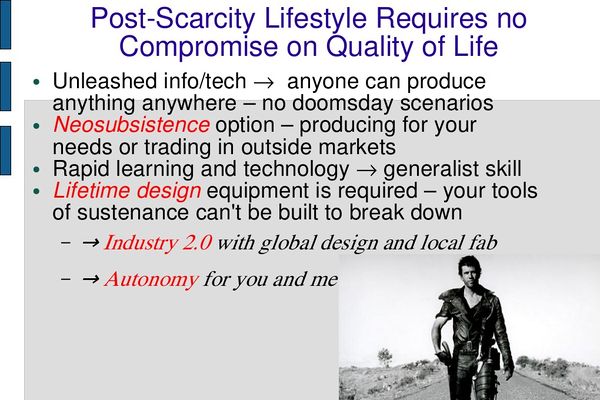 What is the lifestyle? In a system with abundant energy and optimal productivity, need be no restrictions on prosperity. As technology drops in size, and information flows increase - the inevitable is technological recursion where anyone can make anything anywhere. The option of neosubsistence arises - you can voluntarily choose to meet your needs or to trade. Generalist skill and lifetime design equipment is required - your tools of sustenance cannot be built to break down. That's our experiment - in applied general systems theory. Now add Industry 2.0 via global design for local production - and you have autonomy for you and me.
Slide 15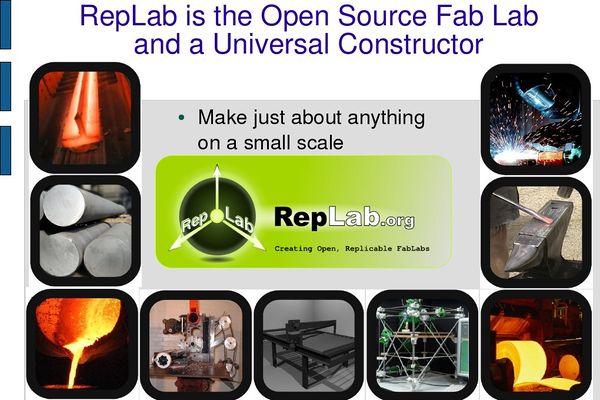 This brings me to fabrication aspects with RepLab - the open source fab lab - or universal constructor. You may have heard of the fab lab - the lab scale microfactory where the claim is that you can make just about anything. Large factories of yesterday now fit on your desktop.
Slide 16
The fundamental question is - do people want to become integrated humans - much more powerful and capable than yesterday? Can we reconnect to ourselves, to others, to nature? Production - or use of nature to meet needs - is a deep way to reconnect.
Slide 17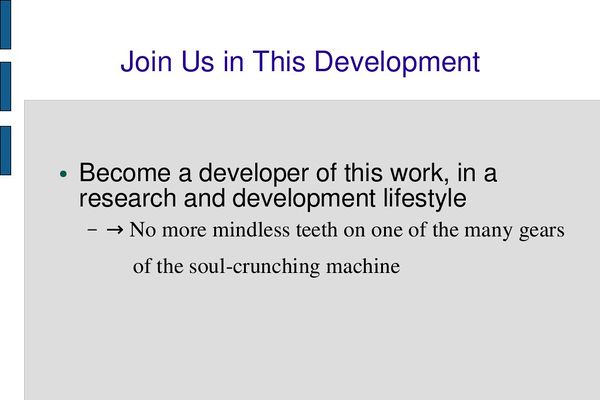 Join us. Become a lifetime developer/investor with a R&D lifestyle where you're the guinea pig, you eat your own dogfood. To do this, the requirement is quitting to be another mindless tooth on one of the many gears of the soul crunching machine.
Slide 18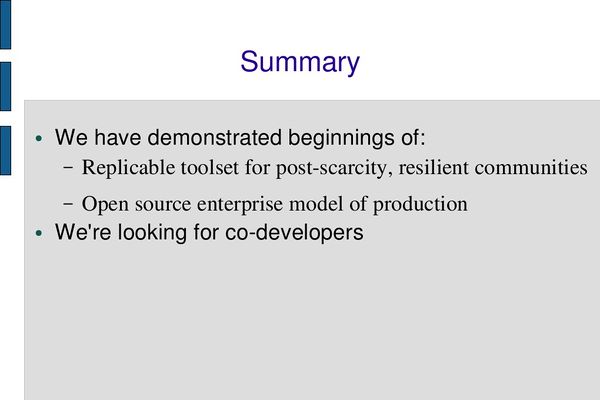 In summary - we've demonstrated promising initial results on:
replicable toolset for post-scarcity resilient communities
open source business model as a viable enterprise, where the product is resilient communities
Slide 19
Support this very important work. Become a True Fan at $10/month. Or, go into the deep end and become an on-site investor/developer. The bottom line is autonomy, full freedom to pursue what you need, without compromise. Start a new system because this one is broken - and evolve to freedom.