Elemental
About
Incremental housing is a build model where the owner builds/buys only a part of the final home. Measures are taken to make additions easy, so that the house is affordable up front and can be expanded as needed. This is simply speaking - start with half a home at an affordable price, and add on as needed. OSE follows the incremental housing model with most of its builds, such as the Microhouse 1 and Seed Eco-Home.
World class incremental architecture - Elemental - in housing/architecture - [1]. List of known publications that featured Alejandro Aravena - [2]
See the concept explained:
OSE Plans for Incremental Housing in 2022
Why do we call our house the Seed Eco-Home? One of its core features is that it has several design features that allow for expansion - as 'incremental housing' - where the home can grow as a family and its needs and resources grow with time. The 1000 sf version is a small home that can be expanded readily as needed. We pre-frame 2 door apertures - for ready expansion to the back - to go from
1000 sf like this core Rosebud module:
to 2000 sf like this: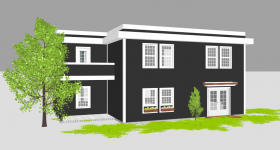 .
All the windows are framed so they can turn into doors if additional rooms are built. And the flat roof can easily be taken off to expand vertically. The house can be extended readily in the lengthwise direction. We think that is a huge value proposition. The costs? Our sale price for a turnkey build including our service fee is $129k + land for the 1000 sf Rosebud model - and $192k + land for the expanded model at 2000 sf. This means that it costs only about 30% more to get 100% more size. In other words - it becomes attractive cost-wise to add on to an existing home - instead of having to buy another larger home elsewhere. Note that these prices may fluctuate with market conditions and significant differences can occur if there are significant impact fees, high utility connection costs, or other site-specific barriers.
Prior Work
Our Kickstarter video from 2016 describes the promise well:
6 Year Review of Open Source Architecture
Blueprints
Articles