Kevin And Kathy Nugent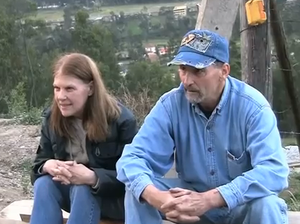 Team Culturing Information
last updated: 1. May, 2011
WHO are you?
Name - Kevin T Nugent / Kathy J Nugent
Location (city, country) - currently in Salinas, Ecuador
Contact Information (email, phone, Skype) -
kevinnugent7 (at) gmail (dot) com
skype name: soilsecuador
phone: 084574282
kjnugent78 (at) gmail (dot) com
Internet research for new and different technologies
Watching movies
Walks with my wife
My wife likes to read, watch movies, and go for walks
WHY are you motivated to support/develop this work?
Do you endorse open source culture?
We like and believe in the concept and what it can do for mankind as a whole. It has a commune type concept, but we like the way it can bring people together working for a common goal. It is very interesting.
Why are you interested in collaborating with us?
We think we can bring in and share some of our life experiences and learn a new way of life.
Are you interested in teaching about the GVCS?
Yes, we are contemplating bringing the concept back to Ecuador after working with you. We think this country could benefit tremendously using this concept for sustainable communities.
Are you interested in economic relocalization possibilities arising from the GVCS?
Yes, as stated above.
Do you want to use the GVCS technologies yourself? Do you want to build them yourself?
Yes, quite possibly.
Are you interested in starting up enterprise using the GVCS technologies?
Yes, as stated above regarding bringing this to Ecuador.
Are you interested in having the GVCS technologies fabricated by your local custom fabricator?
No, not at this time.
Are you interested in applying the GVCS to third world development? To redevelopment of crisis areas? To development of derelict areas in the developed world?
Yes
Are you interested in starting up Industry 2.0 flexible fabrication enterprises for your local community, by drawing from a global repository of freely down-loadable designs and fabricating using open source fabrication equipment?
Yes
Are you interested in the potential of the GVCS for developing local food systems?
Yes
Are you interested in doing academic studies/papers, publishing books, or doing other analysis of our efforts?
NoPossibly yes for my wife
Are you interested in financial investment opportunities arising from our work?
Not at this time
Are you interested in the distributive economic aspects of our work, and if so, how do you see this playing out?
Are you interested in building renewable energy production facilities based on open hardware (solar concentrator electric, wind, biomass power)?
Yes
Are you interested in building resilient communities based on access to the GVCS?
Yes
Are you interested in creating a bug-out hut using GVCS technologies?
Possibly
How do you think that the GVCS can help alleviate the instabilities of global monetary systems?
Making people more self-sufficient and needing less money to survive
How do you think that the GVCS can address issues related to resource conflicts?
How do you think that the GVCS can address issues of overpopulation?
By making smaller communities that are self-sustainable and getting people away from overpopulated cities with fewer resources
How do you think that the GVCS can address issues of resource depletion and environmental degradation?
By having small, self-sustaining communities using more natural ways for heating and cooling, building and farming, there will be less pollution and damage to nature by using local resources.
Do you have any other comments that you'd like to make?
What should happen so that you become more involved with the project?
We hope you can utilize our knowledge and skills to assist in the project and that we can later leave with the knowledge to re-create a similar project.
What are you missing in the project?
Nothing at this time.
What are your suggestions for improvement of the project?
By using a soil additive such as Top Seal you can build homes that are much stronger and roads, driveways and pond liners. Please see the video on You Tube called "Top Seal Road Movie" that shows how Top Seal is applied to a road. This is a project my company did here in Ecuador.
WHAT
What have you already contributed to the OSE project? (technical contributions, blogging about us, financial support, organizing events, translations, interviews, video editing, publications, publicity work, behind-the-scenes work, CAD work, wiki contributions, computer support, etc)
At this point, we have not contributed anything, however, we feel that our background and skills could be useful to you. I have experience as a welder and practical mechanical knowledge that I think would be helpful in the manufacture of the equipment. My wife has many years of secretarial/ administrative experience.
Communications
Organizational
Computer Support
Finances
Sociology
Yes, possibly in the future.
Home Economics
I have some experience managing small restaurants and consider myself a very good cook as do my family and friends. I can prepare a meal for 20 or more people.
Design
Building
Electronics and Magnetics
Automation
Metallurgy
Engineering
HOW can you help?
How are you interested in contributing to the work of GVCS development?
Yes, we are interested in spending up to 2 years at the project assisting in any way that we can.
Can you volunteer to work with us, and if so, how many hours per week?
See below
Are you interested in working with us for pay? If so, what services can you offer, and what is your hourly or per-project rate?
My wife and I are willing to spend up to 2 years at the Factor e Farm compensated by room and board and a small salary for clothing and incidentals.
Are you interested in purchasing equipment from us to help bootstrap development?
Not at this time
Are you interested in bidding for consulting/design/prototyping work?
No
Not at this time
Would you like to see yourself working with us on a full-time basis?
Yes, as stated above
Are you interested in being part of the world's first, open source, resilient community? The GVCS is the preparatory step for the OSE Village Experiment - a 2 year, immersion experiment (2013-2014) for testing whether a real, thriving, modern-day prototype community of 200 people can be built on 200 acres using local resources and open access to information? We are looking for approximately 200 people to fill a diverse array of roles, according to the Social Contract that is being developed. This may be the boldest social experiment on earth - a pioneering community whose goal is to extend the index of possibilities regarding harmonious existence of humans, ecology, and technology - as a beacon of light to benefit of all people on Earth.
Not sure at this time