LifeTrac GrabCAD Challenge
See challenge at GrabCAD - http://grabcad.com/challenges/open-source-tractor-lifetrac-6-challenge

Abstract on Design Goal: The following materials exhibit the current state of LifeTrac - Open Source Ecology's open source tractor. The goal is to take this design from a Mad Max ghetto rider to a quality, high performance tractor with articulated steering. The articulated steering is used to reduce wheel loads compared to skid-steering configuration - thereby simplifying the design of the wheel units drastically. We are currently designing the tractor for use with 1 or 2 Power Cubes - our 27 hp hydraulic power units. The goal of this challenge is to improve on this design based on past builds. See the results of LifeTrac 5 - and the numerous comments there on design issues in the videos. All details of this 'lifesize erector set' design are to be evolved until we have a satisfactory tractor. By helping this project, you are helping to develop a 'peoples' tractor' that can be built from stock parts - and that can be maintained easily by the user for a lifetime of service.

See intro video on the LifeTrac history -
The LifeTrac Story 2012. from Open Source Ecology on Vimeo.
Last Model - LifeTrac 5
This tractor has been deployed for testing at the Our School at Blair Grocery urban gardening project in New Orleans.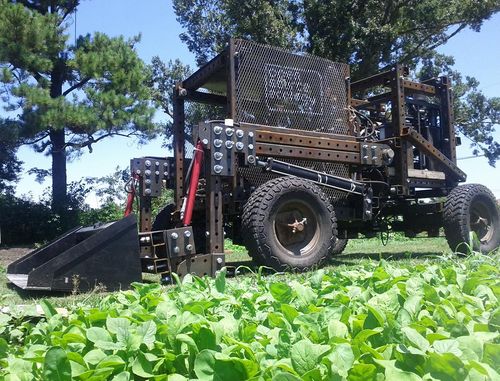 See LifeTrac 5
Existing Model of LifeTrac 6 - in Development
This one has one power cube. Loader cylinders need to be added.
Download Sketchup file (18MB): File:LifeTrac6.skp
If you don't already have Google Sketchup downloaded, get it Here.
Universal Constructor Set Pieces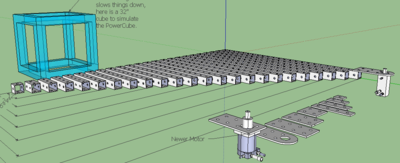 For the final product to be modular and easy to assemble, the parts you use in the frame must come from the Warehouse
General Requirements
Cab Module Requirements
Click edit to access links in the drawing.
The hydraulic connections to and from the cab are all organized on a single panel: see Hydraulic Panel concept.
Loader Arm Requirements
Power Cube Module
Quick Attach Module
We are using the Bobcat Standard Quick Attach module:
Bobcat_Standard_Quick_Attach_for_LifeTrac
Modular Wheel Units
These wheels mount on the frame tubing as quick-connect modules for the tractor: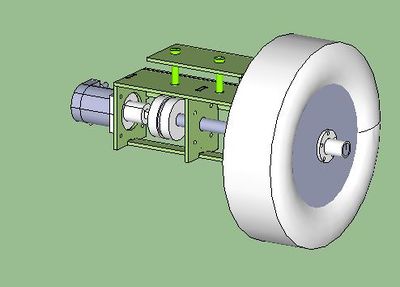 This is a detail of the wheel module frame:
Rear Wheel Base
This is the current design of the entire rear wheel base.
Steering Pivot
This is a detail of the suggested pivot that joins the front and rear sections of the tractor.
General Requirements
LifeTrac 6 Product Requirements
First Cut
Links
Other Links