LifeTrac III
The LifeTrac Story 2012. from Open Source Ecology on Vimeo.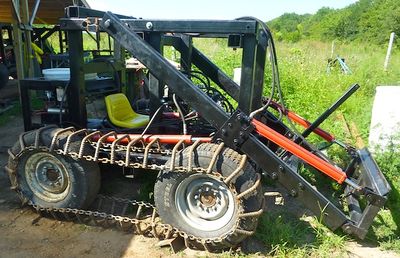 Overview
LifeTrac III is the third iteration of the LifeTrac. It closely matches LifeTrac II, but it is 18" shorter and the rear loader has been removed. This is the documentation from the Civilization Starter Kit DVD v0.01:
 4.1  Tractor Design Rationale, Product Ecology
 4.2  Tractor Master CAD File 
 4.3  Tractor Bill of Materials
 4.3-4.4 Tractor Fabrication Manual
 4.5  Tractor Assembly - full assembly video (12 min)
 4.6  Tractor Fabrication Drawings
 4.7  Tractor User Manual
 4.8  Quality Control Checklist

Current Design Status
2011-12-24
Several prototypes of the design have been made.
Testing has occurred and a need for the LifeTrac IV is apparent to address safety concerns and improve the capabilities. Head over to LifeTrac IV R&D to see what some of these issues are.
Bill of Materials have been created but unknown if they are complete and accurate. Model is also incomplete.
No engineering done on the LifeTrac III
Safety Concerns
No structural engineering analysis has been performed on the LifeTrac. If you choose to replicate this product you are doing so at your own risk and with this understanding. We will be performing analysis soon and will post those results as we get them.
There is also an email to OSE Europe mailing list describing some concerns about LifeTrac safety of use, and points out possible issues with: Frame, Steering, Brakes and Roll-Over Protection.
General Specifications
Current Needs
Reorganize the main R&D page to follow some sort of structure and logical flow so it can be referenced and used for future versions
Project Leaders