Multimachine/Research Development/Working Concept
Another concept for a mill. This bedmill has a high ability to replicate itself while kneemills don't have this. A kneemill hasn't enough longitudinal travel to machine the table or the longitudinal bedways of another knee mill. Also its rigidity to machine parts of another knee mill is doubtful. A bedmill can easily manufacture its own bed in two parts, these two parts have to be assembled while setting up the mill. A bedway in several sections is standard with large milling machines.
Bedmills provide a stable base for CNC and don't have such an difficult design as the knee.
See also Multimachine_Concept_Dan_Granett This is a concrete mill, where the head is attached to a top piece. Head can be rotated for horizontal or vertical milling.
Head to motor connection. Spindle to be attached.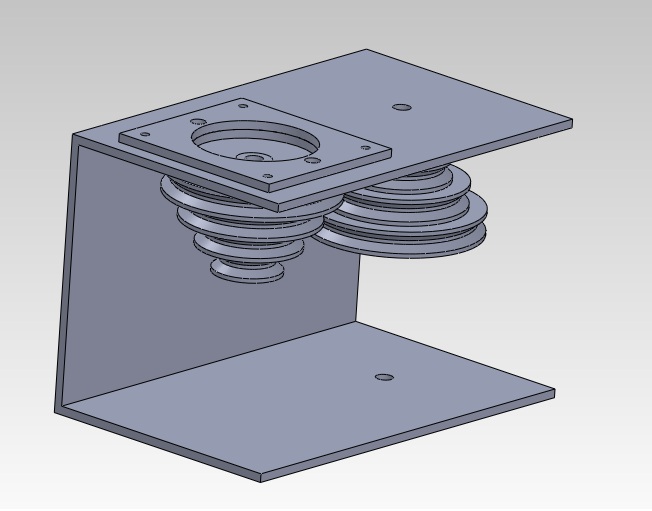 For source, go to Open Pario Multimachine repository - [1]
Past revisions and progress flowchart located at: [2]
For source, go to Open Pario Multimachine repository - [3]

solidworks is working again I Will try to upload models of the spindle in the next couple days and designs for the slides as well. I have started making production drawings and writing steps for manufacturing each of the parts.

I'm having a few issues finding the manufacturing method for dovetail tapered gibbs. If anyone knows how they make them or where I can start looking, I have information on how to finish scrape it but the geometry i cant figure out.

bearings for spindle
33012/Q 60mm by 95mm by 27mm tapered roller bearings 2X ~100$ each

spindle pipe
2 ½" XXHY pipe 18"? 2.375 nom O.D. ~30$
3 ½" sch 80 pipe 12"? ~30$
2 x 1 ½ x 12" steel flat bar ~20$
pipe XXHY for nut on end of spindle
v-belt pulley
spacer/seat for rear seal (could be v-belt pulley)
seals 70mm by 95mm by 12mm (seats on pulley or spacer)
seal seat for front of spindle

part sources
SKF for bearings and seals but equivalent avalible from most major bearing companies (price check through mcmaster.com or internet)
west marine for resin epoxy system (523.98 for 5.29 gallons, mixed with 85% aggregate yields 35.25 gallons of E/G concrete, 4.715 cubic feet
landscaping supply for aggregate (I bought river stone 3/8in size for $4 for a five gallon bucket or some such, $6-7 per cubic foot, and play sand can be bought for ~$6 per cubic foot)
steel prices based off of discount steel (http://discountsteel.com/)
books / resources
workshop practices book series
compilation of E/G thread from practical machinist (link Tips and Tricks for castig) (you may have to be logged in as a member of the group to look at the file, I'll ask if i can copy the file onto our wiki)
machine tool reconditioning by Edward Connelly

sites
http://groups.yahoo.com/group/multimachine/
http://finance.groups.yahoo.com/group/Multimachine-Concrete-Machine-Tools/
http://www.cnccookbook.com/ (work with E/G http://www.cnccookbook.com/CCMillEpoxyFill.htm)
Proposed SubProjects
Spindle (eventually to incorporate hydrostatic bearings if feasible)
dovetail ways (ridged ways for heavy machining)
round ways( cylindrical ground for any length ways)
hydrostatic bearings (using replication techniques and epoxy granite)
anti-backlash nut for ACME thread (design on multimachine yahoo group)