November 23, 2012 Collaborative Production Run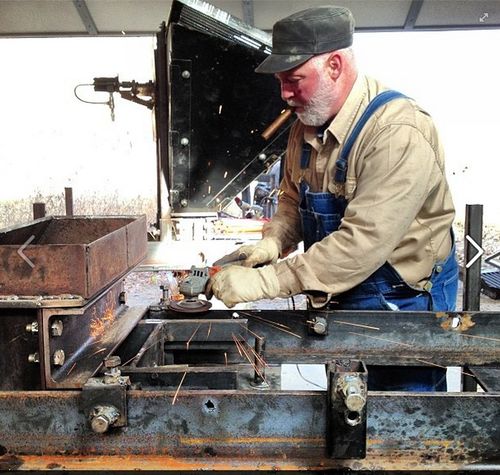 See more Instagram photos - [1]. See also Prototypes Built and Cost.
Results - We have achieved an almost complete build of the Brick Press in 2 days with 8 people - down from 4 days in the first Collaborative Production Run. We had the first time where the CEB Press user (Barry Alexander, building contractor and entrepreneur, above) participated in our Collaborative Production Run. We built a machine almost completely in two days: grate, hopper, hopper supports, arms and legs, hopper seat, frame and covers, and drawer (needs 1 more hour of welding). We did not mount the cylinder, drawer, and compression chamber spacers. Electronics were prepared ahead of time. We pulled the main cylinder from an older machine and mounted a new abrasion resistant plate on it, and pulled the shaker assembly from an older machine. The solenoid valve and balance of hydraulics did not arrive in time. We welded the frame verticals from 1/2"x4"x6" angle - special order steel did not arrive in time. Keys to success were highel level of modularity: modular design of hopper supports, hopper, grate, sensor mounts, shaker, and valve mounts. See Future Directions for CEB Press Collaborative Production Run.
see CEB Press. See License. Follows rules of

.
Preparation
Change Notes
Design Modifications
Based on modular rear hopper supports, add quick attach to front hopper supports as well

Shorten horizontal frame u-channels from 22" by 1.5" - to allow for the front hopper support to be mounted on the primary arms

Simplify shaker shield to a single flat plate
Add a more robust, modular holding mechanism for sensors
Add safety disconnect for machine turn-off
Can we get a better packing fraction on Part 24 of CEB IV Master Index?
Shorten rail by 2" at the front of the machine, leave hanging 8" beyond drawer chamber at the rear.

Use 1"x3" bar instead of 1/2"x3 (or 1/2"x5/8") and 1/2"x2"

Lengthen hinges to 34" for the hopper and 24" for the grate supports
Reduce bottom pin bushings from 1.8" to 1.5"
Make bushing for bottom cylinder mount to frame the same as the end tube - 1.5"x2.5" DOM tubing - to reduce material list
Remove bolt holes for back of hopper supports (shaker side) and clamp instead on top with 1/2"x6" flat.
Fabrication Drawing Corrections
Fab Drawing (Part) #151: Correct spelling of Brake
Part #153 & #154: change wall thickness from 1/2" to 1/4"
Part #90: update to heavier hinge. Punching holes is preferred to drilling. Update length to not drill.
Fabrication Diagrams
Master Fabrication PDF
Master Index
Fabrication Abstract
Build all parts from raw material. Team 1: hopper sheet metal cutting with 2 plasma cutters, hinge cutting to size with ironworker, punching of holes with hinge put in place on front and back hopper sheets. Team 2: does all cover plate sheet metal. Team 3: Ironworker team does pieces and holepunches them. grate fab after 1/4x2s and angle pieces are sheared on ironworker. Team 4: Cold cut team. Team 5: Bandsaw Team for 2.5"x3/16" tubing. Cuts metal for drawer at same time.
Optimization Notes
Hole puncher needs to have operability by 1 person with a well-positioned valve. 2 plasma cutters need to be in place. 4 welders need to be available. 2 acetylene torches should be available. CNC torch table will get hopper fab down to 1/2 hour for cutting. CNC torch table will optimize metal cutting for drawer and frame. Ironworker needs to be upgraded to handle 1/2"x4"x6" angle.
Production Run Notes
Record all notes on work flow, mistakes in fab drawings, procedure insights, challenges here. Mark time for each step under corresponding section below.
Hopper
Steps
Cut 4 sheets
Cut hopper hinges to size
Tack hinges
Match punch hinge holes
Assemble hopper, tack hinge to sides
Finish weld
Quality Control
Have second person or PD (Production Director) verify all hopper pattern
Hinges are 34" and 24"
Hinge tacked prior to match hole punching
3/4" punch
Hinge begins 3" off corner, first hole 2" off edge
4 holes total per side on rear and front pieces, spaced at 10"
Omit holes in middle of hopper piece
Holes 1.5" off edge
Sheet 1-4 labeled, Front and Back side of each piece Labeled
Nuts welded on back side of front and back hopper pieces
Hinge tacked only in place, welded fully on table
Time Estimates + Actual (Actual Work + Transition) - 2 People
Note: Write down time taken to do step + transition time and any optimization notes
Setup - 30 min
Marking - 30 min
Cutting - 30 min
Tacking hinges in place - 10 min
Punching - 15 min
Assemble hopper and tack - 30 min
Finish Weld - 30 min
Mark and tack hinge to side plates
Match holepunch with 3/4" bit
Weld nuts on the back of rear and front hopper sheets (88, 89 -> 88', 89')
Assemble and clamp bolted on sheets - permanent weld to side sheets (87->87')
Grind off tacks and bolt through
Grate
Steps
Cut 4 frame members
Cut sheet metal pieces- just long strips - just long ones so we make bend by welding
Tack and match drill hinge supports
Tack and match drill soil deflector strips, label soil deflectors
Weld nuts on back - 3/4"
Cut grate members
Weld grate members
Quality Control
Hole spacing for hinges is in middle of frame
20" hole spacing - hinges
27" hole spacing - vertical supports
2 vertical supports are cut - one is 3", and other is 6" wide
Hole for vertical supports is 1.5" off top, 1" off edge
Corners ground for safety
Saddle
Steps
Cut sides (1/4") and interface plate (1/2")
Build interface plate first - weld 4 pieces
Hole punch 4 holes
Do not go further until the frame is complete
Match drill 4 holes on top of frame
Finish saddle: weld 4 nuts first, then weld sides
Quality Control
Work with interface plate ONLY to match drill holes on top of frame while clamping interface plate on.
Main Cylinder Fabrication Diagram
Arms + Legs
Steps
Cut arms to length - torch
Weld on tube holders
Holepunch (or mag drill) Primary Arms only
Match torch all of secondary arms and connection to frame
Quality Control
6' length +/- 1/2"
Grind corners for safety

27" off end and 10" space for main frame assembly
2&4" for secondary arm mount

Grond holes for spatter
Frame
Drawer + Drawer Rollers
Procedure
Shear all metal on ironworker

[3] 1/2"x5"x6"
[4] 1/2"x3"x5"
[4] 1/2"x3"x3"...

Begin welding belly-up: base (73) + press chamber (both of 76) + mid crosspiece (176) + outer crosspieces + at end do sides (72) + close with back (75) in that order for acccess to welding.
Cap with 74
Weld on rear 77, then eyes (78)
Finish with rails
Hopper Shaker
Hydraulics