October 2008 Funding
Donate Now
---
<paypal>1</paypal>
If you do not like PayPal, here are other donation options.
October 2008 Funding Goal: $3125 (see details)
Total collected as of Oct. 31, 2008:
Monetary donations - $2465. Last donation Oct. 30.
Remaining: $420
Collection period for October goes until the end of October. Here are other Wanted Items that we need for our work.
---
Why Should You Support Us?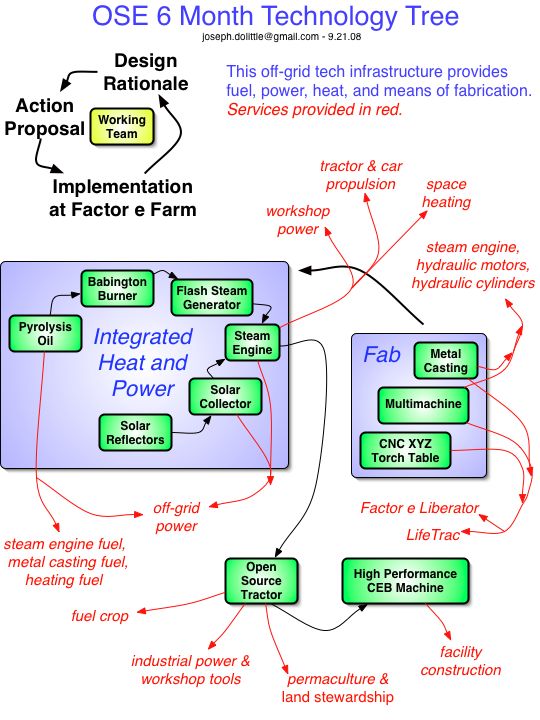 The bottom line is that this will happen with your contributions:

And here is what will happen without your support:

The greater program is building the world's first replicable post-industrial village - see presentation. The program is marked by community supported agroecology, community supported manufacturing, neocommercialization, digital fabrication, and high quality documentation of all the above. Our first complete product development cycle is the CEB_Press - to be open-sourced fully by mid-2009, including fabrication capacity of up to 4 machines per week. All funds go back to further open source development.
People
We are currently (9.23.08) recruiting 4 people to help with the CEB construction phase. If you'd like to participate or if you have suggestions, please contact us.
Update 9.24.08 - Robert Todd will be joining us tonight. It looks like Alex Rollin will be joining us here next week.
Need 2 more people. Contact us.
Why You Should Really Support Us
Our overall vision is deeper. We aim to develop a rigorous technique for Crowdsource Research, and a funding method for supporting world-class open source product development - as a viable alternative to corporate R&D. We're trying to go directly to the people for funding - for benefiting people directly. Imagine a veritable product development pipeline - for a decentralized, post-industrial system of production. We are interested in distributive economics - where wealth is distibuted freely because the enabling information is free- and local feedstocks provide the materials for economies of abundance. This is a scenario that blends ancient wisdoms with modern technology - for unprecedented prosperity on a small scale, in these times of great change.