Power Cube v15.6
Latest version: (download here - you can also download STL for printing)
Development Spreadsheet
Instructional
Frame Assembly
Other Modules
All the modules are linked on Page 1 of this document:
Sample 3D Print
Does not come out well if it's a monolithic small print of about 1 cubic inch size.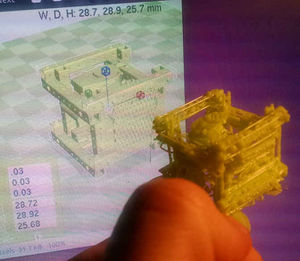 Introduction
The Power Cube, Version 15.6 is a powerful, portable hydraulic power supply that operates efficiently and with minimal noise. The design combines a 28 HP Briggs & Stratton engine and a fixed-displacement hydraulic pump that has proven to work well with OSE machines and for other compatible hydraulic machines. This version includes a frame of 4" x 4" tubular steel that provides a strong structural frame for mounting other power cubes or attachments.
The Power Cube marks the next level of quick connect modularity, making it easy to assemble, use and maintain and is standard for all hydraulic equipment in the Global Village Construction Set.
NOTE: This document is still under development and is not ready yet for "Prime Time" fabrication. This note will be removed when it has reached a "comfortable" level of completion.
Features
Compact hydraulic power source for OSE and other compatible hydraulic tools
Electric start, 28 horsepower air-cooled engine
Briggs & Stratton muffler for low noise level
Controls easily accessible for safety and comfort
Standard quick connect hydraulic couplers
Modular design simplifies maintenance and parts replacement
Removable 7 gallon oil reservoir and fuel tank
Heavy duty 6-tube oil cooler with fan cool the hydraulic fluid
Sturdy tubular frame protects unit from damage and provides a simple means for adding attachments
Pressure relief valve limits the output pressure for safety
Pressure gauge
Specifications
Model: OSE Power Cube, Version 7s
Engine: Briggs & Stratton Professional Series, 28 HP
Fuel Capacity: 7 Gallons
Pressure (maximum): 3000 PSI
Flow (maximum): 15.2 GPM
Weight (approximate): 400 lbs
Development
The Power Cube has gone through a series of updates and this page reflects the current designs of Version 7s of the Power Cube.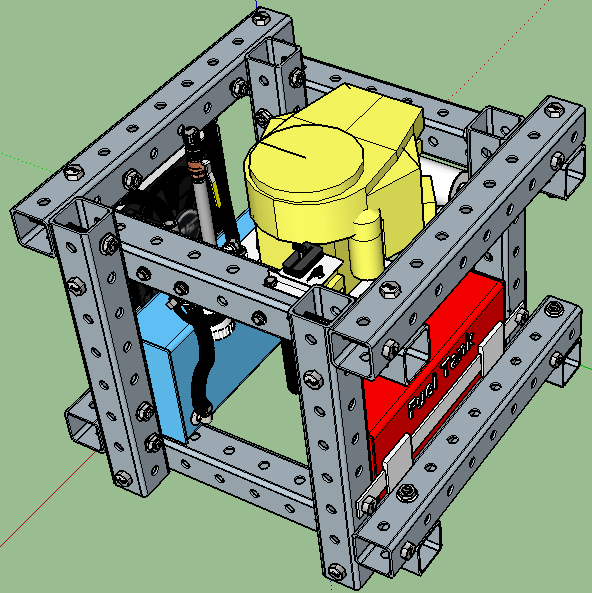 This design has proven to work well and has had few updates lately. Here are the latest updates:
Oct 2014: Added a pressure relief valve and associated plumbing - TLG.
Oct 2014: Changed sight gauge to shorter model and moved above the suction strainer for greater visibility - TLG.
Apr 2015: Added a pressure gauge - TLG.
May 2015: Moved the filler neck near the center of the tank to prevent fuel leaks due to side-to-side "sloshing".
Jun 2015: Changed fuel filler to use extended neck (from coyote-gear.com) to reduce leaks due to "sloshing":

Files
These is the 15.6 release. See file revision history for other versions.
Bill Of Materials (BOM): Power Cube BOM
Power Cube Working Document: ["https://docs.google.com/presentation/d/1oJbd8zQPIdDcFlyZn8Gj6_swQh8RWOkQLQ6hae8pHZ0/embed?start=false&loop=false&delayms=3000"]
Wiring Diagram: File:PC15.6WiringDiagram.dia Wiring Diagram
Fabrication Steps
The Power Cube is a modular design. The modules are built separately, then combined for the complete Power Cube. The order of module fabrication is not important, but they are all necessary to complete a Power Cube.
Module fabrication procedures are detailed in the following document:
Wiring Harness
The Wiring Harness now includes a plug to allow the keyswitch to be repositioned outside the Power Cube.
Drawing (click for larger view)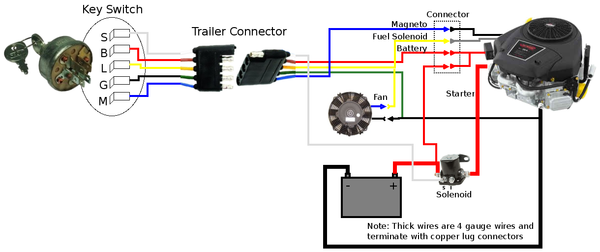 Wiring Harness Extension
This version of the wiring harness is designed with a connector allowing the switch to be replaced with a switch with longer wires so it can be used remotely - say from the cab of a tractor.
The assembly for this extension is the same as for the original switch wiring, except with longer wires: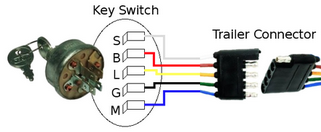 The parts for this extended switch are:
Switch Mounting Bracket, nuts and bolts to secure the bracket
Final Assembly
Install Fuel Tank module in frame (fuel tank goes beside battery box)
Install Hydraulic Reservoir module in frame
Install Pump module and Solenoid module
Install oil cooler and fan to expanded steel
Install hoses to connect hydraulics and tighten appropriately
Install Wiring Harness to key switch, connect to fan and solenoid (do not connect "+" battery connection yet)
Install Engine module:

Lower Engine Module gently until shaft coupling contacts pump shaft, rock/turn engine until shaft engages pump
Install 3/4" bolts / washers / nuts, securing engine plate to pump plate
Remove nut from right rear engine bolt, place black battery on bolt, replace nut and tighten
Connect electrical connector from wiring harness to engine
Connect fuel hose from fuel tank to engine
Connect cable from solenoid to starter and tighten carefully

Install battery in battery box

Connect battery cables to battery
Overview: File:PC7s Fabrication.pdf
Note: Welding Hydraulic Reservoir and Fuel Tank
Note on welding from Ben Horton: "The three "C's" of welding are clean, clean, clean. Tack the entire tank together, then after you clean the work pieces leave a gap between them about 1/6" and fixture the joints so that it is very uniform then weld down hill with minimal torch manipulation (mig). The next thing is to listen you will be able to hear the arc in side the tank as it penetrates. Remember watch the puddle not the arc. With 1/4" material you shouldn't have to stitch weld it but move from joint to joint opposite the one prior. Call me if you have questions." Results: Using above procedure, Marcin welded the fuel tank (1/4" steel, so easy on High-4, 70 wire speed, Millermatic 200) on first pass (except for filler cap, which is sheet metal)! That's a first, as I always had at least one pinhole leak, and about 8-10 at worst in prior production runs. For the end caps - grind edge + top and bottom around edge to 3/8" away from edge, with no factory scale on metal - just clean shiny metal. Grind edges of 6"x12" tube also 3/8" from edge. If cut by bandsaw (our case).
Fabrication
Hydraulic Sight Gauge
Power Cube Assembly Video Script
Steps for Instructional Assembly Video Script
Research
Mechanical shaft quick coupling patent - [1]
July 2014 - Structural Power Cube
The frame of the Structural Power Cube is designed for stacking of multiple power cubes. This documents is about the angle iron frame Power Cube for applications where only one or two Power Cubes are required. Here is the link to the Structural Power Cube:
Link: Structural Power Cube