Scott Log
Permanent Links
LifeTrac 6 Production Requirements
LifeTrac 6 Product Development Board
Product Concept & Key Performance Parameters Template
DPV Orientation and Message Board
Wed Aug 14 2013
OpenModelica Welder
Tue Aug 13, 2013
LifeTrac Cab Requirements
Sketchup Component Models
Guide for converting STEP/IGES into DXF for importing into Sketchup
2 spool Joystick [Part# RD522GCGA5A4B6]:

2 Spool Motor Valve [RD522EEAA5A4B1]

2 Spool Cylinder Valve [RD522CCAA5A4B1]

1 Spool Cylinder Valve [RD512CA5A4B1]

1 Spool Motor Valve [RD-2575-M4-EDA1]
Aug 12 2013
Potential software for multi-user collaboration.
  * http://www.opencobalt.org/home - Virtual Workspace
  * http://www.oopgames.com/freecad/ - Construction/Simulation software integrated into world

Aug 9 2012
Sketchy Physics Test
Preformed a test in sketchyphysics attempting to simulate a cylinder with a pivot at one end where the piston could slide. The test seemed to show that sketchyphysics could not be used that way.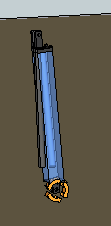 Then Found the following video...
File:Wranglerdown.skp """How did they do this"""
Original Download: http://sketchup.google.com/3dwarehouse/details?mid=28486f6c46da2e47107ec7adee65003d
Aug 8 2013
Created a set of build instructions for the "Material Awareness exercise"
Built the "Material Awareness structure"

Observations:

Material is much bigger and heavier than you would think from the sketchup model
Assembly works best if nothing is tightened down until entire structure is assembled

Disassembled structure
Did inventory of 1" bolts and nuts.
Did inventory of hydraulic hoses
Aug 7 2013
Search "Brake valves to control hydraulic motors with over-running loads"
http://hydraulicspneumatics.com/other-technologies/book-2-chapter-12-fluid-motor-circuits
Information on Overcenter Valves:
http://www.designworldonline.com/overcenter-valves-are-key-to-hydraulic-control/#_
Interactive video on how hydraulic brake valves work
http://www.wisc-online.com/objects/ViewObject.aspx?ID=HYP3707
We need either a drum brake system or a hydraulic brake valve.
Our current Drum: http://www.surpluscenter.com/item.asp?catname=hydraulic&item=9-9003
Options for drum brake:
Fits our drum, but costs $560 : http://www.jegs.com/i/Currie/272/96226/10002/-1?parentProductId=756792
Does not fit, but demonstrates that there may less costly options: http://www.surpluscenter.com/item.asp?item=28-1324&catname=
Options for hydraulic brake valve:
Still need to determine price and circuit : http://www.hydrotech-bg.com/common/d_images/src/file/PDF/E4-ACCESSORIES.pdf - See Overcenter valves with brake control
Aug 6 2013
Brake Research Discusses several brake systems, their advantages and disadvantages, as well as how to trouble shoot them.</br> There are two commonly used types of brakes. Drum-Brakes, and Disk-Brakes.
This is the motor we have: http://www.surpluscenter.com/item.asp?item=9-10419&catname=hydraulic
This motor would have been better I think: http://www.surpluscenter.com/item.asp?item=9-7703&catname=hydraulic
Aug 2 2013
Crowd sourced CAD model Database - models can be downloaded in many formats
Aug 1 2013
http://news.vanderbilt.edu/2013/07/amateur-inventors/