Seed Home v2 Conceptual Design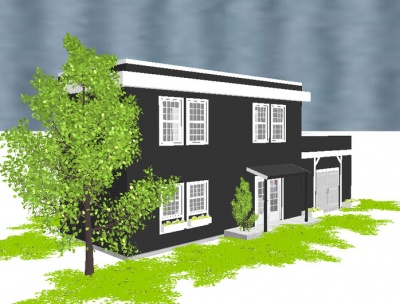 Design Guides
Catarina
Structure - [3]
catarina's wall concept - [4]
Floor plans - [5]
Rosebud 1 - structural engineering - [6]
Rosebud 1 - construction
Rosebud 1 - anchors - [7]
MJ
Design Review
Flat Roof
Electrical Final
MEP
Details - Seams
Wall Interface Detail
Engineering Verification
Hello,
We are looking for consulting assistance on structural engineering of walls for a single family house that we are designing. Instead of using standard framing, we are using modular panels to allow for modular construction. We are a nonprofit appropriate technology organization - you can see my TED Talk on the Global Village Construction Set for more about what we do -https://www.ted.com/talks/marcin_jakubowski_open_sourced_blueprints_for_civilization.  We are interested in using our construction methods to make affordable housing widely accessible to the owner-builder. The types of questions that we have revolve around the structural integrity of modular house panels.
We would like to hire you for consulting time, would this be possible? For example, we would like to ask you if you can verify our structural engineering concept for the walls of a single-story residential construction building. The house is on slab on grade, and we are building using 4'x9' wall panels. These are 2x6 lumber framed panels with a 24" on center stud. The panels sit on a sill plate. Please see the concept document attached - https://docs.google.com/presentation/d/17MiaqQ-yA0U_kpegCGK86HNgPwA1lqh-jJdX-2oyNEs/edit#slide=id.g94d53d4eca_0_248. We are planning to begin the build as soon as we have the complete design. Our question is - is the panel-wall design structurally sound for shear forces? We are using a top plate for shear stabilization of adjacent panels. Adjacent panels are fastened together using nails or screws. We have this and some other structural details to resolve.
Please let us know if we can hire you for consulting on this.
Thanks, Marcin
See Elijah
Contacts
Responses
Hi Marcin,
Thank you for the opportunity to help you on your project. Unfortunately, we are not interested in this sort of project. Tom has been in this kind of project before in the past.
Thank you again,
Sharon Ries Office Assistant
Huneke Engineering Inc.
Frost Protected Shallow Foundation Design Guide
Possible Shapes
Foundation
See Aspen Foundation
Utility Panel Detail
Kitchen Design
General Design Concept
Based on Seed Eco-Home, Open Building Institute modules
Grow home - expands as needed
Helical pier foundation preferred. The Slab Decision.
Modular - prebuilt modules allow for weekend build, and then full build in 1 week with 2 people
Land is not included
Includes biodigester and PV options for off-grid operation

Can be designed as part of a smart, bidirectional microgrid - same lines are sources and sinks of energy?
Roof area and all that will aid in calculations
Seed Home 2 Design Log
Exterior Stain
Seed Eco-Homne mix is:
(3) parts Cabot Gold Sun-Drenched Oak Oil-Base Exterior Wood Stain [11]
(1) part Cabot Australian Timber Oil Jarrah Brown Exterior Wood Stain [12]
(3) parts mineral spirits [13]
Then we applied a different number of coats on each row of siding panels to get a sort of gradient: 3 coats on the bottom row, 2 coats on the top row, and 1 coat on the top row.
For the addition I want to match the bottom row, but instead of doing 3 coats of the formula above, I'm planning on doing 1 coat of:
(1) part Cabot Gold Sun-Drenched Oak Oil-Base Exterior Wood Stain [14]
(1) part Cabot Australian Timber Oil Jarrah Brown Exterior Wood Stain [15]
(1) part mineral spirits
I think that for future houses we should use this second formula and do only 1 coat. But I can't know for sure until I see what it will look like once the wood panels darken.
This is for color only. We'll need an oil-based sealant on top.
I'm going to develop some alternative palettes for other people's houses, which will include paint (in satin sheen). Exterior paint doesn't need a sealant. But I don't know how many coats we'll need nor if we need a separate primer. We'll have to test.
Links