TAZ
Also see Equipment/Taz
Intro
TAZ is Aleph Objects, Inc., latest model open source 3D printer.
What is impressive about TAZ? Aleph Objects, Inc., the maker of the LulzBot TAZ completely supports free/libre hardware and software. Along with the TAZ being a free/libre hardware design, it has been tested to work with 100% free/libre software.
As far as we can see, this is the highest quality, fully open source 3D printer out on the market today.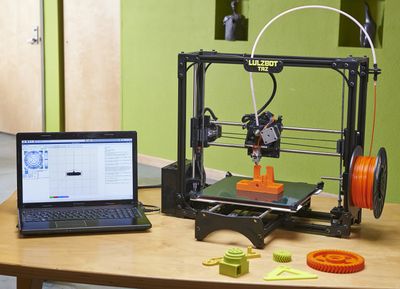 OSE TAZ
Jeff Moe, CEO, donated a TAZ to Open Source Ecology. Thank you Jeff.
Operation
Download Slic3r - http://www.slic3r.org - The Slic3r software is the first tool in the chain of 3D printing software. Slic3r uses commonly used .STL files to create .gcode files.
Download Pronterface - the actual printer controller into which you feed the Python. Will try the nutcracker first, or the classic shotglass for speed.
On Ubuntu - see the notes at https://github.com/kliment/Printrun for installing Printrun.

I needed to do: sudo apt-get install python-serial python-wxgtk2.8 python-pyglet

Now doubleclicking on pronterface and running it (python script) opens it up.
Tip
one tip- for now your usual work flow will be: Use Slic3r to cut the *.stl model, then export the model to a *.gcode file. Once you have the .gcode file open Pronterface and load the *.gcode file.
Shot Glass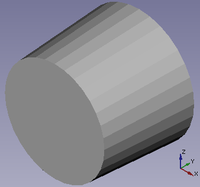 Why is this on its side? In Slic3r, it also appears on side;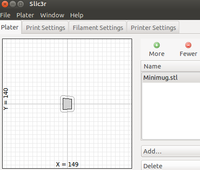 I try to load it into Pronterface. First generate gcode.
Octopus
Jeff jebba and orias #reprap recommend Octopus: File:Octopus.gcode. Here it is in Pronterface: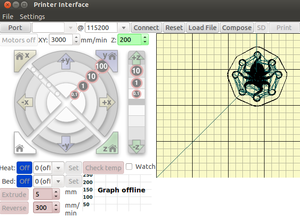 Unpacking
0.5mm nozzle -
Power supply - Nice! 3D printed, sophisicated terminal cover and on/off switch for power supply.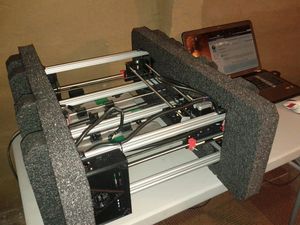 Assembly of Frame
Comes in 2 pieces
Put setup process on opensourceecology.dozuki.com. Can't find uploaded pictures.
Printing
Bed Leveling: Octopus: Octopus top: Extruder Nozzle: PET Tape: Lulz A100: First Print: First Print Bottom: