Tractor Fabrication Documentation
This page builds on LifeTrac_II_Build
This time around, we add torch CAM files and full 3D CAD.
Frame
Wheels
Wheel Mounting Plates
We are using standard 8-lug 16" wheels, for which we torch out the bolt pattern.
Quick DXF to G-Code Conversion Instructions
Output: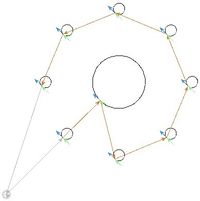 Corrected file download - [1]
Loaders
Mount the Valves
Lifetrac II: Valve Mount & Hose Attachment from Sean Church on Vimeo.
Mount the Power Cube
Lifetrac II: Powercube mount from Sean Church on Vimeo.