William Neal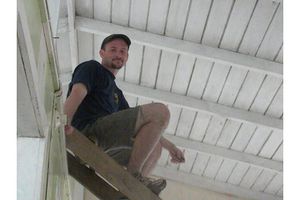 2012
Tony Mensah, Mark Amo-Boateng, William Neal: Nanjing, China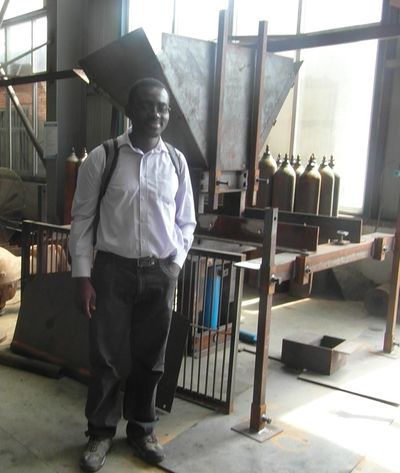 In May, 2012, this group, originally from Ghana and Canada, set out in Nanjing to redesign the CEB press to metric specifications and build it with the help of some engineers at a factory in Ma'anshan, Anhui, China.
According to a report received on September 27th, there were some technical issues surrounding the later stages of assembly of the CEB press, particularly centred around the secondary cylinder and the soil shaker.
In June, 2013, the group was finally able to test the brick press - successfully (youtube link).
Nov 23, 2018
Nov 9, 2018
Campaign to get people started on OSE Clubs
Start a campaign
Ontario has 170 FRC teams
3DP workshop to start whisking FRC members into the OSE Way
Head of the PD and school STEM system
Proposal - workshops - more affordable
William knows the head of Canada FRC
Proposal to schools - PD
University - a course - public private partnership - University Teacher's College
Get an accredited course, that you fill with OSE stuff. PD is required for teachers.
To get to a qualified teacher status.
Russ Purvis
Licensed course -
William teaches a STEM course at the university. With OSE video, brick press, 3D printers. 1 semester course - from September to March.
Fast track to OSE Clubs - writing more items on course. Rewrite the course. Add a course. Then work with 40 students that we already.
OS Professional Developement for IB - school. IB schools have a mandate. Mandated for after school programs
Creativity-Activity-Service.
People who are already at schools - FRC teachers. Get a list of FRC teachers - contact all teachers.
Librarians and teachers who do Science STEM -
Targeted advertising -
Charlie is aware of OS story since 2011 - career transformation through open source.
Dentist friend wants to fund design sprints
In psychology of marketing - 1 or 2 people then get the 3rd one.
Small volume, high value, unique.
October 28, 2018
Chinese like to get free IP from the USA
Culture - let's go to the bar, become friends, then we cut some lead into your silver when we become friends
go 2 hours in a car to their factory - not free lunch
Must be a communist party member to be in
Supply chain - keep them as quality supply chain
Corruption is an issue -
It was auto control - they reversed engineered it and produced their own
Hydraulics manufacturing company - hydraulics design engineers
Chinese will emulate a successful enterprise -
Partnerships with Chinese University - or companies
Many people have millions and don't know what to do with it
One angle that came to mind - they are Chinese and understand the link
"I forget how many factories my father owns"
Tsinghua - Ben Koo -
Very respected in China
Is it open source with Chinese Characteristics
Why Mass Production Cannot Compete with Open Source
Shennzhai - Chinese Proprietary Consortium that appears open source
Her dad is an independent business consultant - Mr. Shen - Shenzhen.
If he's not the one, then we can start. What does he know about source in China?
William has to teach his studends the definition of Open Source - Leo - exceptionally gifted in open source?
Better supplier connections - cut out the middle man - as far as OSE development
Making America Great again - hard to picture until they have meditated a bit
Notes - Oct 20, 2018
Prusa i3 takes 8 hours and 8 hours to calibrate
Continuing education for Teachers/
Already runs a club that is aligned with OSE - 4 months that are already free
May to September - doesn't teach - can do OSE Club.
Possible trip - 24th - Saturday - lecture - 7:30 PM - 9 PM.
Get back on interest by Wednesday. Thursday - Friday - Saturday.
Does school fund continuing education? London International Academy.
Professional development.
Librarians teachers.
Guest Blog Post by William Neal
William Neal - religious perspective; Bahai faith; Bahai faith would have a lot to say about Integrated Humans.
Marcin - focus like nobody else, bootstrapping on a homestead
Part of application - was not to be biblethumping.
The London Academy International Foundation - educate the whole community
Regular - 45 in different sections. Grade 7-12, few hundred students come up.
20 people - per day - in a clude - Mon - robotics, wed - os, Tue - CAD; thu-fri - OSE Dev Work. All grade 12 - mostly from China - private school $25k/year.
Calculus + programming.
OSE Carribean -
University class from Western University -
Gap year after high school. William neal works on it.
Farmbot done.
Disappointed in society, ran away from Guyana. Discovered society was a fraud.
Talk about sourcing in China.
Shenzhen - contacts online
Open source ecosystem in industrial chain - they are there.
Team Culturing Information
last updated: 23. June, 2011
WHO are you?
Location (city, country) - London, ON, Canada
Contact Information (email, phone, Skype) -
william (dot) j (dot) a (dot) neal (at) gmail (dot) com
Cell - 519-670-0378
Home - 519-690-2410
Skype - haydarneal / wneal (at) nancycampbell (dot) ca
Hobbies and Pastimes - Travel Social and Economic Development Projects Composing Music / Collaborating on Music Languages Running / Yoga
WHY are you motivated to support/develop this work?
Do you endorse open source culture?
I have been an active supporter of Open Source software since the year 2000. This is an extremely important phenomenon which amounts to a human rights issue for me. Undue emphasis on intellectual property subdivides humanity and is a cause of suffering.
Why are you interested in collaborating with us?
This project has immense potential to contribute to the liberation of countless individuals and communities through the empowering educational processes surrounding the establishment of sustainable communities.
Are you interested in teaching about the GVCS?
Yes. Education is my profession and this project aligns with my passion for social and economic development.
Are you interested in economic relocalization possibilities arising from the GVCS?
Yes. This also has immense potential. For example, thousands of skilled workers in Southern Ontario alone stand to gain from the opportunities to work in Open Source manufacturing and the establishment of sustainable communities.
Do you want to use the GVCS technologies yourself? Do you want to build them yourself?
Yes. I have a team of friends interested in beginning in the next few months.
Are you interested in starting up enterprise using the GVCS technologies?
Definitely. My contacts have a spectrum of skills that would make this achievable.
Are you interested in having the GVCS technologies fabricated by your local custom fabricator?
Yes. Perhaps we can establish multiple interdependent fabrication operations.
Are you interested in applying the GVCS to third world development? To redevelopment of crisis areas? To development of derelict areas in the developed world?
Yes. I have already explored potential opportunities directly in Guyana and indirectly through contacts from Colombia, El Salvador, the Phillipines and Liberia.
Are you interested in starting up Industry 2.0 flexible fabrication enterprises for your local community, by drawing from a global repository of freely down-loadable designs and fabricating using open source fabrication equipment?
Definitely. This may help to address local issues such as unemployment, underemployment and closures of manufacturing operations.
Are you interested in the potential of the GVCS for developing local food systems?
This appears to be one key strategy for collectively transcending scarcity and improving food security.
Are you interested in doing academic studies/papers, publishing books, or doing other analysis of our efforts?
Potentially. This might make for an interesting PhD project.
Are you interested in financial investment opportunities arising from our work?
Yes - though I do not have immense financial resources at the moment.
Are you interested in the distributive economic aspects of our work, and if so, how do you see this playing out?
This promises to allow us to collectively reinvent our global industrial infrastructure, levelling the playing field in the process and empowering the masses of humanity to reach their true potential.
Are you interested in building renewable energy production facilities based on open hardware (solar concentrator electric, wind, biomass power)?
Yes. These would help countless people in every area of the world.
Are you interested in building resilient communities based on access to the GVCS?
This is yet another promising aspect of this project. If a resilient community can be demonstrated, it will provide a clear direction for one aspect of the reorganization of human affairs to grow into a peaceful global civilization.
Are you interested in creating a bug-out hut using GVCS technologies?
Sounds like a great invention for inhabitants of the Amazon Rainforest and Northern Ontario. I'm not sure what a bug-out hut is.
How do you think that the GVCS can help alleviate the instabilities of global monetary systems?
It seems to have the potential to do so if properly managed and developed.
How do you think that the GVCS can address issues related to resource conflicts?
Reworking economic systems from the grass roots, if successful, would result in the redistribution of mis-allocated resources on a grand scale. There is clearly plenty for all but not if we have to direct it to the arms race.
How do you think that the GVCS can address issues of overpopulation?
The moderate approach of the OSE coupled with the feedback loops inherent in a localized resilient economy would likely contribute to a healthier global population level.
How do you think that the GVCS can address issues of resource depletion and environmental degradation?
When communities are more strongly connected with the stewardship of their local resources, they will not permit their abuse. At the moment, international forces take no regard for community well-being.
Do you have any other comments that you'd like to make?
I am hoping to make more comments through direct participation in the project.
What should happen so that you become more involved with the project?
Perhaps a project visit will help.
What are you missing in the project?
Nothing is missing as the vision has been well articulated. What remains to be seen is the degree to which the peoples of the world are willing to participate in this project.
What are your suggestions for improvement of the project?
None yet.
WHAT
What have you already contributed to the OSE project? (technical contributions, blogging about us, financial support, organizing events, translations, interviews, video editing, publications, publicity work, behind-the-scenes work, CAD work, wiki contributions, computer support, etc)
I have translated some information into French on the wiki and promoted the project locally for the last two months.
Communications
These are all interesting occupations; I would not classify myself under any of these categories.
Organizational
I work at a non-profit organization as an administrator. I am improving my networking skills and willing to speak publicly on short notice.
Computer Support
Yes. I am familiar with Open Source Software and have used it for over ten years. I am an amateur computer programmer (Python, C++, PHP, etc.)I have managed several web-based forums.
Finances
Sociology
Home Economics
I can cook. Cooking for twenty might work alright - I'm not sure if they would like my food though.
Design
I am familiar with Blender and have designed and built some basic circuits.
Building
Electronics and Magnetics
Basic experience arising from a physics degree. Some experience hacking electronic circuits to interface them with other hardware.
Automation
Metallurgy
Engineering
HOW can you help?
How are you interested in contributing to the work of GVCS development?
Yes
Can you volunteer to work with us, and if so, how many hours per week?
Several hours a week - 3-4
Are you interested in working with us for pay? If so, what services can you offer, and what is your hourly or per-project rate?
My rates would be reasonable if a meaningful position were to be identified.
Yes. I have one scheduled in the later part of July, 2011.
Are you interested in purchasing equipment from us to help bootstrap development?
Not yet - this is a cash flow issue.
Are you interested in bidding for consulting/design/prototyping work?
Not yet. Working on this.
Not yet. Working on this.
Would you like to see yourself working with us on a full-time basis?
Yes - at least from my current location in London, Ontario.
Are you interested in being part of the world's first, open source, resilient community? The GVCS is the preparatory step for the OSE Village Experiment - a 2 year, immersion experiment (2013-2014) for testing whether a real, thriving, modern-day prototype community of 200 people can be built on 200 acres using local resources and open access to information? We are looking for approximately 200 people to fill a diverse array of roles, according to the Social Contract that is being developed. This may be the boldest social experiment on earth - a pioneering community whose goal is to extend the index of possibilities regarding harmonious existence of humans, ecology, and technology - as a beacon of light to benefit of all people on Earth.
I am all for this.This would depend on my family though.