Aquaponic Greenhouse
Video Presentation
OBI Webinar
Presented During the Open Building Institute webinars series of 2016-2017.
Presenation
Workshop Announcement
short link: https://bit.ly/2Aeoim2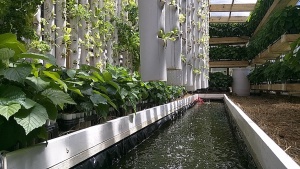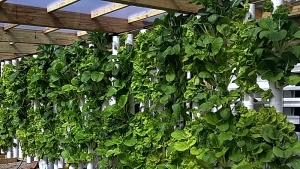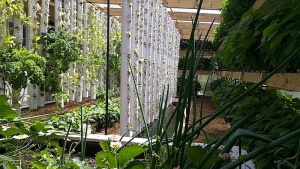 Genealogy
Development Template
CAD and other technical details are at Aquaponic Greenhouse Development
Promo Video Prior to Build
Review this to compare the reality.
Open Source Aquaponic Greenhouse from Open Source Ecology on Vimeo.
Designs
You can see all the technical design assets at Aquaponic Greenhouse Development
Note: you can download any of the above designs, and if you would like to contribute to a design and have it considered for addition to OSE's work, you can do a Pull Request.
Concept
Overall
Wall Install
There are more details on roof attachment and link to hydronic heating design here. More details on the order of installing the modules, as well as alignment - are:
BOM
See designs above. A lot of those have BOMs.
Polycarbonate - like at Menards - [1] but needed longer sheets for the roof, so got them from Regal Plastics in Kansas City. Regal is located throughout the Midwest USA - [2]
Growing towers - [3]
CAD
Development Template
See Aquaponic Greenhouse Development Template
Followup Discussion
Sign up to OSE Workshops Facebook Group. You can also sign up for our newsletter here - OSEMail.
Results
Factor e Farm
Pictures on Google Drive - https://drive.google.com/drive/u/0/folders/0B7pE5Y9PpJCXWDhaNkNUbHc5ZVE and Facebook Post.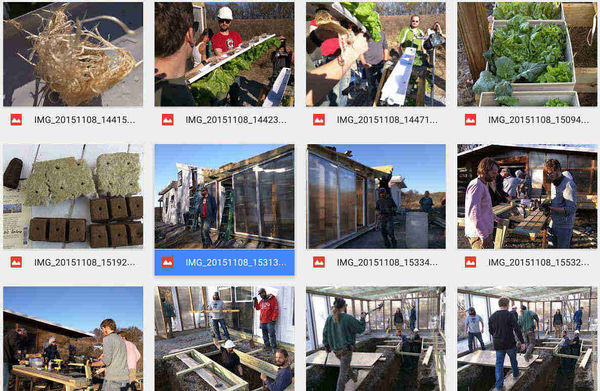 Videos on YouTube
Here is a total of 60 videos from the build on a YouTube playlists. There is a number of build timelapses, aerials, interviews, promo video, etc.
Feedback from Peter McCoy of Radical Mycology
Integrated Pest Management + Vertical Towers + Soil Food Web - needs sound - https://www.youtube.com/watch?v=lHi3tLJLSF0
Time Lapses - from Scott - all in master playlist - [4]
Aerial Drones - uploading, will send followup when done
Interviews - from Jonathan - found in the overall playlist - [5]
Pictures and Mother Earth News article - from Stan?
Other Participants
Facebook pages with posts on the workshop -
YouTube or other Video and Media Channels -
Workshop Followup Form
This form captures documentation from workshop participants, such as picture uploads, videos, FB pages, other media uploads, suggestions, and feedback. The feedback is confidential. While form results are visible to the public, your name is optional.
Other Feedback and Data
We also have other simple forms for Feedback of all sorts, such as comments, technical review, suggestions, etc; and Data Collection - any data point, such as time of build, effort, measurements, costs, observations, or anything that is a useful data point for further progress on any of the Global Village Construction Set machines, their submodules, related workshops, and other product designs. Anything related to creating the open source economy - the mission of OSE - is game.
Participants
Logistics Survey
Benchmarking
These organizations and courses are only the ones on the first page of google search results. It's likely that there are more players in the field.
MAIN LEARNINGS
Registration Fees
Range from $95 for a basic 1-day course to $1995 for a 5-day course.
They do not price the courses by number of days, but by depth/complexity of content. For example, the Aquaponic Greenhouse Source offers a 2-day intro course for $295 and a 4-day business course for $1195. The big money is in business/entrepreneur training.
Organizations
All of these organizations are professional. They have huge greenhouses and produce commercially. They have years of experience with aquaponics as a business. They also have good facilities (classrooms, cafeterias, etc) or rent hotel conference rooms.
Their entire business model revolves around aquaponics: most sell produce to big box stores and other businesses, many sell aquaponic technologies and offer consulting services.
In one way or another, they all mention "competitors" on their websites and are aggressive in their marketing, Judging only by this, it appears that competition is fierce
It also appears that some (unnamed) trainers and consultants make their students sign contracts stating that they will not teach nor consult in the 2-years after taking the course. (this is a great opportunity for OSE/OBI to break through this barrier)
Documentation
The commercial aquaponics courses all include manuals and hundreds of pages of documentation.

CONCLUSION
These are business people—some of then, if not most, come from the business world—and this is serious business for them.
Although it must be noted, once again: they ONLY do this. We do a million other things.
Great opportunity exists in opensourcing this black magic
None of the players have vertical systems, which allow significantly higher productivity per area and give OSE/OBI a significant advantage.
Our system has more components, and its integrated nature has more value to the home-scale aquaponics enthusiast
OSE/OBI clearly has a unique value proposition, and currently nobody comes close to our level of systems integration
NOTES Notes from greenhouse workshop meeting:
Schedule greenhouse workshop meeting: discuss offering/positioning + price (22 plants sf, focus on home scale but for real, not hobby, grow food in a small scale, permaculture + aquaponics, aim at long-hairs - given our facilities) Early bird: 375 / Standard: 475
Discussion and Comments
Links
Technical