Global Village Construction Set
Definition
The Global Village Construction Set (GVCS) is a modular, DIY, low-cost, high-performance platform that enables fabrication of the 50 different Industrial Machines that it takes to build a small, sustainable civilization with modern comforts. The name, GVCS, has been coined for the first time in 2008 - at a lecture at the University of Missouri, Columbia - see UM Presentation.
Introduction
Marcin Jakubowski explains the Global Village Construction Set in his TED Talk.
Can't see the video below? Try: http://www.ted.com/talks/marcin_jakubowski.html
Want to know more? Explore the Global Village Construction Set tech tree.
Want to contribute? Sign up for OSEmail to get monthly updates.
Completion Status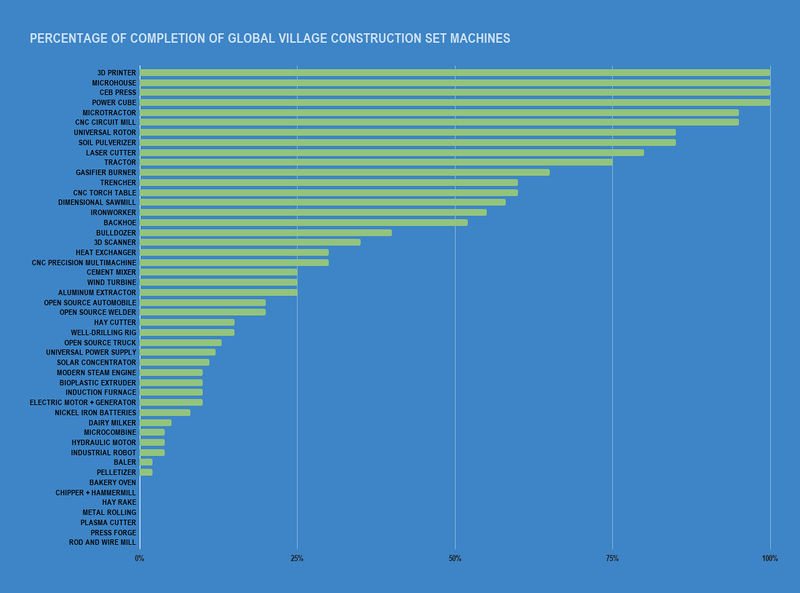 See GVCS_State_of_Completion for the history of the completion status.
Prototypes - Visual Status
Items prototyped are in red. State in 2018.
Timeline
(needs updating since 2014 - see blog or [ FB] for updates.
The Open Source Ecology experiment was formulated in 2003. The practical experiment began on a 5 acre parcel on the outskirts of Madison, Wisconsin, USA. Networking with early collaborators, the project found its new home on a 20 acre parcel in Osborn, Missouri. In 2006, the project moved to its permanent location in Maysville, Missouri - to Factor e Farm - birthplace of the Global Village Construction Set.
Media
Key Features
GVCS Machines
See main article GVCS Machine
OSE is developing 50 machines of the Global Village Construction Set via module-based design. This means that we break machines down into modules, and each module can be developed in parallel with other modules. Examples are CEB Press or Tractor.
The exact list of GVCS machines has evolved over time and is still subject to change. For example, while the MicroHouse and the Car are not GVCS machines in a strict sense (but products created by GVCS machines), they are treated as GVCS machines for historical and business-oriented reasons.
Documentation is found at different places for different target groups:
See Also