Aquaponics Greenhouse Working Team
Best Practices - Leading Practitioners and Best Practices
Update - April 30, 2015
Infographic Idea: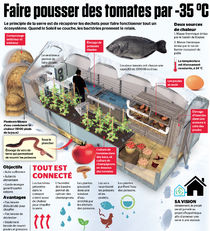 Working Document
See also:
Open Source Aquaponics Consortium
Disruptive Development
Towards Distributive Enterprise:
Identifying Leading Practitioners
Integrated Ecological Systems
Social Enterprise
Disrupting Education
Existing work-
---
The Urban Farm Guys[3] Archi's Acres/Veterans Sustainable Agriculture Training Program[4] Growing Power[5] Bright Agrotech[6] The Plant Chicago[7] http://opensourceecology.org/wiki/Category:Holistic_Aquaponics_Greenhouse_Toolkit]
Team Welcome Email
3.23.15
Dear Team,
Over 120 people signed up for the Aquaponics Working Team at the Permaculture Voices (PV 2) conference - including subject matter experts in just about ALL critical areas for project success. This constitutes the largest, most skilled team that OSE has ever assembled on any single project to date. We had an initial meeting at PV 2 a day after my talk, which about 30 people participated in (see introductions video- http://opensourceecology.org/wiki/Aquaponics_Greenhouse_Working_Team#Team). This email is intended to continue with the entire Team: starting with assessing and developing Roles and Team Leadership for the various working groups into which the Aquaponics Greenhouse Working Team will be divided.
To recap: our goal is to produce, build, and demonstrate the viability of a complete and detailed design for a 2000 square foot aquaponics greenhouse that can net $100k/year with one person working full time. This means that we are creating open access to the design and know-how for building, operating, and managing such a greenhouse - publishing these plans on the internet for free. This is consistent with OSE's mission of spreading raw economic power across the globe by lowering barriers to entry. Our ambitious goal is to see 100,000 of these production greenhouses around the world within 5 years of demonstrating and publishing a working prototype. That would be $10B of free enterprise around the globe, as part of a transition to increasingly local food systems.
And as usual, that is only the beginning.
Our general methodology for development is parallel crowd design/build - using a number of teams working in parallel to compress development time at least by a factor of 10. This is part of our work on the social model for open source, Extreme Production.
To get there, our tactical approach involves breaking the problem down into the smallest possible modules, and developing these modules in parallel.
Our first step is to develop the leadership of working groups within the Aquaponics Team. With this email, OSE is inviting you to indicate your interest in joining or leading the different working groups. There are 4 major areas of development: technical design, enterprise design, organizational/process development, and publishing. These areas of development are further broken down - to an overall total of about 24 specific areas.
We are inviting everyone to fill out this 10 minute Survey - http://opensourceecology.org/wiki/Aquaponics_Greenhouse_Working_Team#Collaborator_Survey - to assess the level of leadership or participation that each of you would like to take on. Selection to the leadership team will depend on your skills, interests, availability, level of commitment, experience, and more. Based on the Survey, we will interview those of you who express interest, and select leaders for the various Modules. Each team will have two Co-Leaders - where this pairing is borrowed from Scrum methodology.
If you do not have time to step up to a leadership role, we are still very interested in having your help and expertise in the areas that you are most interested and able to make contributions. After team and module leaders are selected, we will move rapidly to constitute the working teams.
The overall process is very practical and results-oriented. After we develop the leadership team collaboratively - we will have a Kickoff Meeting Webinar with everyone. Then we will break into the respective Working Teams for the 24 different modules - with the Co-Leaders running each group of up to a dozen people each. Co-Leaders will meet with the Core Team - which consists of all the Leadership weekly. Thus, the Leaders are required to participate in 1-2 meetings per week.
The design activity will culminate with 2 build workshops at Factor e Farm - see OSE Schedule - http://opensourceecology.org/wiki/OSE_Schedule - and you are invited to participate in either or both. The first workshop will be an 800 square foot attached greenhouse "proof of concept" intended to feed a family of 4 - and the second will be the 2000 square foot production scale enterprise. The target workshop dates are June and August - but we will not confirm any specific dates until complete design and swarm build procedures are documented - so we are fully prepared to succeed on build day.
We look forward to your responses on the Leadership Survey, so we can begin developing the leadership team and subsequently constituting the working teams. We would like to hold our Kickoff Webinar next Thursday April 2, 6 PM CST USA time. We have prepared other overview documents for your review, regarding the overall development and module breakdown in this document:
Swarm Development Process Overview
4 Subject Areas of Aquaponics Greenhouse Development
Technical Design Modules
Enterprise Development Modules
Documentation Modules
Organizational/Process Development Modules
Thanks,
Marcin + Jonathan
Collaborator Survey
If you are interested in collaborating, we require filling out the Aquaponics Greenhouse Team Survey form as the first step:
Please put yourself on the map if you are a team member:
Create a Work Log
See this tutorial for how to create a Work Log:
Some Steps in Development Process
Orientation + Success Metrics
Team
Meet the Aquaponics Greenhouse Team from Permaculture Voices:
Aquaponics Team 1 from Open Source Ecology on Vimeo.
Aquaponics Working Team 2 from Open Source Ecology on Vimeo.
Wanted
Other
Resources
Working Teams
Leadership Candidates
Tasks and Process
Background Research
Design: Structure
Design: Living Systems
Economic Analysis
https://scrumy.com/ose-aquaponics
Discovery - Best Practices and SMEs