CEB Architecture Plans
Main > Housing and construction
---
CEB Modular Housing
We will attempt this procedure for living quarters in 2011. We will start with common kitchen and bathroom facilities (camping with power tools) and combined that with comfortable, private living quarters (gated community) fed by modern steam engines.
CEB Workshop
Main Article: OSE Shop 2011
See article at http://blog.opensourceecology.org/2010/10/scott-and-modular-ceb-construction/
This will be our first attempt to use Concentrated Earth Bricks in a modular and replicable structure. The image below is the basic design we will be following. This cross section view demonstrates various features of the workshop. The columns will support the roof and the walls can be left open air, be filled with chopped straw for insulation, or be fully glass as demonstrated in our Ideas section. The middle lane of this building will be left open, our vehicles, including the LifeTrac will move through here, visiting each work station. Each of the work stations will feature various construction set tools, such as the CNC torch table, the lathe, the drill press, and the induction furnace. In this model you will see our imported Blender models of the torch table, CEB press and LifeTrac 2. The Google Sketchup file for this model can be found here.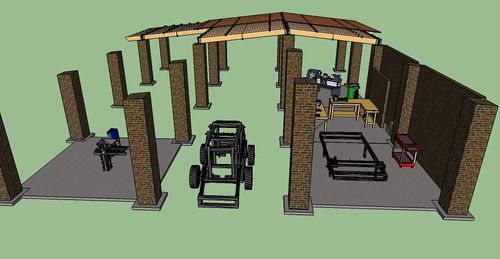 CEB Ideas
In this section we have created a few creative ideas for our modular CEB life/work units. After the completion of the workshop, we will begin construction of a Kitchen and Bakery, a Bunk House for volunteers and guests, and a Classroom.

Below is a sample greenhouse. Notice the chopped straw insulated walls and south facing windows.