CEB Press
Link to CEB Press Build June 2015
The CEB Story 2012. from Open Source Ecology on Vimeo.
Overview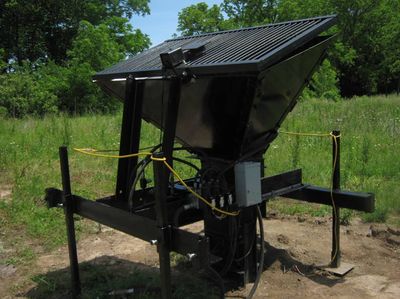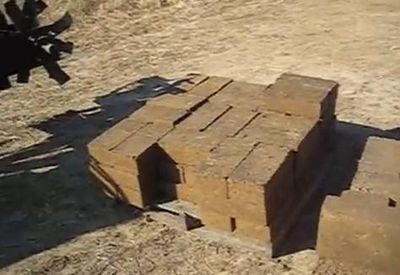 The Liberator is OSE's automatic, high throughput Compressed Earth Brick Press. It is named The Liberator because it is intended to free people from the single highest cost of living - housing. See Cost of Living and GVCS Naming Convention.
The CEB is at product release status and is being actively manufactured at Factor e Farm. The presses was used heavily as a part of the Factor e Farm Infrastructure Buildout 2011. Builds using the OSE CEB ress continued with the Microhouse 1, Microhouse 2, Microhouse 3, and MicroHouse 4 built in 2014 - [1]. We have also built a utility room brick floor and an 8' wall section out of CEBs in the 2016 build of the Seed Eco-Home.
In 2020, we did a CEB Microhouse Build in Belize.
The bill of materials cost of the current, fully-automated machine is about $5000 US. See CEB Press#BOM.
The machine can also be made as a manually-controlled version with hydraulic valves. Other options are:
small or large hopper
with or without hopper shaker
automatic controller at 6, 8, or 10 bricks per minute
We are currently selling the full machine without power unit for $10k FOB Kansas City, lead time is 3 months. Email info at opensourceecology dot org.
Price is FOB Kansas City, Missouri, USA, for a fully assembled machine, with quick couplers, ready to be plugged in to a power source. Price for other packing/crating options is extra.
Delivery time: machines are produced during scheduled production runs, with 6 weeks lead time from submission of payment.
Buyer is encouaraged to attend the build event - to learn how the machine is designed, built, and therefore, to learn about repair and modification. Basic instruction on using FreeCAD will be provided for viewing the CAD file. An operating and maintenance manual will be provided to the client. The buyer is encouraged to brind additional people to the build event to learn about the machine.
A tractor loader is used to provide approximately 2 cubic yards of soil per hour at at 6 block per minute pressing rate. A tractor loader is needed to keep up with the machine throughput. Approximately 3 people are required to keep up with the machine for stacking the block upon pallets. Approximately 30 people would be required to load the machine manually with shovels and buckets if no tractor loader were available. At the minimum, 4 people (1 tractor operator, 3 stackers) are required to produce palletized block on an all-day basis.
Specifications of the Standard Model
Block is plain block, not interlocking. Please see discussion on Interlocking_bricks
Version 17.08 is our most current model. See CEB Press Genealogy for past versions.
Open source hardware, controller, and software (CC-BY-SA 4.0, GPLv3)
Controller is fully automated for hands-off operation
Does NOT come with a power source - it is powered by a hydraulic power source, such as by our Power Cube or a tractor hydraulic take-off.
Full size bricks are 4"x6"x12", plain flat-faced bricks
Brick height is adjustable from 2"-4"
Brick dimensional variations: +/- 1/16". This assumes uniform soil. Soil uniformity will determine height uniformity of brick.
6 full-sized bricks per minute at 12.5 gallon per minute hydraulic flow. See Brick Pressing Calculations. Brick pressing rate will increase with a higher hydraulic flow, up to the maximum rated flow of the hydraulic solenoid. Hydraulic solenoid valve is rated for a maximum of 10 gpm fluid flow at 3000PSI. We can also do a machine with 10 brick per minute capacity for an extra $2000.
Fuel consumption with Power Cube running at 12.5 gpm fluid flow - about 1 gallon per hour
System hydraulic pressure - 2400 psi
Comes with hydraulic quick couplers ready to be connected to a power source
Weight - 1700 lb
Moving: brick press is moved with forks. Footprint (with legs in the inner position) allows machine to be placed in the bed of a 3/4 ton pickup. It has adjustable legs for uneven terrain. Machine can be moved around on a trailer (not included)
Material cost: $3000-$6500 depending on suppliers; manual machine (without hydraulic solenoid, machine costs $1000 less in materials. Production cost for a full kit: US$5000 above the bill of materials/supplies/consumables cost, paid by the buyer. Production currently occurs in Extreme Manufacturing Workshops - where the buyer is invited to the build so they understand how the machine is built - and is part of the buyer's Lifetime DIY Warranty. This warranty means that the user can maintain the machine for decades because they know how the machine is built, how it works, and how to source parts for the machine from local and online sources. This means that this is not a consumer machine, but a prosumer machine.
3'x6' grate for loading the machine with a tractor. Includes soil deflectors
Additional Power
The machine can be used to produce up to 10 blocks per minute with a larger power source. A larger secondary hydraulic cylinder must be used in that case.
Known bugs: machine has currently been tested in multiple day production runs and is stable at 6 bricks per minute. For a higher flow rate, a different logic sequence is used.
When solenoid valve runs with 2 Power Cubes at 28 gpm fluid flow, different control code needs to be used. The logic is based on a series valve with a series pressing sequence.
Issue can be resolved also by using the same code, and a parallel solenoid valve instead of the series solenoid valve that is currently being used. This would require a closed center hydraulic system, however - so the hydraulic pump would have to be changed to make this work.
Larger diesel engine which was used to power the brick press in 2010 at 30 gpm fluid flow used a simpler control code, which was written for series operation. A brick pressing rate of 10 full size block per minute was achieved in 2010. We switched to parallel logic, and are now returning to a more robust series logic.
Control code optimization can happen to optimize power usage, saving a few percent on energy use.
Log splitter hydraulic pumps can be used to allow for the use of a smaller engine. This has been begun, and completion remains as future work. The advantage of a log splitter pump is the possibility of much more efficient operation, perhaps up to 50% less fuel.
BOM
See build BOM from 2017 at CEB_Press_v17.08#BOM
Versions

Hint: For full project version history, see CEB Press Genealogy and CEB Press Controller Genealogy
Details
The CEB Press takes earth/dirt/soil and compresses it tightly to make solid blocks useful for building. Compressed earth blocks have many advantages as a building material: by making the building materials from the readily available dirt on the building site, they eliminate the need to transport bricks from elsewhere, reducing financial cost and environmental impact. Compressed earth blocks are very strong and insulate well against both heat and sound, making for very energy-efficient building (especially combined with the energy savings from not needing to transport them from offsite). Best of all, the material they use is already on-site and does not need to be purchased -- quite literally, dirt-cheap! See the wiki page on Compressed Earth Blocks and the CEB category for more details on building using CEBs.
The Liberator has been fully designed and tested by the Open Source Ecology team. Because the Liberator is an open source technology, you can freely download instructions to build your own from materials you can obtain yourself, or contact opensourceecology[at]gmail[dot]com to buy a kit or a finished machine.
Building a machine yourself might seem intimidating, but every step of the process is fully documented and the OSE community is available on our discussion forums if you need help, advice, or a little hand-holding.
Using the CEB Press, two people can build a 6 foot high (1.83m) round wall, 20 feet (6.1m) in diameter, 1 foot (30cm) thick, in one 8 hour day, though construction time will vary somewhat depending on preparation time, what equipment is available (tractor to prepare the ground and move the blocks where they need to go), the quality of the soil, and other factors. The bigger the block size, the faster a wall can be erected, but at the cost of heavier blocks that are more of a strain to work with. Blocks from The Liberator average 25 pounds (11.3kg).
See CEB Design for more information.
Product Ecology
From
Uses
Creates
Enables
See Also