CEB Press/Current Downloads
Overview
This page contains a list of the most up to date files FOR THE CNC-CUT MACHINE.that have been uploaded to the OSE Wiki relating to the CEB Press fabrication. This list is an attempt to organize the latest critical CAD data, spreadsheets, code, etc for the current revision into one location.
The latest documentation for the CEB Press is currently available for the revision 6 or "CEB Press prototype VI". There will most likely be errors that will need correcting. Please note any errors in the discussion section.
CAD Data
CEB 6 Metal
NEW Freecad 3d model with proper grouping
This zip files contains 2d pdf files for CEB 6 parts and assemblies, each sub-assembly has it's own pdf.
Step file for complete 3d model (CEB 6) without electronics
This zip file is the original Alibre design files, 3d and 2d, that was used to make the step files and pdf files.
CEB 6 With Mixer
ZIP file for all CAD data and cut data for soil mixer version of the CEB Press
CNC Metal Cutting Files
These files are dxf files that can be easily imported into CNC cutting machines (i.e. laser-cutter, waterjet, plasma, or torch cutter). These files were originally introduced in the OSE Christmas Gift to the World 2012. Having these files machine cut would save a large amount of time that would otherwise be spent sawing material and drilling holes. These parts are blanks that are welded together (in most cases) in order to make the parts detailed in CEBVI.ZIP listed above. The files below refer to 1/2" steel, 1/4" steel, and 1/8" steel parts - respectively.
Plastic - MTU Remote Prototyping
STL files for parts that were designed to be 3d printed
Part 1:
Sourcing of 3D Prints
$15 per piece from http://Sculpteo.com : but scale is off by about a factor of 2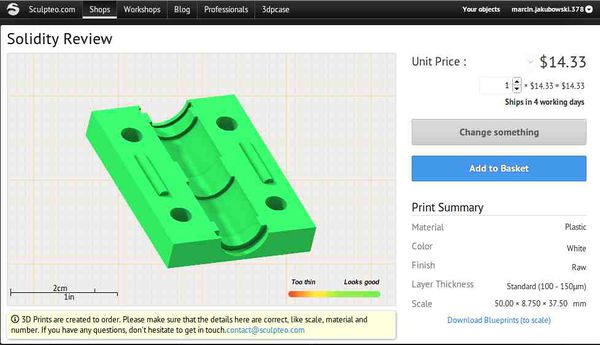 Hydraulics
Electronics
Working document - [1]
BOM
Master bill of materials.
Electronics BOM (May 2013)
Software
this is the program file that runs on the Arduino micro controller that is installed on the CEB Press.