Collaborative Summer X Edit
We are exploring Collaborative Video Edit Protocols using accessible, open source tools. We use Kdenlive for video editing.
How It Works
By downloading a Kdenlive edit file - and the assets used in the edit - anyone can collaborate on a video edit. The asset files do not change. Only the edit file changes. This process can in principle work seamlessly with global collaboration. We use Google Photos for video assets - by creating a Shared Album. The only problem is that audio files must then be stored separately.
Thus, a complete project includes:
Kdenlive edit file
Vidoes and photos
Audio files
Once supporting assets are uploaded and available - and are downloaded by editors - collaborative editing consists of simply passing the lightweight Kdelive edit file back and forth, and versioning that if a large number of editors are working on the project.
From the start - all files must be placed in one folder. No subfolders, as Google Photos Shared Albums do not have folders in them. If the original edit didn't consider this, then the proper directory structure used by the edit must be re-created.
Test Case
This video has been published, but you can see in the comments that there are sound issues - sound level of background sound track needs to be lowered.
See this edit directory structure that was used, showing the edit and mp3 files, and the contents of the SummerX folder expanded. The SummerX folder has primarily video files, with images in its subfolder.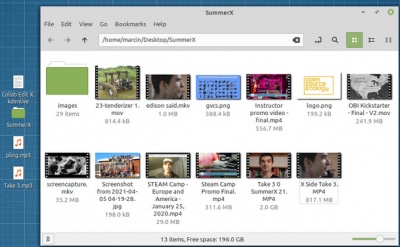 Download the source video/pictures from Summer X Collaborative Edit shared album: [1]
Download the 2 sound files - the Pling .mp3 by Jaspertine, and the voiceover mp3 from Gitlab - [2]
Now just download the Kdenlive edit file, and recreate the directory structure shown in the picture above. Note that most of the image files must be moved from the Google Photos download to the images file folder.
Download edit file: File:Collab Edit X.kdenlive.zip
Links