Husam Log
Saturday June 1, 2013
How to print your sketchup model in lulzbot Taz 3d printer
Fri May 31, 2013
The new Lulzbot taz is making frictional noises when printing. see link to the youtube video :
Fri May 24, 2013
Your sample files - both STL and gcode and how you got to the good file.
Thursday May 23, 2013
I updated the joint file with plates with a 3" holes for the pivot File:Example.pivot joint .skp.
I updated the warehouse file with the plate i made Warehouse. Please link to specific file or state which file it was. Please also change the picture, as it is no longer accurate.
Working on first scale model 3DP prototypes of GVCS machines Husam TAZ Testing.
Wednesday May 22, 2013
Gary asked me to change the plates on the iron worker. The big holes on the plate were changed so they would intersect with the upper two smaller holes.File:Iron worker .skp
I received the heat resistors for the Lulzbot AO-1oo 3d printer. The techical support person told me that I need to to buy a high temp insulator since the temperature of extrusion will be 230 degrees Celsius.
Tuesday May 20, 2013
worked on the particulate pivot , but apparently the design I have File:Pivot not good.skp is not good
worked on the back hoeFile:Back hole .skp
did measurments for Gary
learned how to use layers
leanred that there is no switch on/off button for dimensions.
installed a plugin for BOM that does not work
designed a new joint that Gary asked me since my earlier model is not good File:New joint .skp.
Helped give ideas to Audrey regarding the community standards for New Hablab
have to do cleaning around the house.
I think I can do better at design if I can getmore guidance and directions since I am still a beginer to this kind of business. I also realized I am a slow learner!
Inspired by communist saying " we solve problems by marching a head", I am going to march a head.
Monday May 20, 2013
Made progress to the tractor joint File:Articulated pivot.skp. Please modify for Stock Pivot Plate geometry, considering that the pivot hole is 3" according to discussion on Stock Pivot Plate Plate page.
Gary and I designed beams. I scaled the beams and exported to stl formt and then used the Slic3r program to generate G. Code files. We will have to wait and see once we have a 3d printer how they will be printed File:Scaled beam 19 inch.gcode Please post the other STL and Gcode files - you said you generated several?
designed a warehouse for all the plates that are used in the tractor File:Plates warehouse.skp. Needs to be redone - see Gary Log
Wed May 15, 2013
I Was able to get the LulzBot AO-100 3d printer to work. The AO-100 Software for windows you need to install in order to get the printer to work are all available in the LulzBot website.
Install the arduino-1.0.1-windows.zip file and unzip ti to a desired location
Install the printrun-win-Mar2012-slic3r.zip and unzip ti to a desired location
Install the slic3r-mswin-x86-0-8-2.zip and unzip ti to a desired location
After you unzip the arduino file, plug in to your 3d printer. you computer will recognize the arduino device that is hooked up to your printer.
The following steps will help you figure what type of arduino device you are using and what port in your computer the arduino is hooked up to:
Go to control Panel > device manager
Click on the the drop menu "port" and your computer should tell you the type of arduino device you have and what port its is connected to. for example the one I am connected to is an arduino 2560 and its connected to COM4.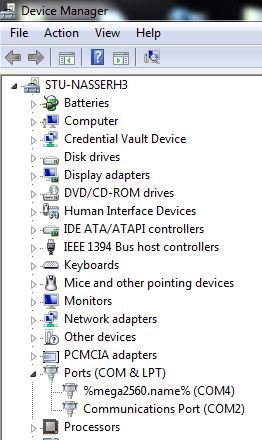 Next go to you zipped and arduino folder and open ardunio.exe. go to tools>Board: Select the type of your arduino device.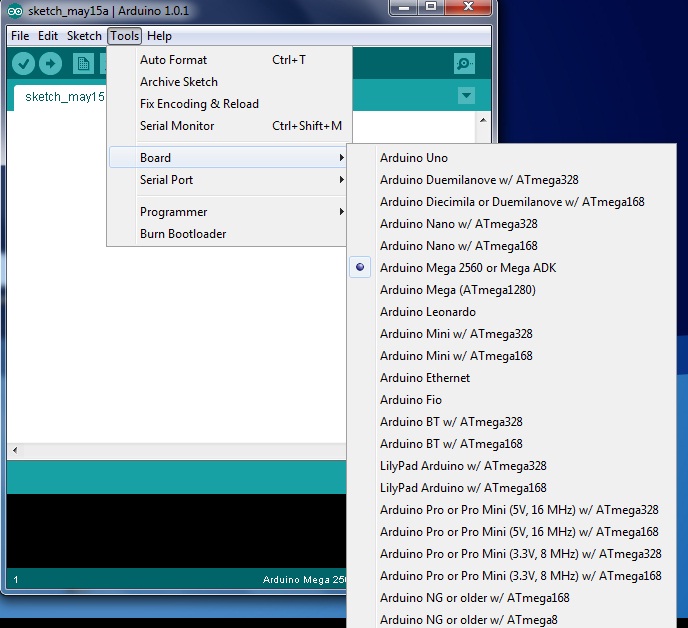 go tools>serial port: select your port "COM4 in my case"
Congratulation now you are ready to run your 3d printer. Just open printrun.exe ( the file is found in the location you extracted your printrun zipped file). Make sure you set the correct port and hit connect. The printer should connect.
Tue May 14, 2013
I Installed CADSpan Plugin for generating STL files from Sketchup. The CADSpan was not a great success. Every time I tried to export STL files, no progress occurs. However, the CADSpan is has an important feature called preview style that help you find out if your SketchUp model is in a good shapte to be printed in a 3d printer. After you have installed the CADSpan plugin, open SketchUp and go to tools> CADSpan tools > preview style. This feature will highlight in a red any surface that is not a watertight surface. Remember, only watertight surfaces can be printed in 3d. TO learn more about watertight surfaces and CADSpan visit "https://www.youtube.com/embed//8QfS1162i9w"
Since I did not have much luck exporting stl files wtih CADSpan, I download a different plugin to convert my sketchup files to stl format. The link for dowload can be found at [1]. After the file is downloaded: open SketchUp and click on the install extensions button. The button is found under Windows> Preferences > Extensions > Install Extension. Clicking this button will bring up a file browser window where you can can select skp_to_dxf.rbz from your harddrive, and SketchUp will then install it for you.
To export you . skp file to . stl format
Select the object you want to be 3d printed.
Click on the drop down menu for " Tools" and select "EXPORT TO DXF OR STL"
Select you export unit, "inches" for example
Select export format "stl"
Select the desired location and name for your stl file. Note it may be necessary to type the extension ".stl" to the end of the name depending on what version you SketchUp you are using.
I Generated sample tractor tubing STL in 13/32" size in Sketchup - File:Beam half size scaled 13-32.skp


Important Notice regarding the Lulz Bot AO-100 3d printer:
---
The power switch is located at the top corner opposite from the RAMPS electronics
For more information on how to print files with the Lulz Bot AO-100 3d printer please visit: OSE Lulzbot , http://youtu.be/d708J9iichE.
I was not successfull in getting the LulzBot AO-100 3d printer to work. I am not sure if the problem is with my computer or the printer. I am going to install Linux operating system to see if it will work and will update as I go.
Sat May 11, 2013
SketchUp Box Tutorial
Please post all your results on a separate page, and in your log, just link to those pages and specific result.-MJ It took me about 45 minutes to finish the box. I had to watch the tutorial and rewind several times to understand how to build the box. This was my first "design" with SketchUp. The lessons I learned through the box design were:
It is important to notice where the lines are being drawn; are the lines drawn on the surface or in space?
Draw reference lines to help you understand where your endpoints will be. You can delete those lines later.
Tractor Wheel
While developing an initial wheel design, I learned that it is important to lean few skills in SketchUp that will help you during the design process. Grouping and making component are essential steps in SketchUp.