Integrated Development Strategy
The Plan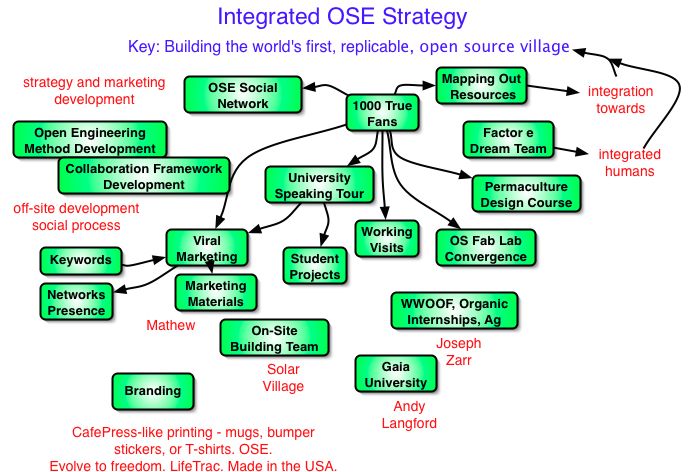 Discussion
(created 2.15.09)
Main points of the diagram are:
Mapping out resources:Leveraging existing support by mapping out existing poeples' work and integrating it to a working whole. If core teams of leaders can leverage their combined strategy towards implementation - primarily by uncovering means towards collaboration - then the project could move far ahead.
For example, Sam Rose, Paul Hartzog, and I will be conferencing on pushing the Open Source Fab Lab forward, and Lonny of Appropedia and Kevin of the Mutualist Blog are already promoting the fab on our behalf.
At best, I could foresee teams of interested leaders writing collaborative proposals that are then pushed to the rest of the community for crowd support.
We should remember that perhaps our strongest weapon that we can presently leverage is huge intellectual capital.
Factor e Dream Team - these are people on site at Factor e Farm who actually build the village and develop its technology base, from Open Source Agroecology to Personal Fabrication. This is the most important part for integrating the first post-industrial village of abundance, and requires Integrated Humans.
OS Fab Lab Convergence - the key anabling feature of a global village's appropriate technology base is the Open Source Fab Lab. We put up recruiting material for students and participants at Recruiting for OS Fab Lab to come to Factor e Farm. I hacked on Agroblogger and Global Villages regarding this topic.
WWOOF, Organic Internships, Ag - we are signed up for organic farming volunteer opportunities, so send people our way. Joseph Zarr is taking leadership in Open Source Agroecology topics.
Gaia University - Andy is the leader of Gaia and True Fan. Joseph Zarr is taking steps to negotiate on our behalf with respect to becoming a Midwest branch thereof, and we may be in a position to host student interns later this year.
Working Visits - Joseph has already visited, while Mathew and Molly are planning on visiting on a working visit in marketing documentation, agroecology, and other topics. It looks like Andy will be visiting, and Rasmus also expressed interest.
1000 True Fans - Getting other supporters is key, and I think the best approach is to tap many of the high level open source movement leaders. Collectively, we have dealt with/interacted with just about all of them out there - so they are within our ear. I foresee many becoming True Fans in time, or recommending others.
University Speaking Tour - this appears to be a potent route for gathering support, publicizing the message, and recruiting. The approach is as simple as going through our numerous university contacts, or simply contacting progressive university groups to host us. I am ready to do this extensively, according to the demands of our project.
Student Projects - remote and onsite collaboration could occur in the form of student projects. Many universities have independent study programs, and even self-designed majors - so connecting to such opportunities could both expand a young person's mind and bring us closer to buildin the first replicable open source village.
OSE Social Network - right now we are using an OSE development group on Global Swadeshi, as an immediately-available forum. The purpose is to discuss the strategy and marketing for the world's first, replicable, open source, global village.
Viral Marketing - many of us can spread the work on networks. Jeremy set up a few OSE groups, which he'll tell you about. You can see and add to our Keywords for searching collaboration.
Marketing Materials - Matthew composed a 4-pager on OSE, and will work on pattern language icons to help people understand the technology set, an upgraded version of the previos Pattern Language. He's also visiting to make a marketing video. We also need a general brochure, perhaps a trifold - for passing out - on the 1000 True Fans - 1000 Global Villages campaign. We already have a Solar Turbine brochure, and we could use a brochure for the Open Source Fab Lab, Open Source Agroecology (permaculture, local food systems, orchard/nursery), CEB press, Sawmill, Torch Table. All of our wares are intended to be economically significant products, so many different brochures are desirable. A press kit is desirable as well, but that may perhaps wait until CEB press product release on May 1, 2009.
Branding - Our campaign should also include some stupid stuff. Branding of our concept could be useful - in the form of bumper sticker, mug, t-shirt, magnet sales. CafePress does zero-inventory, on-demand production of said items - but we may want to consider OSEPress instead to capture more value. Nonetheless, imagine bumper to bumper traffic where people are bombarded with countercultural messages of 'evolving to freedom.'
Open Eningeering Method Development, Collaboration Framework Development - The former is more technical in nature, the latter refers more to social technology - though both are social technologies. This is a big area - and refining methods for collaboration can be the subject of many Ph.D. theses. There is lots of work to be done. Sam is working on a database system applied to the GVCS. There are many platforms for this, and integrating them into a working package is the goal. Our work is challenging because it goes far beyond the encyclopedic throwdown of WikiPedia into actual production.
Feedback
I don't see WikiEducator mentioned above in your diagram <smile>. Can we help you? Can we chat? Wikirandy 18:16, 21 February 2009 (PST)