John K Stager
WHO are you?
Location (city, country): Minneapolis, MN, USA
Contact Information (Email, Skype Phone):
jkstager@gmail.com
johnkstager
6122937323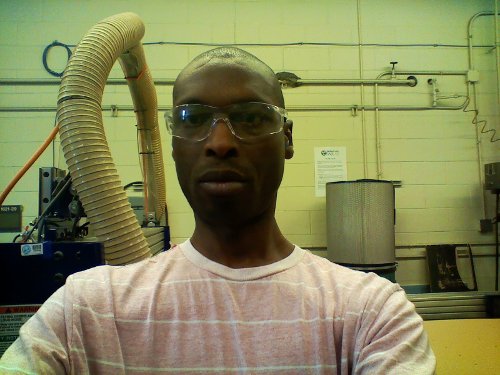 Introductory Video -: Dedicated Project Visit, Video of Interest.
Spent the last 6 months at Century College 2013 Digital Fabrication Lab.
Replicating and upgrading the MTM LJ from MIT's center of bits and atoms' MTM program.
Designed and fabricated a soldering station.
Fabricated a binoculars support structure as community services project.
CAD designer. (SolidWorks, Sketchup, FreeCad, AutoCad).
CNC to CAM (CAD to G-code).
Opensource application developer.
Systems security and Gray Hat.

WHY are you motivated to support/develop this work?
Do you endorse open source culture?
Yes I do (like marriage without divorce hahaha!).
Why are you interested in collaborating with us?
As a student, who is becoming a master of open and sustainable flexible fabrication, OSE makes a great open techshop.
How do you think that the GVCS can address pressing world issues?
When GVCS is fully developed and deployed, any committed community can eliminate scarcity by utilizing it.
What should happen so that you become more involved with the project?
To start with, a Dedicated Project Visit, and once there everything else to allow for maximum contribution.
What are you missing in the project?
My beloved Africa is yet to be represented. Full time incubators across Africa and anywhere the human condition is sub-standard.
What are your suggestions for improvement of the project?
Part of my DPV will be about OSE's commitment to grow OSE_Incubators in Africa and my commitment to that specific intent, thus eliminating artificial scarcity.
WHAT
List all of your skills in these areas: Communications - Organizational - Computer Support - Finances - Design - Natural Building - Electronics - Automation - Metallurgy - Engineering - Fabrication - Agriculture - Energy - Architecture - Video/Graphics/Art - PR/Marketing - Education - Construction - Industry - CNC - Chemistry - Product Design - Other
Communications - Visual presentations - PowerPoint, Google slides.
Organizational - Team based projects.
Computer Systems and Lan Support - Ok with Linux. Prefer not to use closed operating systems.
Finances - Basic GAAP , Prepared invoices and collected funds.
Design - CAD Solidworks.
Natural Building - Clay, Mud and Bamboo.
Electronics - Circuit design and Arduino.
Automation - Novice Robotic - Parallax and Arduino.
Metallurgy - Novice metal foundry.
Engineering - CAD and CAM.
Fabrication - Epilog Laser, Z Corp, Vinyl Cutter, Roland Modela, Sherline, Dimension Elite 3d Printer, Shopbot, Bridgeport.
Agriculture - Avid organic gardener.
Energy - I have made Charcoal in the past.
Architecture and building experience.
Video/Graphics/Art -Windows: Adobe Suite- Photoshop, Fireworks, Flash, Premiere. Linux: Gimp, Inkscape, Kino, OpenShot and DeVeDe.
PR/Marketing - Social media.
Education - Coached Soccer.
Construction - Remodeled a bathroom or 2, finished a basement and summer construction jobs.
Industry - I have experience in a R&D shop a as technician.
CNC - Learning it. I can produce G-code for both Shopbot and Roland Modela.
Chemistry - College Chemistry.
Product Design - I'm good with Solidworks. I am getting better with Sketchup, FreeCad, AutoCad and Inventor.
Other - Open Source Applications Programmer, I can read and interpret Engineering drawings, Tech savvy. Love all things barebone.

How have you already contributed to the project?
Yes, By helping with 6 IN 60 design sprint - John Log.
HOW can you help?
How are you interested in contributing to the work of GVCS development?
By contributing my skills in fabrication, cad design and or IT, time and physical labor.
Remotely and at FeF either by assignment by OSE, based on OSE's roll-out and need or self directed.
Can you volunteer to work with us, and if so, how many hours per week?
Yes, currently 12 hrs weekly and more based on OSE's roll-out.
Are you interested in working with us for pay? If so, what services can you offer, and what is your hourly or per-project rate?
Yes, services and hourly rate will depend on the roll-out schedule and I am open to liveable wage.
Are you interested in Dedicated Project Visit?
Yes.
Are you interested in purchasing equipment from us to help bootstrap development?
I intend to replicate gvcs as dusestagergroup llc.
Are you interested in bidding for consulting/design/prototyping work?
Yes.
Are you a True Fan? If not, why not?
No. No reason.
Would you like to see yourself working with us on a full-time basis?
Yes, especially as OSE_Incubators yes again.
Are you interested in using the technologies that we are developing directly?
Yes. my toolkit is exclusively open source.
Are you interested in being part of the world's first, open source, resilient community?
YES! (In Africa? Absolutely! YES AGAIN!) It will be my honor.