LifeTrac IV
The LifeTrac Story 2012. from Open Source Ecology on Vimeo.
Overview
Last updated Sep. 9, 2012.
This is the current version with Quick Connect Wheels and Bent Loader Arms. The frame is identical to LifeTrac Prototype III.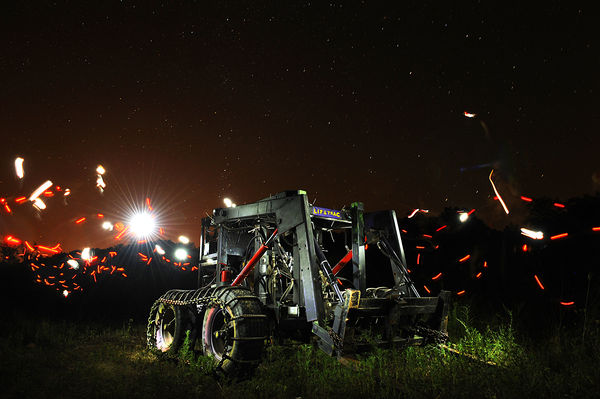 See Bent Loader Arms and Quick Attach Wheels. These are the two modifications from LifeTrac III to LifeTrac IV.
LifeTrac III is included in the Civilization Starter Kit DVD v0.01 (also linked on front page of wiki.
LifeTrac IV is the fourth iteration of LifeTrac. It is a retrofit of existing LifeTrac III's with Bent Loader Arms and Quick Attach Wheels. Additional load carrying capacity is gained from adding weight to the rear of the vehicle.
We received assistance from GrabCAD on wheel redesign - see challenge. Additional changes may be made in this iteration as well.
Guatemala Team is currently building LifeTrac IV with Power Cube. See Guatemala Log.
Current Design Status
One LifeTrac has been retrofitted with the bent loader arms, quick attach wheel plates and additional weight.
General Specifications
Important Links
Current Needs
Project Leaders