Replication/CreationFlame
Creation Flame: Austin, TX
October, 2011 marks the first ever replication of a complete GVCS machine by an independent third party. This is a day of historical significance for the Global Village Construction Set. Congratulations to James Slade of Texas. - Marcin Jakubowski, Nov. 14, 2011
See corresponding blog post.
James Slade is one of the co-founder's of Creation Flame in Cedar Creek, Texas. In partnership with Jason Smith, Creation Flame is the first to successfully replicate a CEB press and is now getting into the business of using and selling CEB blocks.
CEB brick pressing results from Creation Flame:CEB_Blocks
In unison with Thad from Broken Sidewalk Farm, they are starting production of a LifeTrac, self replicating CNC Plasma table, and another Powercube. Also starting to build a few Roller Tables to help with the CEB's and steel work. roller table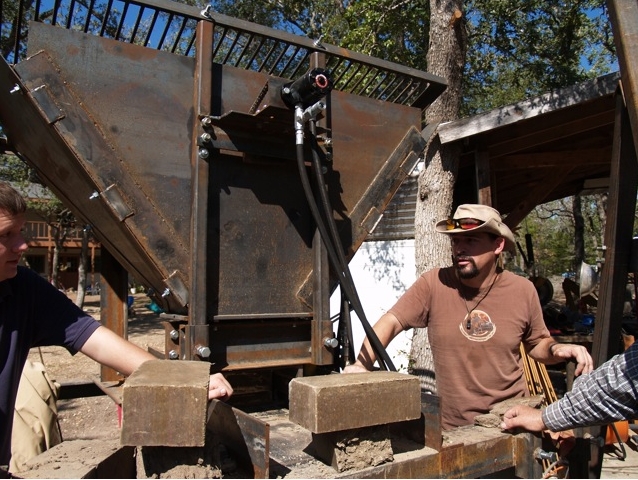 Their blocks:
Video of pressing: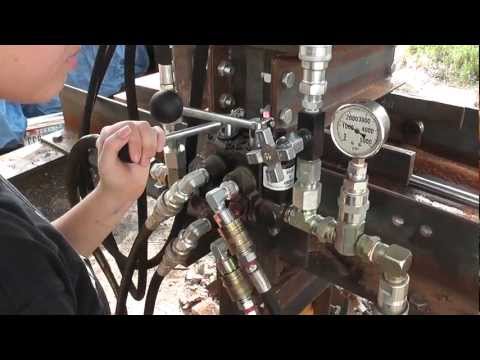 Peer Review
From Dan Schellenberg on October 27, 2011, who saw the machine pressing bricks and who is interested in using it in Africa:
Dan here to say how impressed I was with James and the work he did to build this block press! Incredible for someone with zero fabrication experience! Very encouraging to my African friends who came with me to check it out! See the following pic. for the whole group on site. Then #3 pic is of the blocks we made. Should have been kept to 4 inches thick to stop "loafing" and stress fractures inside at 3000psi but hey that's easy. Can't wait till it is automatic!