Seed Eco-Home 2 Preorder Form
How it Works
This form is used to pre-qualify potential builders of the Seed Eco-Home 2 who are interested in the Turnkey Build Package of the Seed Eco-Home 2 by Open Source Ecology (OSE)/Open Building Institute (OBI). This is a unique opportunity to obtain an expandable, 1000 square foot starter home at the lowest possible cost - where OSE builds the finished home for you on a plot of land that you own.
All our plans are on line for free - so if you download our designs and blueprints, you don't need to buy anything from OSE. But if you are interested in a house kit or a turnkey house build - to facilitate your move into a new Seed Eco-Home - we can offer you this service. If you are interested, please read this introduction - and if you qualify - fill our our pre-order form. There is a nonrefundable $20 charge for form processing. Before you fill out our pre-order form - make sure you read the following and understand all of our options. This will help you to determine if you qualify for the turnkey build - or make you aware of other options so that you can negotiate the best solution for you that provides you with an affordable, expandable, high quality home. This way, you can avoid debt and reduce your financial burden - and thus be a happier person all together as we help you negotiate the single largest expense in one's life: housing.
We have done many CEB microhouse builds, and in 2016 we built the Seed Eco-Home - which right now looks like this on a cloudy US midwest spring day: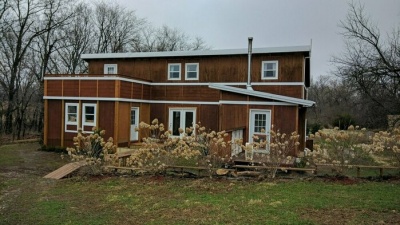 The model that we are currently productizing is the Rosebud model or Seed Eco-Home 2: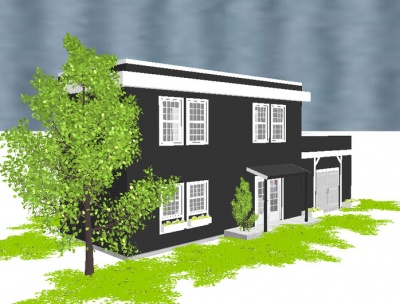 This is a 2-story, 1000 square foot model with attached carport, and a 6kW PV option. It features a polished concrete floor, and it can be expanded readily to 2000 square feet. It is highly efficient in energy and water use.
OSE is providing 3 services that will will allow you to access additional support over just downloading our plans - up to a turnkey house build. However, in all cases - you need to get your own buildable land parcel - as we are helping you to build _your_ home - not a home that we sell to you as speculative development. You simply hire OSE for the additional services or for a turnkey build. The materials costs for the complete house are about $50k, and your complete cost depends on the cost of land, utility hookups, and permits/fees in your location. We can offer these 3 options to you to help you with your build:
14 Day Builder Crash Course - $2100 early bird offer for build training where you participate in a complete build using our modular design. For an overview of our modular, incremental, Seed Eco-Home Concept - see the OBI Kickstarter Video - which is a timely explanation of the overall goal. We guarantee that you can learn our build techniques rapidly - if you think you can not after one 2 week immersion session - then you are welcome to come tuition free to the next one ($1890 value) - which we will run regularly. You can sign up for this at our website as part of the Summer of Extreme Design-Build 2021.
Seed Eco-Home 2 Build Support Package - We help you become a complete owner-builder for a $10k service fee which walks you through all the steps of the build process. You pay for the materials, and you BYOL (Bring Your Own Land). This is a support package as we guide you through finding land, the materials order, negotiation with building officials, and successful build. This package includes the 14 Day Builder Crash Course to train you for the build. You cover the cost of house materials and land, or any contractors/builders that you hire if you want to do so. Our service fee pays for the Builder Crash Course, preparation of a building documents package and architectural plans for you that you submit to your building department, a drop ship of materials (we prepare and provide you with a complete bill of materials with sources near you and you make the orders for everything to be delivered to your build location or your house), and our technical support as you build the house. You are responsible for the cost of all materials, and for inventorying the drop ship of received materials. The technical support involves helping you to find a suitable building lot, assistance negotiating with building officials, remote quality control - where you can submit pictures through an app so we verify your progress, a builder hotline, and email support. In emergency cases pending certain conditions - OSE may organize a swarm build where a team of people descend to help you finish the build in a few days. The Build Support Package equips you with the skills and materials to build a house, and you are free to hire out any work or do it yourself. One good option for building is to send someone to the Builder Crash Course if you don't have the time, and hire that person to build for you. If you would like to sign up for the Build Support Package - then you can start by registering for the 14 Day Builder Crash Course - and if you want our support in your build - then we can apply your 14 Day Builder Crash Course fee towards the $10k service fee. This package is intended for owner-builders who would like thorough guidance through the whole build process from land acquisition to move-in - in which the owner-builder gets the assurance that all the steps and parts ordered are done correctly, which may otherwise be overwhelming to a novice.
Turnkey Build Package - You are the owner-builder, and hire OSE to build the Seed Eco-Home 2 for you. You pay OSE a $50k service fee and for the materials, and you BYOL (Bring Your Own Land). This the package where you don't do any of the construction work, but have OSE build the entire house for your ready to move in. OSE prepares build documents for you, you submit the building package to your building department, and once approved, OSE begins the build. OSE takes care of managing the inspection schedule, and you can move in to the finished house. You cover the land, materials, utility connection costs, permits and inspection fees, the OSE service fee, and any other local and transaction fees. In this package your all-in cost is $100k for the OSE service fee and materials - and whatever it costs for all the utilities and other fees.
Pre-Order Form for the Turnkey Build Package
If you are interested in the Turnkey Build - we are taking pre-orders and we will begin building for prequalified individuals starting in December. This means that southern climate homes can begin in December, but northern climates would likely wait until the spring.
The pre-order form goes through a number of due diligence items to qualify you as a potential recipient of the Turnkey Build Package. This is not for everyone, as it is not a typical cookie cutter home with drywall interior - but more a modern style with rustic interior and wood siding panels. The design choices have been made based on the possibility afforded by modular, parallel construction that can be done easily by large teams, without requiring specialized skills. We end up with a product this easy to build, maintain, and expand. Expansion features such as door openings are already preframed to allow for expansion to a 2000 square foot model - according to the Incremental Housing concept.
To qualify for the build, please fill out all the questions. There is a $20 processing fee for your pre-order qualification form. We will respond to you within 72 hours letting you know how well you meet our qualifications, or if we have further qualifying questions. We will give preference to submissions which make it clear logistics, costs, zoning restrictions, utility access, client needs, and other considerations combine for the highest chance of a timely and successful build and a satisfied client. The main consideration is whether your location, needs, and geographical factors agree with our design, and whether you can meet the several responsibilities that are required from the owner-builder side. It may emerge that you cannot meet some of the requirements, in which case you can still submit the qualification form - but it may not be possible for you to proceed until some conditions are met. Note that at this time - turnkey builds are limited to the continental USA. We plan to fulfill 200 house orders through this pre-order form starting December 2021 through December 2022. The rest will be waitlisted until we assess progress, and build further capacity with additional 3-month training programs for builders. We are running our first training program this September as part of the Summer of Extreme Design-Build 2021 (Summer X).
What if you do not pre-qualify?
If you do not qualify for the turnkey build - there are clear potential workarounds:
Send someone to our immersion training, either 3 or 6 months of Build Training - which is like tech school, so they can master the build techniques and you can hire them to build for you on your terms. This can actually cost you less than having OSE build for you, and in some cases, you can actually get your house finished more quickly if the builder works on your house right after finishing our program. You can do this by collaborating with someone who has no prior experience - as we do not require prior experience for people to join our training program. You would still need to pull the permit, and make sure that your materials orders are taken care of.
Send someone who has some build experience to our 14-day crash course, and hire them to build for you. For people who have already gotten some build experience - in construction or other trades - they will be able to complete the crash course, and with our ample documentation and videos, do a house build successfully. We can more or less guarantee this - as if the participant does not gain sufficient skill - they can take our next crash course repeat - free tuition as discussed in the Crash Course description. We plan on running this crash course quarterly. You would still need to pull the building permit and source all the materials from our bill of materials - which is all open source.
If the last option is too much for you still, then you can secure the Build Support Package. You would need to find a collaborator who can use the Build Support Package to build for you. This option would carry a cost comparable to the first workaround. And you would still remain the armchair builder, by choice or necessity - which is why,we assume, you were interested in the turnkey build in the first place? So this could be another win-win situation.
If you can't find anyone who would be interested in building your house and you get depressed that you can't build your dream starter home - talk to us. We may be in a position to help you find someone to collaborate with you - and your goal can be met because you are not alone if we can find or train an effective collaborator. This can be a win-win as you remain the armchair builder, as your collaborator pool expands.
The last resort is you actually getting off your armchair and build yourself, but we cannot see at this time why this would be a win-win for you if your goal was to hire someone out of choice or necessity in the first place. So the realistic last solution is that you have to wait until our program grows and we train a number of other social entrepreneurs - which can be rapid if we are at the top of our game. This way, we can offer 10x-1000x more house builds per year.
And what if you are not in the continental United States? Our Summer X program is open to train builders who live in any location where light frame construction is relevant, so we are doing our best to spread the enterprise as an open, Distributive Enterprise throughout the world. We expect that other similar operations will spin off autonomously or through our direct involvement. Next year, we will also add Compressed Earth Block (CEB) construction, so we will be able to build more in tropical, arid, and termite-prone areas where light frame construction is not as appropriate. You can help us by spreading the word about Summer X.
Preorder Qualification Form
With all that said, here's the preorder form, so let us know how you qualify and we look forward to working with you.
FAQ
Current Model
What is the all-in cost of Seed Eco-Home 2? $50k materials + land + connection to utility grid (anywhere from near free to many thousands of dollars depending on jurisdiction). If you build yourself, have land, and live off-grid - your total out of pocket would be $50k. OSE provides a turnkey build service (covers all labor, machine work, grading, etc) for $50k on top of the materials. In the city, a buildable lot may be around $25k. In the country, a buildable lot starts at $500 [1]. Utility connection costs are around $10k [2], but that completely depends on your jurisdiction. In the Seed Eco-Home, we use superefficient electric appliances such as an induction cooktop, heat pump, and on-demand water heaters, so a gas connection is not necessary and thus reduces overall cost. With the off-grid PV option, it turns out that it is a clear money-saver over a lifetime, so if one can make a lifestyle shift to full solar, there is significant cost reduction there. Overall, the Seed Eco-Home Rosebud 1000 sf can cost as little as $50k for a DIY build - as little as $100k + utility hookups if you have land - or if you don't have land and want to build in San Francisco, you're looking at $500k just for land. So the overall cost completely depends, primarily, on where you want to live. If you are a teleworker or self-employed, then your housing costs drop significantly.
Can I really learn to build the Seed Eco-Home 2 if I am a novice? Absolutely, if you want to learn and if you find that building your own house is meaningful. We have designed a building process with ease of build as one of our primary considerations - so that novices can do it. If you are concerned about being able to do the physical tasks, or doing it safely - then try our 14 day Builder Crash Course in which you will find out whether building your own house is for you. We know that the answer will be yes for just about everyone.
What is this Housing 2.0 thingy? Housing 2.0 refers to housing in the information age, where a full digital model (BIM) is available and complete details drawings, specific build instructions, and bills of materials can be extracted readily and automatically. This is the opposite of current practice, where only sufficient design models are available, and builders get to figure out the rest in the field. This is an extremely inefficient way to build, resulting in inefficient build procedures and lots of materials waste - in the absence of considering these things in the design phase. With Rosebud - we are practicing Housing 2.0 -and thereby allowing widespread, global collaboration - based on modular design, part libraries, and optimization of everything. Read more about the Housing 2.0 concept.
How long does it take to build the Seed Eco-Home 2 from the kit? In our build model, you prepare all the modules in advance - in the form of modular building panels, over a number of weekends. We expect 2 people to be able to assemble all the prepared modules into a finished house over a period of one week. We are currently taking data points on the actual build - and are basing our prediction on our last build, which took 500 hours for the shell house and some utilities in a 1400 square foot build. For the Seed Home 2, which is 1000 square feet - we expect the total build time to be 400-600 hours up to finishing and trim. This is 50 days of work for 1 person - or 4 days of work for a team of 12 - which is completely possible using swarm build methods with our modular design. We expect to optimize the build hours - this is just our current required effort.
Can I make design changes to the House Kit or Turnkey House Build package? Currently we are offering only the Rosebud model. We can do small changes like appliance choices, colors, or drop-in changes - no problem as you are paying for the materials. However, if you want to make deeper design changes - you are welcome to hire an architect and pay for any additional materials. However, we do not offer support for this. Our design is optimized for efficiency, ease, and speed - without reducing quality - breaking the Iron Triangle. Deviating from our procedures will introduce costs and delays which we do not want to be responsible for as we know that such changes can easily derail a project as the build leaves our realm of Housing 2.0 and enters the realm of standard construction - which is typically more complex, expensive, and skill-intensive.
Do you offer an off-grid option? Yes, we can do a rooftop, 6kW PV system. We do not use gas gas appliances in favor of more efficient electric induction cooktop, on-demand electric water heaters, and heat pump - so you can also say that Rosebud is also off-grid on the gas part. We are working on grey and black water reclamation as well, so that the house is completely autonomous and pollution-free, and we expect to offer these as standard options within the next 3 years.
What special ecological features do you offer? We offer PV, superefficient appliances (refrigerator, heat pump, on-demand water heater, induction cooktop), eco-friendly polished concrete floors, water-saving devices, and a standard bidet option. We plan to attain Living Building Challenge Certification with the Rosebud model.
How much does it cost to connect to the utilities? It is $2k for electrical, $5k for sewer/water.
Build Model and Legal Issues
Is it legal to build your own house, or do you need to hire licensed professionals or contractors to build a house for you? It is legal. You need to follow 5 requirements: have a buildable lot, zoning must allow you to build a house, local ordinances must allow you to build in the particular way you choose, and you must follow building codes for soundness and safety of the home. Also note that none of this applies, or is not enforced - in some locations that do not have or enforce any building codes - see map at Counties Without Building Codes. In fact there is over 100 counties where 'building what you want without asking anyone' is actually allowed. However, if the question is deciding to build your own house, legality is not the only question. Another question is - are you qualified to do so and to do so safely? If you are not qualified, we can train you. If you don't think you can do so safely, we can teach you safety. In short, if you would like to build your own house, there is nothing stopping you - though to do so responsibly, you have to possess or acquire a skill set. And this skill set is not prohibitively difficult. You can also hire out some work to licensed professionals or contractors. There are cases where a fully built and functioning house requires zero contact with the outside world. That would be an off-grid situation where building codes do not apply - or special building types such as barns or utility buildings for which no approval may be needed. But if there is a public grid involved - water, sewer, internet, power, gas - involvement of the utility is required as you are not allowed to tap into public infrastructure by yourself. To put it another way: you can't build without a general contractor. The good news is that the general contractor can be you - if you to build your own house at the lowest possible cost.
Explain the legal concepts of licensed professionals, contractors, and the role I can take if I am neither? First, let's start with what an owner-builder means. It means that you will live in the house that is built. But the 'builder' part does not mean that you have to build everything yourself. You can be an 'armchair builder' - who hires out all the work. As an owner-builder, you can choose to do any amount of work yourself - from zero to everything. You are, however, the responsible party and effectively, the general contractor. You do not need a license to function in this role for your house. You just have to make sure everything is done correctly - and that you pass the required inspections. How you get there is up to you.
What are the economics of building the Seed Eco-Home 2 Rosebud myself vs hiring others? Slab foundations - $6-12k turnkey [3] vs $2500 for materials, equipment, and supplies only. Polished concrete floor - $3k-$6k vs $500 for diamond pads and open source polishing technique. Electrical - $3k-$5k if you hire someone [4]. Plumbing - $4.5k if you hire out [5]. Estimated build time - 600 hours. Thus, a rough estimate is $50k saved in labor (1/2 materials, half labor) - so expect your house to cost $50k for materials, $50k in labor. We're working on exact figures.
Is there any part of the Seed Eco-Home that a novice builder cannot learn? In general, we provide full training that allows anyone to learn the full build. Our value proposition is to simplify by design - for ease of build, speed of build, ease of sourcing materials, build safety, and low maintenance once finished. Difficulty is inversely proportional to the amount of documentation and guidance - and OSE provides full and complete guidance - which improves as the project evolves due to its open source nature and continued development with feedback from the community. So if you are willing to learn, we can teach you. We certainly do not believe that average individuals cannot learn to design and build like a pro - that is part of the myth of technology that we are dismantling by making technology transparent and accessible.
Is there any part of the Seed Eco-Home that an owner-builder cannot perform on their own for legal reasons? There may be jurisdictions where legal requirements do not allow owner-builders to do certain work and must hire a professional, such as for electrical, plumbing, or heat pump. There are jurisdictions where no such restrictions are in place. For the electrical, plumbing systems, heat pump, and photovoltaics - we can teach owner-builders the necessary skills if they choose to do the work themselves and their jurisdiction allows it.
I really want to build my own house, but I just don't think I have the skills to learn everything in only 14 days of your Seed Eco-Home crash course. We went to great lengths to simplify the construction process - the simplest possible plumbing system, the simplest possible electrical - all in a modular construction system of panels that facilitates access and makes repair easy. As such, we believe that anyone can learn in 14 days - without prior construction experience. We even claim that if someone never used a power tool in their life, they can walk out of the course knowing how to build a full house. How? Because for anyone who is not confident that they can build a house after the course - we are offering free tuition($1890+ value) to take the repeat course - as many times as they like! And furthermore - if there are any parts of the build that the owner builder does not want to or cannot do on their own - such as the foundation - that can be hired out easily - as the owner-builder will understand the process and do an effective job hiring a pro or a friend. It's all about enabling an effective build, and enabling the owner-building to secure additional help if necessary by providing an immersive education that covers both practice and theory.
Is it safe to build your own Seed Eco-Home as an owner-builder? It's largely up to you - what safety procedures you follow, how seriously you take the issue, and how well-informed you are about potential risks. There are about 11M construction workers in the US [6], and about 1000 construction deaths occur annually [7]. Fall protection, scaffolding, ladders, and machinery guarding are 4 top causes related to construction. In the Seed Eco-Home build, we use a flat roof so roof fall risk is minimized. There is a way to avoid fall-related risks almost competely if one chooses to build a one story version of the Seed Eco-Home. For power tools, one must have body awareness and blade guards must be in working order. The general idea is that if one is comfortable using power tools and has body awareness, the risk of injury is low. But house building is inherently a dangerous task, so this is something that any builder must consider.
Are you allowed to do your own electrical work? The legality of do-it-yourself electrical work varies from state to state, and from one municipality to another. Always call your local permit office for the answer that pertains to you. One scenario found in many communities is that you can legally do your own electrical work as long as you can attest to being the owner-occupant and that this work is being done for your benefit, not commercially. [8] Note also that there are actually dozens of counties that don't have or enforce building codes - https://pangeabuilders.com/pockets-of-freedom/
Are you allowed to do your own plumbing as an owner-builder? If you are the owner builder, yes. Should you? Yes if you are capable and want to do it yourself. You can hire licensed plumbers if you like, or you can do it yourself, or you can do a mix of both. Your only requirement is meeting inspection requirements.
Risk Management
What are the risks of building the Seed Eco-Home 2? Let's talk about general owner-builder risks [9], and how the Seed Eco-Home 2 mitigates these by design. 1. Risk of out-of-control construction costs and blowing your budget - Fortunately, we have a good solution to this - we are digital - Housing 2.0. That means there is no builder/contractor figuring things out on the fly because the architects' plans are not specific enough. In our model, we specify the exact material and sourcing, provide complete build details and instructions - and these procedures are optimized (as far as they can be until someone downstream points out how we can do better because we are open source). So you know exactly what materials you will use, how much they will cost, and exactly how to build them. This is critical for material/labor cost overruns. If you build yourself, you can manage this. If you hire someone to build - you will know how much time it _should_ take. Ie - you make fully informed decisions throughout the whole build. The remaining risk is materials cost - such as skyrocketing lumber and building materials prices because of a construction boom in Covid times. 2. Inability to control your schedule properly, causing costly time overruns and delays in project completion. We address this by defining an exact schedule - there is no mystery there as we have documented build times and specific build procedures. 3. Complicated construction issues, requiring solutions that may be beyond your capabilities. We kill this completely - by optimized, simple design that took years to develop and now anyone can access. 4. Failing to build to local code (and the unbudgeted costs of correcting issues). This is solved at the plan check stage with the building department. First, our design follows the IRC. Second, the specificity of our building plans allows us to communicate very explicitly with building officials, so that any changes are caught prior to the start of construction. This issue is largely solved with Housing 2.0. 5. Many of the best subcontractors won't work with owner-builders. That's great- because we don't need them. In the 14 day crash course, you will learn everything clearly, and our abundant instructionals will make it easy for you to hire any handyman, friend, or non-builder tradesperson to follow our plans - the guesswork is taken out of the equation. Our detailed build videos will leave no detail to the creativity of your worker - unless you ask them for more creativity. In which case we ask you to feed this back into our database if it's an improvement. 6. Banks may not want to give the best terms on a construction loan without a licensed builder on the job. Simply sharing our documentation and website with the bank officers may even inspire them to give you a better deal, especially if you took our building crash course and explained the modular build method. You may actually be selling our product for us without knowing it, as the construction model that we use is compelling. 7. Being taken advantage of by shady contractors. Not likely, because you don't need specific contractors. Our techniques are transparent - so you can guide your contractor effectively - or just hire your friends instead because we go to great lengths to simplify build procedures by smart design so more people could build for you. 8. Mechanic's Liens filed against your property by subcontractors or suppliers. Hmmm - on this one - you have the advantage of being able to pick and choose what contractors you work with, because you are empowered to not need contractors in the first place. 9. Difficultly refinancing a construction loan (especially when off schedule). The construction time is controlled tightly in our program, so you should be able to keep to schedule. The modular design allows you to pull in more people into the build if you have a delay - while avoiding Brook's Law. Thus, you are not likely to require refinancing in the first place. 10. Foreclosure or other loan-related distress caused by budget and cash flow problems. Our design for Incremental Housing, low cost, and build efficiency reduces the capital outlay required, and makes build completion more likely than traditional build projects. You can even build smaller - 512 sf or even 256 sf - as our building technique allows for complete expandability. 11. Depressed resale value when home is not built by a known professional. The bank should be able to get an accurate assessment from our exhaustive documentation. If you care about 'fitting in with the Joneses' for standard cookie cutter design, then you may be coming to the wrong place. We offer a unique design with significant attention given to aesthetics - without breaking the budget. It is likely that our uniqueness may be an asset - more in the custom home category associated with more expensive housing - than in the sup-par housing category.
Future Work
Do you offer an autonomous house option? We are offering an aquaponic greenhouse option for food production. We are developing a closed loop water system with water catchment and recycling. We are developing an open source microfactory option for 3D printing and other productive work so that the house is all together a net producer of energy, food, water, and products - while being zero carbon and socially conscious.
Costs
How much does a building permit for a new home cost? - Anywhere from 0 in unregulated areas, to $1000-2000 in other areas. [10]. $1k-$3k - [11]
How much does it cost to connect to the electrical grid? Anywhere from free to several thousand dollars. [12]
How much does it cost to connect to city water? From a few hundred to a few thousand dollars. [13]. Average is $1395 [14]
How much does a connection to city sewer cost? $3k for the line, and anywhere from a few hundred to many thousands for the actual connection. [15]
How much does it cost to dig a well? $2-25k [16]
What are typical city impact fees? They are rarely under $1000 and up to $20k [17]. These would be negligible in rural areas.
What is the typical range for utility connections for vacant land? This is in the range of $10k-$30k [18], in which off-grid electricity makes much more sense and incentives for a closed loop water system are high.
What is the minimum I can expect to pay for a utility connections? At best, electric connection is paid by the power company, water is $1400 on average, and sewer is a few hundred if you pull your own sewer permit if you know how to do it. So a minimum is around $2000 for getting onto the grid. If you hack this in an off-grid setting, you can do a solar power system, which saves money in all cases, do a biodigester for effluent for $500 in materials, and process your own rainwater or pond water. But for the normal guy - you would expect to pay $2k for electric, $1400 water, $3000 sewer, $1000 sewer connection, and you are set back by about $7500 for all your utilities in the city.
What do you suggest for the Seed Eco-Home utility system setup? It really depends on your needs and how concerned you are about clean energy. You can go solar or tap the grid. We expect to make this question moot with open source technology - with PV, nickel-iron battery storage, and closed loop water integrated with the aquaponic system. This remains a dream that shall be realized soon.