Solar Turbine Prototype at Factor e Farm
(Linked from Solar_Turbine - where we discuss the basics program plus cost predictions)
Email Group
Join the Solar Turbine email group
Introduction
We are building a replicable solar thermal concentrator electric power system - on the kW scale. The closest system that we found to our design is: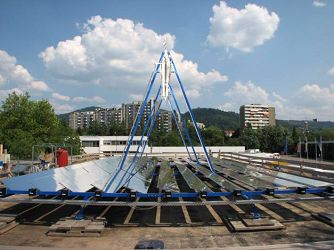 Source. We should identify and contact the designers.
System Overview
Here is a general overview of what I could see happening in the approximate August 15 - September 1 period.
I think we can be happy if we construct and fine tune the simple 16-slat solar collector design. This would include the foundation, collector, receiver, followed by some data acquisition. I think that when we obtain steam production data, we could use those results to motivate some form of collaboration towards sourcing a steam engine.
Design Drawings
The site will be prepared by leveling with a tractor and blade. We are building on the conceptual drawings in Solar Concentrators and Solar_Concentrator_Technical_Drawings:
Reflectors, Collector, and Data Acquisition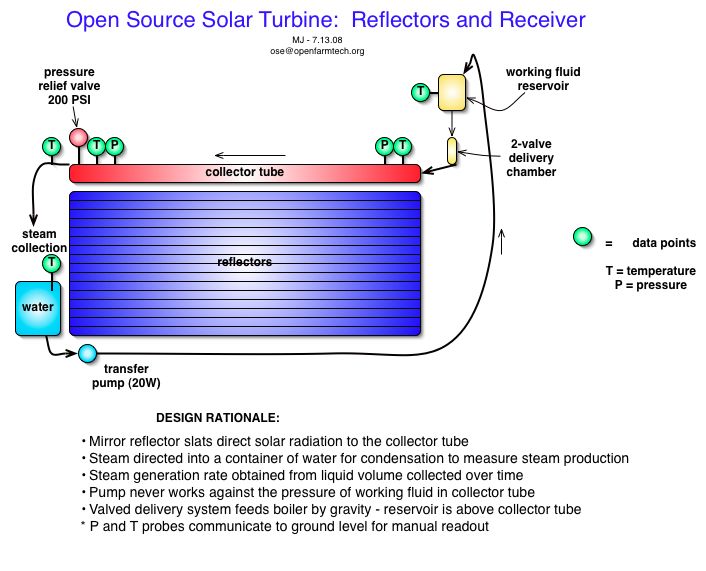 Overview. Steam is our preferred choice due to its simplicity. I am not sure whether steam will yield the highest efficiency, but we can optimize this point by going to higher temperatures. Advantage: a sustainable resource. Disadvantage: freezes in winter
Updated Designs
Here is an updated proposition from Ben, end of July, 2008: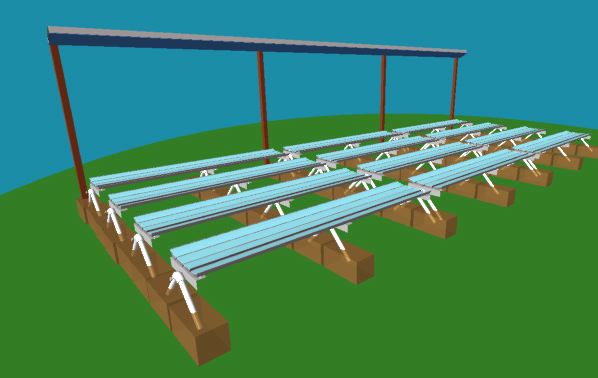 Marcin proposes the following implementation:
Note the above design has been refined 8.8.08 to $750 prototype cost, drawings forthcoming - Marcin
Foundation
A concept drawing is here:
http://openfarmtech.org/index.php?title=Solar_Concentrator_Technical_Drawings
By August 15, we should have the LifeTrac tractor, CEB Press, and footer auger ready for action. We are planning on building a CEB block foundation, 1x1 foot wide. The process for this involves augering a 2 foot diameter hole 3 feet deep, laying cement-stabilized CEB blocks as a post foundation, and laying gravel around these posts. The posts will stick up about 2 feet above the ground to make a comfortable working surface above the ground, but not so tall that the overall structure begins to suffer from wind loads. The 2 constraints for how low we can go to the ground are (1), splashing from the ground during rain, (2) comfortable height for array building and maintenance.
I foresee using 2x4 or 4x4 treated lumber as bond beams on top of the CEB block pillars.
Advantages: Low cost foundation, with the only material costs being gravel. CEB blocks are produced on-site from local soils.
Disadvantages: More labor intensive than treated lumber post-and-beam foundations, though not more labor intensive than the whole lifecycle of post-and-beam, if labor to produce and transport said lumber is considered.
discussion of reflectors
At present, the least expensive, lasting option is glass, but we may consider aluminized mylar for a temporary solution - $55 for 400 sq ft. Mylar does not last long, but it would suffice to do the testing. Glass breaks easily in hailstorms - so we would want to consider a single or double layer of chicken wire across the whole array.
Tensioned Reflective Film Reflector Design
Reflector materials
Plastics
http://www.greenpowerscience.com/SHOPREFLECTIVEBUY.html mylar: mylar $55 for 400 sq ft.
Glass
How to Cut Glass
http://chestofbooks.com/home-improvement/woodworking/Handicraft-For-Boys/How-to-Cut-Glass.html
YouTube - http://www.youtube.com/watch?v=y2wt9S7SApo&feature=related
Mirror Slat Mounting
(now outdated)
Details of tracking and glazing mounting are proposed:
This is a detail of each of the foundation pillars that support the reflector array. The entire array foundation is 3 by 11 pillars.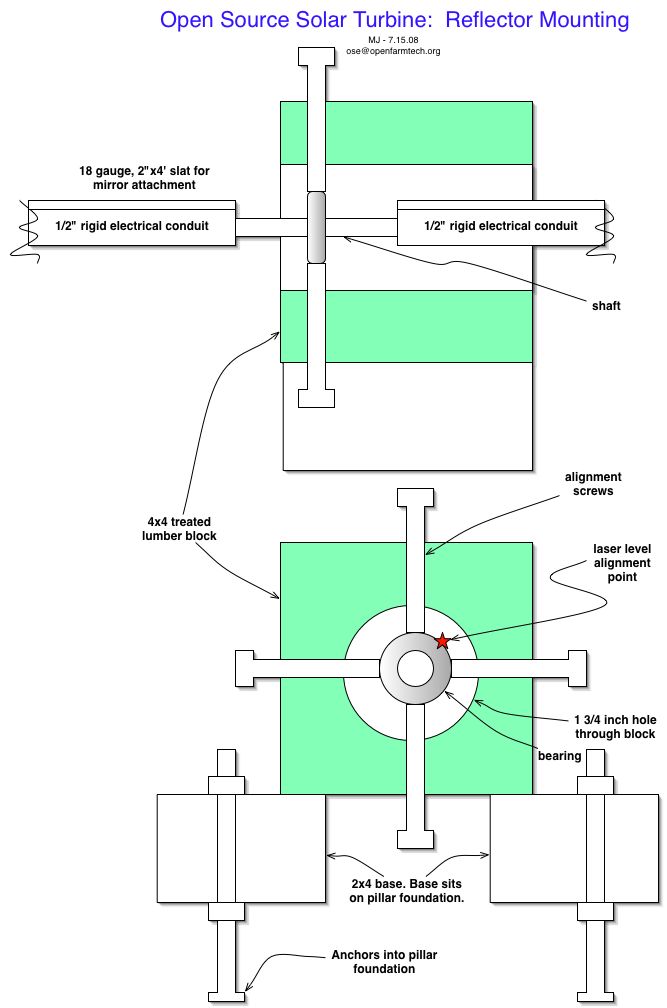 Collector
Collector consists of 6 tubes made of galvanized, 1" steel pipe. It should have selective reflection coating - $70/gallon from http://solec.com, and be insulated from the back. We should design the collector for testing collector performance with and without and standard glass cover.
Feedwater System
Passive drippin of water into the collector tubes during testing will yield data on steam generation at atmospheric pressure. If we want to generate steam at pressure, we need a pumped or valved feedwater system. Here is a valved system concept detail:
Data Acquisition
Steam generation rate should be measured by condensing the steam into a container filled with a known volume of water.
Temperature and pressure measurements should be taken at both ends of the collector tube. Temperature of the steam should be taken by includin a tee in the steam outlet line. Temperature should also be measured in the liquid reservoir.
People
Work will occur at Factor e Farm.
Stewart - visiting from August 18 - September 3.
Elliot - visiting from August 13 to August 23.
Chris and Mel - visiting August 1 for 2-3 days or for what's needed
Part Sourcing Information
Below is detailed Bill of Materials. Please submit others:
Reflectors
Bill of Materials - Reflector

| Item | Qty | Cost/item | Source |
| --- | --- | --- | --- |
| Mirrored Plexi Glass | 1 sq/ft | $4/ft2 | ePlastics.com |
| row 2, cell 1 | row 2, cell 2 | row 2, cell 3 | row 2, cell 4 |
| row 2, cell 1 | row 2, cell 2 | row 2, cell 3 | row 2, cell 4 |
| row 2, cell 1 | row 2, cell 2 | row 2, cell 3 | row 2, cell 4 |
mirrored plexi glass - $4/sq.ft - [1]
Reflectech film - $2-3/sq ft in sub-acre coverage quantities - [2]
Mirror

$291 plus shipping - for 360 pieces of 12x10" tile - [3]
Menards has mirror tile at $1.5/sq ft

Aluminized Mylar -
$44 for 400 sq ft 1 mil - [10]

Mirror holders - steel studs, which can be opened up to the 6" width of the mirrors to be held - are structurally sound and relatively inexpensive

Menards has 3 5/8"x1 1/2" steel studs, 10 foot long, for $4.50
Other Sources
Collector
Selective solar coating - $70/gallon from Solec
Collector tube:

16 10 foot sections of 1" galvanized pipe - $16 each, $256
8 more of the above for collector tube supports - $128

Insulation - [13] - $110
Controls
Other
Foundation

CEB block & 6 tons of gravel - gravel for $150
4x4s may be utilized with Ben's updated design - [14]

Other:

Bearings for reflector slats - $30 for 100 at vxb.com, need 160 for total of $60
10' of 1/2" Electric Mechanical Tube, galvanized steel - $2.89 at Menards, need 16, total of $48
3/8" rod, 6', $10 at McMaster Carr, Part # 9120K64, need 26, total of $260
107 sq ft of gauge 18 steel sheet, $2/sq ft at 7.11.08 prices - $214
Background Reading, Calculations, Tables, Data
It is extremely useful - in order to gain an appreciation of the power available from solar energy - to go through the basic calculations of power yields from our system, and to compare those yields to the energy obtainable from sustainably-harvested biomass energy. See these notes here.
Pipe dimensions - [15]
References
Websites
Books
A Hand-book of Optics on Google Books - [16]
Software
Implementation
We are documenting the building process and our practical learnings from Factor e Farm here.
Solar Turbine Convergence 1 Learnings
As a result of the August convergence at Factor e Farm, here are our learnings. We conclude that we should go with mirrors. We still maintain that a 1-axis tracked linear array has the greatest potential for cost effectiveness- as opposed to 2-axis tracked dish systems or any other variations.
Elliot's summary - Linear_Fresnel_Solar_Concentrator