Steam Engine Design/White Cliffs
Main > Energy > Steam Engine
---
Steam Engine Research
The White Cliffs Solar Steam Engine project was conducted in the 1980's by the Australian NSW Dept. of Energy. Part of the project involved the construction of a large heliostat to collect solar energy converted to steam which drove custom steam engine to generate electricity. The project was discontinued to 1991 when White Cliffs joined the national power grid. Converted to photovolaics in 1996. Ceased operations in 2004.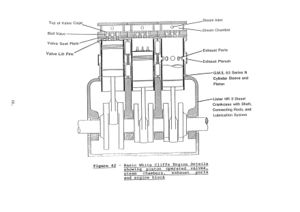 Things to note about this design:
Use of bump pins on the cylinder head to open ball valves.
Three cylinder design based on a recycled Lister Diesel Engine.
Splash oil lubrication
Google Earth Photo:
Contacts
Mal Williams, mal.williams (at) dwe.nsw.gov.au
Dr. Bouzar Ghassemi, Bouzar (at) ghasemi.info, The University Of Isfahan-Iran
Report
The White Cliffs Report Overview [1]provides a great deal of insight into how the White Cliffs Solar Power Station was designed, developed, constructed, and operated. Some of these details are quite relevant to OSE solar energy and steam engine projects. Notes, extracted illustrations, and analysis is available at Steam Engine Design/White Cliffs Report.
Links
White Cliffs Steam Engine:
An overview of the site design and operation by S. Kaneff on Erik Rossen's web site [2].
See Wikipedia entry on White Cliffs Solar Steam Engine [3].
Papers and Books:
"A comprehensive review of small solar-powered heat engines: Part II. Research since 1950—conventional engines up to 100 kW", Elsevier, $31.50, [linkinghub.elsevier.com/retrieve/pii/0038092X89900200]
Also Parts 1 and 3, at $31.50 each.
White Cliffs Solar Energy:
Travel Links
The Engelberts Visit White Cliffs [12].
Related Links:
Ghassemi,B.(1989) Variation of the Thermo-fluid properties of steam Entering the white cliffs solar power plant ,proce .of 89 ANZSES conference, Brisbane .Nov.1989. [13].
Correspondence
Sent to Marchin on 5/2/11
Have you had contact with Erik Rossen previously? The White Cliffs project review is on his web site. He sounds very much like the kind of person who would be very interested in OSE (physicist, linux hacker, etc.). See http://www.rossen.ch/personal/whoiam.html.
Erik also has an interesting use for our OS Industrial Robot: http://www.rossen.ch/personal/mosaics/index.html
From reading through his web site, I'm not sure that he's been active in his heliostat project or anything related to steam engines for more than 10 years. I suppose it wouldn't hurt to ask his opinion.
'Sent to Mal Willians on 5/2/11
I am involved with a project to build a small, scalable steam engine for farm use. I came across an article by Erik Rossen (http://www.rossen.ch/solar/wcengine.html) that commented favorably on the solar steam engine developed by NSW DOE back in the eighties. Mr. Rossen mentioned that you might have an electronic form of the report, "White Cliffs Solar Thermal Power Station", Design, operation, and results. 242 pages, 1991. If possible, could you send me a copy? I'm very interested in the diesel engine conversion and the use of bump valves.
I am doing this work for the Open Source Ecology project (http://openfarmtech.org/wiki/Main_Page). Our intention is to design and prototype a set of 50 tools (the Global Village Construction Set) that would enable the development of high standard of living and local economy at a village scale in virtually any setting globally.
(no reply as of 5/5/11)
Send to Dr. B. Ghassemi on 5/5/11
I've been doing some research into the White Cliffs Solar Energy Project conducted back in the 80's and 90's. I came across a reference one of your papers entitled, "Variation of the Thermo-fluid properties of steam". Would it be possible to get a copy of your paper?
I am especially interested in the design and operating characteristics of the steam engine developed from a Lister Diesel engine. I and my colleagues at the Open Source Ecology project (http://opensourceecology.org/) are attempting to design and build a prototype steam engine using a solar concentrator to generate steam.
Reading between the lines, you may have visited the plant when it was operational in the mid-80's. Is that the case? Do you have any contacts at Australia National University in Canberra who may have worked on the project back then? References and introductions would be most welcome.