Torch Table Concept
Overview

CNC Torch Table Proposal and Concept
Proposal
See proposal at http://openfarmtech.org/Lawrence_Proposal.pdf .
You can also see the working agreement,Lawrence Kincheloe Contract Working updates on the blog - [[1]]

Previous Work Torch Table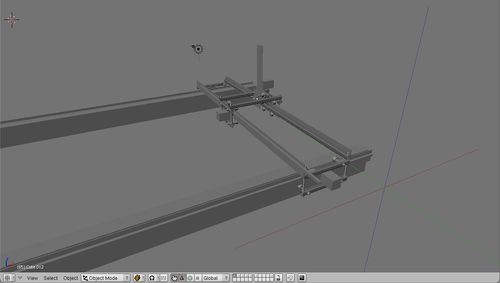 The purpose of this project is to enrich both the participant and the Factor e Farm project. The scope of this specific project is to build the seeds for a MegaRap, which is a modification of the origional Torch Table designed to expand the range of build materials and capabilities. This is in the spirit of the RepRap project, but at a larger scale and lower precision. The initial goal is to design and build a torch table that can be added on to in the future but is still functional in its own right.
Documentation
The process of documenting this project goes through three steps.
Figure something relevant by doing it, researching it, or scratching it out as an idea.
Clarify the nugget of an idea into a written document, like a project journal. (this project has one and it resides at FeF)
Break up the problem/rational and the steps to fix it and put them on a wiki. (this wiki)
So far that process has resulted in this huge mess below(at the time of writing, the whole thing is one long wiki page). So after you get all that wonderful documentation done, go through and clean it up into sections and pages. Its important to keep up the stream of crappy documentation because doing it at the end, right the first time is a hassle and usually you only have time to splash documentation around liberally anyways. The important thing is to make it a coherent document at the end.
Design Rationale
High performance torch table matching and exceedings standards of commercial counterparts
Ready adaptability to other cutting heads (router, laser, knife, etc.)
Rack for x, y, and z motion - cheapest, most robust solution for precise motion
Similar design in x, y, z directions
Minimal fabrication requriments, bolt-together design
Spring-loaded x and y motors to maintain traction
Support under top rail with flat ball bearings to prevent the carrage from jumping the track
Thin gauge (16 gauge) 1 inch square tubing for light weight strength
Simple, adjustable carriage design that clamps around the 3 inch cold-rolled rail
Ways - simplest way according to this source is bearings on cold-rolled steel.
Working Concepts
X axis
Y axis
Y axis details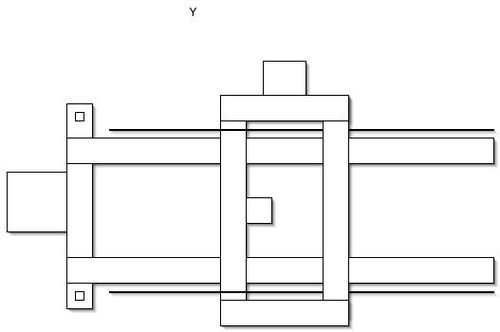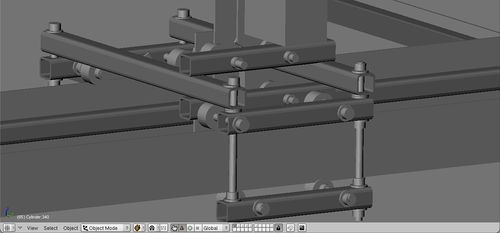 Z axis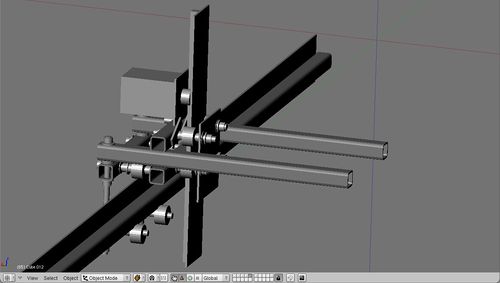 Blender Design File Download
Blender Concept
File:Factor e Torch Alpha 3.1.blend
Plasma Torch
Torch vs. Plasma Cutter
Comes down to initial cost versus long-term cost
Plasma cutters - consumables cost $20 for 5 new electrodes and nozzle heads

Electrodes are rated for 45 minutes to 60 minutes for 1/2" steel
More expensive versions state they last 4 times longer - are heavier and have better temperature control
For anything above 1 inch, torch is better
Can be interfaced with a computer cheaper than Torch
Desired Characteristics
We are looking for a machine rated for 1" milled steel that will cost roughly between $700-$1100. We are limited on budget because we are funded primarily through donations at the moment.
Since we want to use the machine for cnc work, we are interested in the pilot arc starting, or touch off starting. We could also use high frequency starting, but we would have to shield our motor controller and any other equipment in the area. Would it be possible to shield the plasma cutter? We want to be able to cut thin material with the torch so it is likely we will want the pilot arc starting feature.
Do you have any suggestions on a best practice method of attaching a plasma torch head on a cnc machine?
We would also be interested in a plasma cutting head that would be easier to mount. Currently in your accessories page you only list a model that is appropriate for plasma cutting by hand. Also, since this machine needs to be flexible we would also like the option of using the plasma cutting head by hand. Through looking at competitors websites, its clear that its easy to offer one or the other and switch them at the DC power inverter, but how easy would it be to add a 45 degree flexible head that can be fixed for either cnc overhang cutting or hand cutting? This seems like an easy adaption, but I might be missing something.
Also, we are interested in the engraving feature. Especially the controlled plasma pulse feature. The reason is that we are interested in precision surface removal, and gouging because we have an idea to use this machine as a plasma lathe, combined with a cnc controlled head. This isn't a requirement, but we are very interested in getting the maximum amount of utility from this tool.
See Also