Backhoe Specification
General Specs
See Industry Standard Backhoe for reference
We are focusing on Design for Fabrication
Must mount on LifeTrac quick attach plate (Bobcat standard) as a quick-connect attachment
Basic operation will leave the LifeTrac plate immobile vertically but may move with the curl of the quick attach plate for extra mobility if needed, though the latter should not be the main moving mechanism of the primary boom
Intensive Scalability - Scalable in the most fundamental fashion. This specification is designed to produce a Backhoe Construction Set. All arm sections, cylinders, hoses, and the bucket should be removable so they can be replaced with parts of different sizes as necessary - like a Lego set but for real machinery. The challenge here is to design for modularity - to design the part connections such that part interchangeability is not only possible, but also practical and possibly easy.
Extensive Scalability - Basic model has main boom and second arm section. Additional arm sections can be added to extend the reach or increase the range of functionality to: log handling, electromagnet operation for steel works, high materials handling, jack hammering, etc.
Should use hydraulic cylinders, all of which will attach to lifetrak via hoses with quick couplers.

Hoses should be used only at joints, and metal tubing should be used for lifetime design whenever flexibility is not required.

Operator seat and control valves are included on the attachment

Control valve has quick-connect inlet, outlet, and work ports with 30 gpm quick couplers

Valve spools:

1 stabilizer leg valve (tandem motion of stabilizer legs)
Main boom
Secondary boom
Bucket curl
Allowance for bucket thumb (for grapples)

Should include stabilizer legs to prevent the machine from tipping.

Can mount in back of tractor and to front on the quick attach plate.
Takes account of lifetrak weight distribution and rated dig force.

Interchangeable buckets
Quick attach bucket system - operator can do this from the cab
Jackhammer attachment possible
Bolt-on, interchangeable tooth set for bucket
Basic Model Specs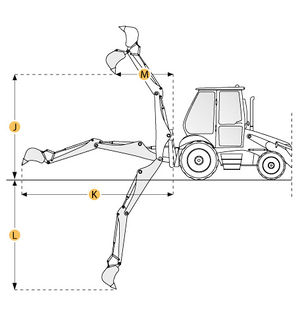 The basic model should have one boom, one secondary boom (stick), with an optional grapple (thumb) attachment, and one bucket, all of which can pivot individually.
It must have the following specifications.
Digging Depth Minimum (L)- 3 m (9.8 feet)
Digging Depth Straight Wall minimum - 2.1 m (7') (Capability of bucket to travel in a straight line down vertically. This involves pivoting at all 3 joints.)
Reach From Swing Pivot minimum (K) - 4 m
Loading Height (J) - 2.7 m (9 feet)
Stabilizer Spread Transport Maximum (H) - 2 m (6.6 ft)
Stabilizer Spread Operating Minimum(G) - 2.9 m (9.5') 116 in. (2946 mm)
Bucket Rotation 180 deg.
Swing Arc 180 deg.
Attachment Weight With 18-in. Bucket – Less than 2500lb (1137 kg)
Craning Capacity Minimum - 400 kg (880 lb)
Digging Force Using Bucket Cylinder - 2800 kg (6173 lb)
Backhoe System Relief Setting - 16500 kPa (2400 psi)
457 mm (18 inch) heavy duty bucket has minimum 0.142 m3 capacity (5 cu. ft.)
Deployment Plan
Post as a challenge on GrabCAD - Doc here
Reward from $500-1000
Do not split into subprojects - expect that general hydraulics integration will happen
Winner selected based on sound concept according to OSE Specifications
Future Directions
Hoses can either attach to hydraulic valves, or a solenoid attaching to joysticks.