CAD Standards 2012
Overview
Note: This page is currently just being created. More information to come in the next few weeks. MA - 2011-12-09
This page is to create a unified approach to modeling, drafting and design of open source hardware. Please read thoroughly if you will be doing any CAD work.
Discussions of major changes to the standards outlined here should take place in CAD Standards Discussions before this page is changed.
Units
Preference: It is the preference for all initial designs to be done in metric as that is the standard in the majority of the world. It is easy to get metric sized materials in the US, but often difficult to get imperial sizes in other countries.
Standard: All designs should be eventually be available in both metric and imperial.
Currently: On site at FeF, the prototypes are being fabricated with imperial units and material sizes. Because of this the initial CAD for the products developed is done in imperial. Discussion has already begun on the availability of metric materials from local material suppliers
Design Conversion: Designs must be carefully reviewed as pure mathematical conversions from standard to metric will not yield designs that are able to be fabricated properly as material sizes and shapes vary between the two systems. However with a little time and effort all designs should be able to be converted to metric. Ideally, once a design is finalized we should be able to produce two, slightly different versions of it. Then the user can choose to build using one or the other, depending on what tools/parts are more readily available in that area.
Drawings
Creating drawings that follow standardized formats is important in providing a consistent readability and quality of the open source hardware tools. When making drawings, go carefully over the different fields and ensure they are filled out appropriately to the part or assembly you're creating.
Sample Fabrication Drawings - Use these sample fabrication drawings as reference for the standard of drawing quality desired until our own samples are created.
Title Block
Lettering: All text on the drawing should be done in BLOCK LETTERS.
Units: Units and tolerances are in imperial but are easily modified to metric.
Mass: Mass should be input in LBS or KG with 3 significant digits and the units afterwards. (0.125KG, 1.25KG, 12.5KG, 125KG)
Need: Please provide replication of these title blocks to native formats in other programs if you have the capability to do so and add them to the table. Go here to help out
License Agreement
Drawings should either not have a license agreement or contain the following text:
ALL INFORMATION IS RELEASED UNDER THE OSE LICENSE FOR DISTRIBUTIVE ECONOMICS. FOR FURTHER INFORMATION GO TO: OPENSOURCEECOLOGY.ORG/WIKI/LICENSE
Dimensions
Engineering Drawing - Some beginner introductions to engineering drawings from MIT
Tolerances
GD&T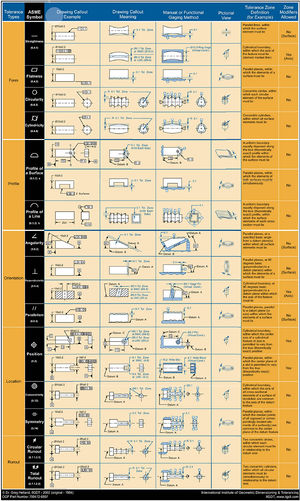 Geometric dimensioning and tolerancing (GD&T) is a system for defining and communicating engineering tolerances. It uses a symbolic language on engineering drawings and computer-generated three-dimensional solid models for explicitly describing nominal geometry and its allowable variation. It tells the manufacturing staff and machines what degree of accuracy and precision is needed on each facet of the part.
See the image on the right for a good overview of the different GD&T symbols and what they mean.
Links
GD&T Wiki - Wiki on GD&T
Free GD&T - Great resource for some free GD&T help
ASME Ordering - You can go here to order the official ASME Y14.5 - 2009 GD&T standard
GD&T Justification - This provides an explanation for why we use GD&T on drawings
Welding
Resources
Drawing Views
Standard Views
Sections and Detailed Views
Third Angle Projection
Notes
All drawing notes should be in BLOCK LETTERS and go on the top left of Sheet 1 under "NOTES:" as seen on this sample drawing (coming soon). Notes should be numbered and if they are used to reference a specific place on the drawing place a hexagon around the number and use that in the drawing views. They can also be placed beside parts on the BOM in a similar fashion.
Material
Fabrication Help
URLs
Layers
Although not critical, it is useful to separate out the different aspects of the drawings onto different layers.
Title Block - Layer XX Dimensions - Layer XX Model Views - Layer XX
Bill of Material
The bill of material (BOM) is used to list all the parts in an assembly or weldment of parts. You can view a sample of this here. Most CAD packages can automatically create these, however if a manual BOM is required please ensure the following fields are present:
ITEM NO.
PART NUMBER
DESCRIPTION
QTY
Vendor Item Drawings
For items that are purchased, it is often useful to make a drawing of them. The drawing outlines the critical physical dimensions, tolerances and features that are important for space claim and mounting purposes.
In the notes you can also add relevant specifications and a list of vendors.
Part Numbering and Naming
Non-Significant Numbering
Part Naming
This is a numbering system that was started by another contributor, feel free to suggest changes. For individual parts, it can be difficult to each part with a word or phrase because you end up with, for example, 20 parts containing the name "support" or "bracket".
Part number/name Example: 01-234-05-6
in the example above "01" denotes the main assembly. For example "01" has been used for the ceb press machine
"234" denotes the part number, which may be an individual part or subassembly. Parts may skip numbers if parts are deleted, replaced, etc.
"05" denotes a certain configuration of the part. For instance, many parts will be -00, some parts or subassemblies will be -01 for a right hand configuration and -02 for left hand.
"6" is the revision number. If a part is revised to the point where it will not work if made per a previous drawing; then it will need a new revision number
Standard Hardware
Revision Level
Initial design is Revision "-" or no revision. Revisions to the drawings should proceed alphabetically, starting at A and progress from there to B, C, D, etc. If a part is revised over revision level Z, the next revision level shall be AA, AB, AC, etc.
Part Attributes
Some useful part attributes to embed into part and assembly files:
Description
Part Number (File name)
Revision
Material
Stock Size
Length
Wanted: Need to find out if these get saved across different file types like STEP. This becomes an issue if we're depending on these to create BOMs and MBOMs
Materials
A-36 or 1010-1020
Paint
Currently undergoing review and specification.
Intended use:
Oil base - indoor steel equipment
Alkyd - outdoor structures
Two part polyurethane - outdoor equipment

The polyurethane could be used for all uses with best results. It has some of the best abrasive resistance without going to powder coat. Polyurethane is commonly used for earth moving equipment and military vehicles. It works best with abrasive blasted surface prep, but can be used with a primer used with hand tool or power tool surface prep using wire brush, but with not quite as good performance as prep with abrasive blasting. Will a standard spec OSE shop have blasting equipment? It is a pretty basic capability.
Standard Hardware
We will be creating a multi-format database of models of standard hardware based on industry standard sizes (both metric and imperial) that will be freely available to download.
Wanted: If you can help us create this database or have one already made please e-mail CAD@opensourceecology.org
CAD Standard Sizes - Discussion on standard sizes of hardware and materials that should be tried to use more often in designs to facilitate more modular and repairable designs among the GVCS tools.
Downloadable Database
Look into SKDB to see if still relevant.
Fastening Hardware
Hydraulic Fittings Hardware
Structural Members
Routings
Export Formats
Models
Solidworks Native
eDrawings
STEP
COLLADA
STL
Drawings
Solidworks Native
eDrawings
DXF
DWG
PDF
Bill of Materials vs Manufacturing Bill of Material
Design Best Practices
Thread locker vs Lock Washers
Much research has been done on the usefulness of different types of lock washers and thread locker compounds. For applications where ensuring maintaining torque is required, a thread locker is preferred such as Loctite or Hernon Nuts N Bolts. Split lock washers and other variants of lock washers do not actually help maintain bolt torque and loosen when subjected to vibration. Once loosened however they do help keep the nut and bolt from loosening fully and falling off.
Loctite 243/266 and Hernon Nuts N Bolts 434/439 are all surface insensitive, good for zinc plated and stainless surfaces as well as steel and brass, and allowance for some contamination from oil and grease. Loctite and Hernon Nuts N Bolts are primerless unless a fast cure <1 hour is needed, Permatex 24027 and Cyclo C-24350 recommend surface prep activator for full strength on plated and stainless surfaces.
The Loctite and Hernon are interchangeable with medium and high strength versions, medium for disassembly with hand tools, high for permanent, possible disassembly with heat. Both are used for screws and bolts size 1/4" to 3/4".
Safety Wire
Wikipedia: Safety Wire - "Typically safety wire is threaded through a hole drilled into a fastener or part, then twisted and anchored to a second fastener or part then twisted again, usually with the aid of safety wire pliers...Although many systems purport to be more efficient than installing traditional safety wire, an advantageous by-product of the twisting method of installing safety wire is that it leaves a highly visible and easily inspectable indication that the fasteners in question are in fact properly secured. In addition, safety wire twisting is a standard, non-proprietary technique, and tools and materials can be easily found. Safety wire is typically found on aircraft or other applications that require use of lightweight metals, where you often offset hardness, mass, and weight by using safety wire. the application of safety wire does enable easier inspection of fasteners, however, it is easy to break, and require small holes to be drilled strategically into the fasteners and the installation of eyelets onto adjacent surfaces."