CEB Press v16.09

Hint: See CEB Press Genealogy for the design evolution
13-Year-Old Builds Machine to Build His School - https://t.co/rNZhzQERTX pic.twitter.com/UoDHYcOL6a

— Open Source Ecology (@OSEcology) September 27, 2016
v16.09 in use without hopper and with manual controls to allow workshop participants to operate the machine hands on: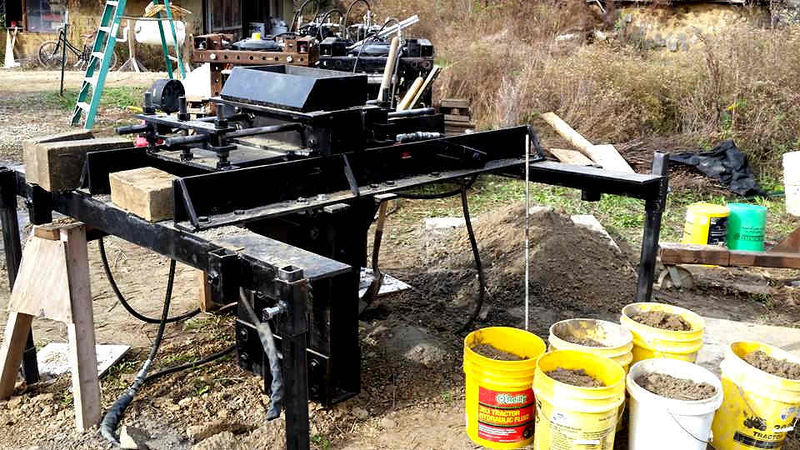 Source
This is the machine built at this workshop in its present state in Belize. CEB Press v16.09Belize.FCStd
Download FreeCAD source file at File:CEBPressJuneGroup.fcstd. This file contains the version history since June 2014.
24 Hour Build
Build Procedure
Workshop Layout
Design Development
CNC Cutting Files
CEB Press v16.09/SCAD Files/Parametric
See also Files for breakdown by thickness and some more notes.
BOM
Notes: major changes include cost reduction of solenoids by $400 and removal of shaker for a cost reduction of $500.
Hydraulics
See new work at CEB Press Controller v16.10
Visual Fabrication Diagrams
Frame Fabrication Diagram
Image is clickable:
Drawer Fabrication Diagram
Arms and Legs Fabrication Diagram
Hopper Fabrication Diagram
Hydraulics Fabrication Diagram
Controller Fabrication Diagram
Microcontroller Code
Code for auto mode operation. Runs on Teensy 2.0++ Current link at:
https://github.com/Witz0/OSE-CEB-Press-v16.09
insert OSE repo link here when ready.
Issue Tracker
There should be a CNC marking on the rib for the location of the soil block.
Front mid plate flange - does one have to be trimmed to make the hopper support fit on the ejection side?
Are table bolt holes narrowed down already?
Do CNC cut rings work as the shaft support?
How much effort does it take to straighten heat warping of frame metal?
Roadmap
Developer ISO
Open source cylinders. Advisor.
Open source solenoid valve. Advisor.
Open Source Gear Pump.
Robust 3D printing (3D printer dependency)
Open source electronics design + workflow
Open source soil mixer
Lime burning
FreeCAD construction set
Scribus build book - on-demand publishing
Online sales template + fulfillment instrucions for ANYONE - with license terms, attribution, and terms of sale have to be clear. Ie, anyone contributing or using can make money on this. Just spreading a new culture.
Brick press manufacturing training
Super-efficient CEB house instructional. Nonseismic plus seismic.
OBI Design Guide
2 stage hydraulic pump for 1/2 power usage
Feedback
From one participant:
Links