CoolRAMPS
Page edited by
, with CNC Torch Table

design by

building upon the work of
RepRap open source community with adherence to

. Using RAMPS
and 425 oz in motors from Xylotex
. By combining Cool DRV

with RAMPS we are calling it CoolRAMPS.
Overview
We are building on open source electronics from the RepRap project to build the OSE CNC Torch Table, until we develop our own higher power controllers within the framework of the Power Electronics Construction Set.
This project seems stalled as of Oct 2013 so Dan's using RAMPS to get the torch table up and running and we can substitute CoolRAMPS when it's ready.
Technical
Credits to Kliment for developing Cool DRV (care of #Bubblerep which we are using with RepRap Generation 4 RAMPS electronics to run steppers with microstepping. We are using Xylotex 425 oz in Stepper Motors, which are rated for 2.8A max. We will run the system at partial power until we develop the Scalable Open Source Stepper Motor Controller, possibly by making improvements upon the Powerlolu GPLv2 electronics.
Status
Needs a Systems Engineering Breakdown and Interface Diagram for entire table. This includes:
Diagram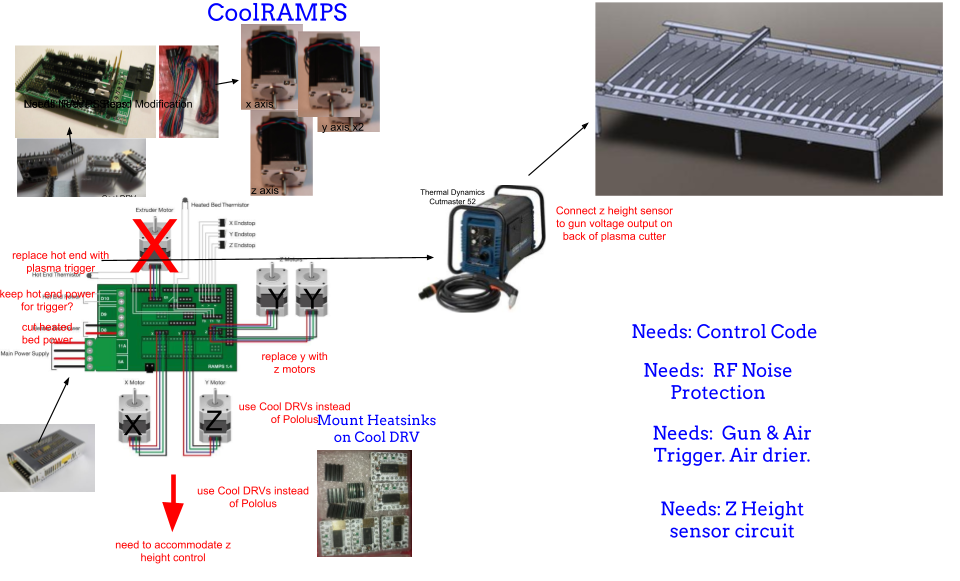 Wiring based on Prusa Mendel -
Systems Engineering Breakdown Diagram and Interface Design
Working Session 2 - July 13, 2013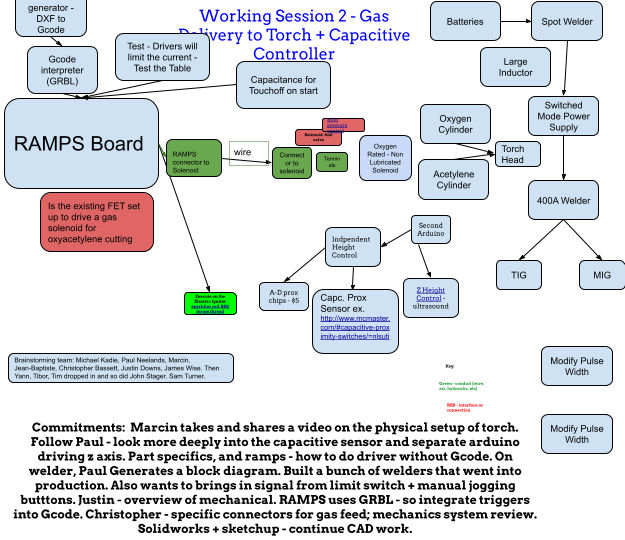 Working Session 3 - July 20, 2013
BOM Referencing Part Numbers in Systems Breakdown and Interface Diagram
Visual BOM
Using pictures of actual components - we draw up this Google Drawing:
Pictorial Interface Design
Show pictures of all connectors or other interfaces.
Pictorial Design - Software Toolchain Development
Sourcing
Integration
Links