OSE Brand
Core Aspects
Solving pressing world issues. We ask important questions. Every action see take is like that. We let others do things that are not at this level.
We ask - what are the projects or solutions that are worthy of the next Nobel Peace prize? Like Diamandis and MTP, but Distributive.
One day. Level 1 - 100 person build - of a simple house. 100 person 8 hour design; same for documentation; same for publishing - video, art, information architecture, graphics. 24 person machine build, one day. Monthly frequency. Level 2: 1000 person, one day, design. Monthly time scale. 1000 person build - full microfactory, mini village. Monthly. Then yearly - 10,000 people, city state. Just like rock concerts or football games. Simple theory: spectacles excite.
Other
What are MVPs right now that are worthy of being pursued because they match the core brand?
Invitation Email
See also Haystack Email
We discussed on 9.18.12 the simple email pitch for a recruiting announcement.
My goal is to find someone so top in their field that they would do it for free - intrinsic motivation.
Pitch design:

Audience is The Connector -> facilitated introductions -> I take over with strong offer
I need to tell the truth
Radical/strong/inspiring - it doesn't matter if most laugh at it
Do you want to sell sugar water for the rest of your life or do you want to change the world?
Ops Manager first, then Machine Designer/Prototyper, Construction Director

Also, the power of clarity is to show explicit results - tractors build houses effectively, do effective agriculture, and machines like CNC torch table work effectively on building these machines
SUBJECT LINE: CAN YOU HELP ME FIND SOMEONE WHO WANTS TO CHANGE THE WORLD?
Hello. It's Marcin Jakuubowski. I'm hoping you can help me find someone who's perfect for a job we're currently recruiting for. I've pasted the job description below. But, first let me tell you why it's so important.
Growing up in Poland, and having a grandparent in the concentration camps, I was aware even at an early age what happens when materials are scarce, and people fight over opportunity. It's what drove me to identify the 50 machines that are necessary to build a modern economy. 50 machines, from cement mixers to 3D printers to moving vehicles, that will allow a working society to be created. My goal, and my daily life, is dedicated to open source these tools, so that anyone - from the remote villages in Third World countries to the rural farms of Missouri, can have access to these meaningful tools to create a better life for themselves. EVERYONE needs access to these tools - it's why we're creating them with an open source model, and with the most advanced digital and physical technology known to us today. The intended outcome for these tools is for 12 people working for a mere 2 hours per day, purely from local resources, are able to sustain themselves, and take advantage of a modern economy. The goal is to build cities from the ground up, allowing for normal thriving life, while living in harmony with each other, and in harmony with the very nature of the planet we inhabit. With these tools, and with this outcome, I hope to decrease the barriers to human potential - freeing up human capital to achieve their higher goals of awareness and actualization, with an ultimate benefit of freedom for all humanity - for themselves, and for the continued growth of their spirit. And hopefully, the very planet itself.
So, you see...this isn't any job. This is an opportunity to change the very future...and the society we live in. I don't need just anyone. This isn't easy, but it's the best job, and the most important mission I personally have ever worked on. I need the right person...the BEST person the world has to offer. This needs more than simply someone with the skills. The person I'm looking for takes ownership and initiative -- and is someone who is both integrated AND humble. The reward? Being a key part of a working team that living in the future - today. Proving this can be done, and laying the groundwork for others to do so as well.
So, assuming you're still reading...I have a big ask. If you, or if anyone you know wants to be part of this exciting future with us, can you pass their names on to me ASAP? The future is waiting.
General Brand
Older - File:OSEbrand.pdf
File:OSEBrand2.pdf:see also Brand Focus and Primacy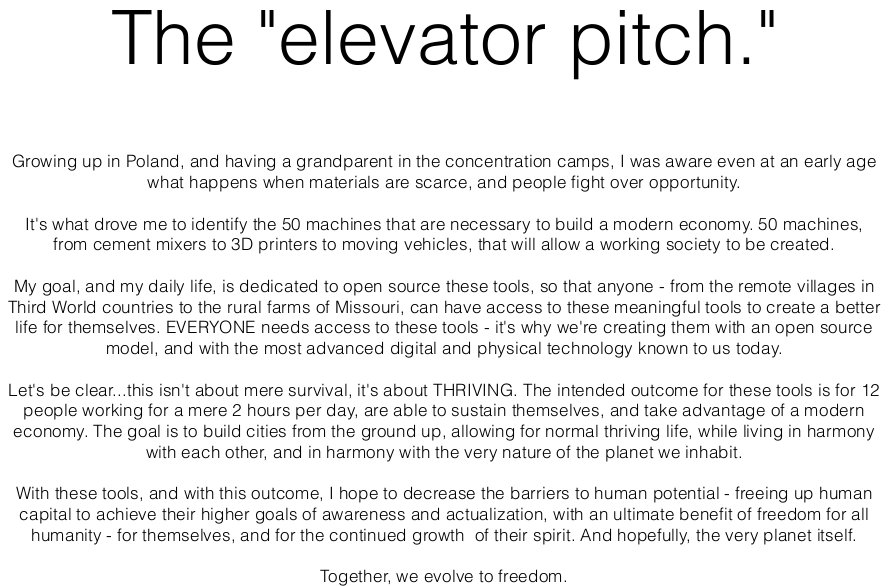 On the tagline: what do you think of "Open Source ecology. Build Yourself."
Couple comments on the wording:
What do you think of adding 'from local resources' in the 2 hr per day discussion?
Where does the city fit in? It seems that throughout, it seems like it is applicable to the developing world and villages. I think the scope is greater.
Evolve to Freedom.
Discussion
one note: i've been thinking a lot of what we call in marketing - "laddering." that is, every "rung" of the story "ladders up" to the next level.
i think the "ladder" for OSE goes like this...
I (marcin) saw what happens with material scarcity.
It led me to wonder and create
OSE and the 50 machines
Proving the concept in an open source way
Leading to these possibilities for humanity and nature
Allowing humans to achieve their potential
And we'll enable whole cities to do this.
i bring this up, because i think it explains why it's so hard to get the "city" part in -- at this stage, i think people need to understand the lower rungs (and they're SO smart, and so good) that people will be working just to keep up with you. at this stage of marketing, i'd recommend the top level messages stay at rungs 1-4 - because those will be easier for people to understand, contribute to, and embrace. rungs 5-7 seem, so me, to be for vision statements and "deeper dives" when you have more real estate to tell the fuller story.

On the tagline: what do you think of "Open Source ecology. Build Yourself." SEE ABOVE - I PERSONALLY FEEL IT'S TOO HIGH ON THE "RUNGS"...FOR TODAY. IT COULD, HOWEVER, WORK LONGER TERM...NOT HOW GREAT BRANDS, APPLE, NIKE, ETC. EVEN EVOLVE THEIR TAGLINES OVER TIME. I JUST PERSONALLY FEEL THAT, TODAY, YOU'D BE BETTER OFF STAYING AT THE "MACHINE" LEVEL.
See Also