Bobcat Standard Quick Attach
CAD 2017
Working Document
Background
The OSE Quick Attach will be used to implement a wide range of attachments for the OSE skid steer. The design considerations were:
1. Use existing OSE parts (4"x4" box tube, 1/2" plate, 1" bolts, etc).
2. Minimize welds, main attachment method bolting.
3. Modular so the spacing can be changed according to attachment.
4. Conforms to SAE-J2513 standard.
SAE standard: File:Sae j2513.pdf
See Quick_Attach_Plate_Standard for background on geometry and discussion of ASTM specification of the geometry.
Justin Log by Justin Downs takes it from here.
Product
V3 (Oct 07, 2017)
Links for reference
V2 - 1013
Added in more dimensional work for attachment spacing to skid steer, finished latching mechanism.
Latch mech: The latching mechanism KISSes by utilizing a 5/8" threaded rod that attaches to a 1/2" plate with weld nuts. The plate moves the latch rod to connect and disconnect, this gets rid of any spring or lever which could jam or release during use.
All parts are standard McMaster.
Overview of updated mech: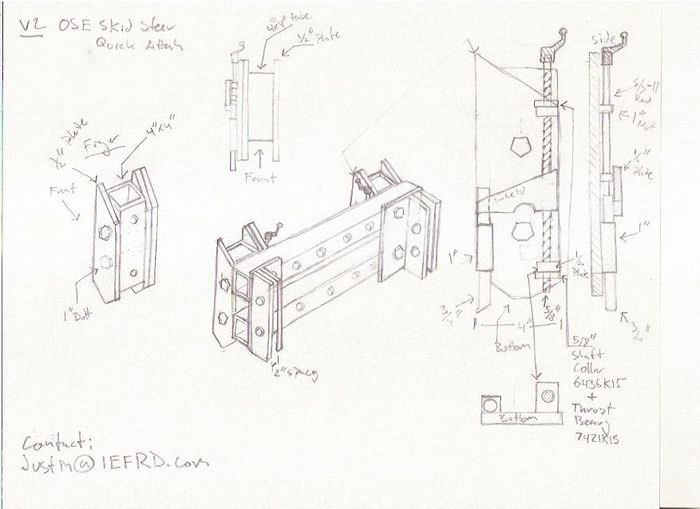 DXF has true dimensions except for 48" spacing of skidsteer plates.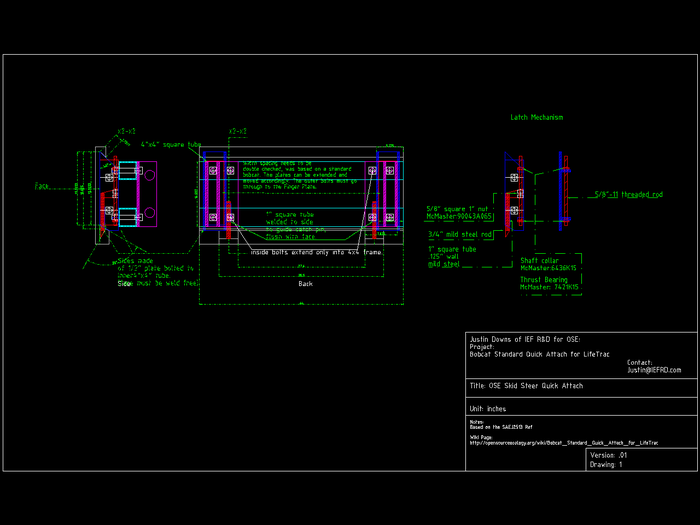 Sketchup
Sketch up file:
DXF of Critical COmponent

Video
First 20 seconds of -
Credits
Designed by Justin Downs
Files
Update files above by clicking on image or link and upload a new version for basic version control. Each version can be annotated via discussion on that page.
Links
V1
hashed out different design options, made original DXF file.
The drawing shows a reference for multiple designs, the DXF file has the dimensional layout (select layers accordingly, when they are all on it is cluttered).
For the next step it would be good to talk with whomever will fabricate it to lock in the most efficient build based on available parts, especially for the catch mechanism.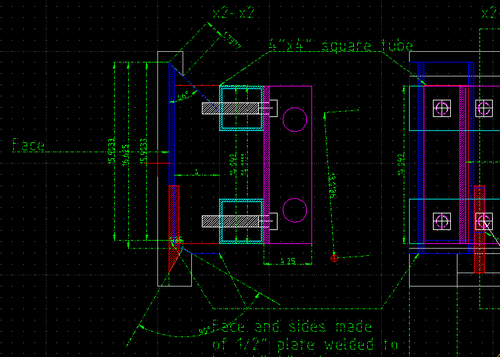 Basic layout for quick attach skid steer mech: