Charcoal/Steam Powerplant In Shipping Containers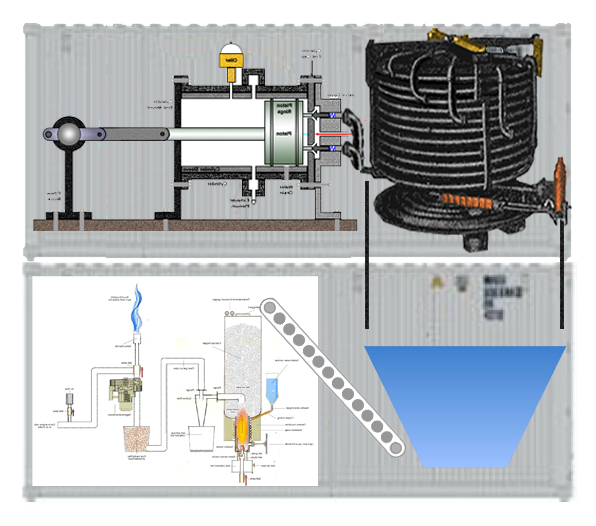 This quick draft is a concept for a small, versatile portable power plant in two shipping containers. Any kind of dry biomass can be used as fuel, although wood probably works best. It produces electricity in two ways: from gasified charcoal in an internal combustion engine as well as from waste heat in a steam engine. Alternative products are biochar (if not gasified) and steam (if not used to power the steam engine).
Description (see figure)
Two 20 ft. shipping containers are used: the lower container is the carbonization/gasifier unit and the upper one is the steam / steam engine unit
a charcoal-making unit similar to the Kon-Tiki Kiln is used for "open burn" pyrolysis
the charcoal can be used as biochar
alternatively, charcoal can be fed into a Troy Martz Gasifier
"waste heat" rises into a Steam Generator
Steam powers Steam Engine
Considerations / Problems
the configuration of the Troy Martz Gasifier will have to be modified significantly. This is just a quick sketch.
similarly, the configuration of the Kon-Tiki Kiln will also have to be very different. It is not clear that the dumping option is easy to achieve.
since the walls of the shipping containers already act as an air barrier, the requirements for the geometry of the Kon-Tiki Kiln are not as strict as for a free-standing kiln
Charcoal coming out of the kiln would burn when exposed to air, so the transfer to the gasifier would have to be quick
Carbon monoxide release is a potential problem
alternative to the conveyor belt is some kind of auger that transfers the hot charcoal into the holding tank.
the waste heat from the Troy Martz Gasifier can be ducted to the Steam Generator for increased overall efficiency
the Kon-Tiki Kiln has to be relatively accessible from all sides to allow fuel loading
superheated steam may also be produced if the steam coming out of the steam generator is ducted back through the kiln.
Variations on the Theme
skip the Troy Martz Gasifier and only use the waste heat for power. Perhaps then make the charring unit larger for more energy.
steam turbine (or Stirling engine) may be preferable over steam engine.
could the entire facility be packaged into a single shipping container?
Use a Gas Turbine or ICE First, THEN usee the steam engine; essentially making it a combined cycle heat engine