DPV Orientation and Message Board
Needs to be updated as of 3.15.15 -MJ
See DPV Tracker
The first day of any DPV's stay at Factor e Farm consists of an Orientation Day. We meet for 1 hour in the morning to discuss our organizational infrastructure - followed by a one hour site walkthrough - followed by 6 hours of the day for new DPVs to go through all the materials below - followed by a discussion at that evening's dinner. The goal is to get everyone on the same page regarding processes and expectations at Factor e Farm.
Orientation
Sign the Liability Waiver
Learn Sketchup Tutorial 1. (We need another tutorial on how to cut and paste from the Warehouse)
Start a Work Log according to Work Log Standards.
To get credit for your work in a transparent way, post any contributions to Contributor Log Form
Begin playing with laser cut foldup models of LifeTrac Construction Set.
Log into Trovebox for picture uploads, and OSE YouTube/Vimeo for videos.
Access to Dozuki Wiki, OSE Wiki.
If you would like to participate in Design Sprints and collaborate with other Design Sprint Participants, please sign up by filling out the Tech Team Culturing Survey linked there.
Learn about workshop and HabLab maintenance at Factor e Farm Community Standards
To connect to the printer use HP disk located on HabLab Message Board or HP Driver Downloads
In the event of internet down - see OSE Internet and Phone - CenturyLink. We have 2 internet lines, 4 Megabit, and we are planning on satellite internet for increased robustness.
In the event of a Down URL or server contact Hetzner: Client ID: C0704628411, Support number: +49 (0) 9831 61006-1
OSE Ford Ranger - for official business only
Design Resources
Build Prep Resources
Build Resources
Workshop - includes map, guidelines, authorized users list
Check Out
Place OSE bedding in washing machine hamper
DPV Work Plan
DPVs work under the close supervision of the Product Lead, with tasks posted on the Scrum Board during a 15 minute Daily Standup - followed by immediate start on tasks. Daily Standup takes place at 9 AM sharp M-F.
Trash day is Thursday, so trash must be taken to the trash bin the night before.
Saturday is cleaning day, with group cleaning taking place at 10AM for 1/2 hour with everyone's participation.
See HabLab magnetic Message Board for current Bed Logistics
Workshop Tool Organization
Here is a map of where all tools are located (needs specific shelving locations):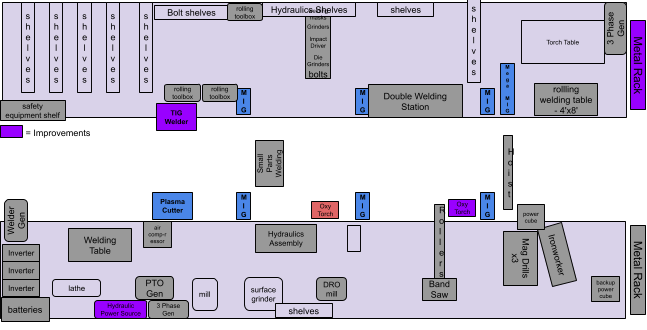 FeF Improvement
If you have ideas to improve Factor e Farm, including the HabLab, please complete the FeF Improvement Form.