Team
Last updated 2018. See Board of Directors for current members.
Executive Director

"The next trillion dollar economy is the open source economy. The advent of open source hardware brings with it new forms of production, lifestyle, and therefore, governance and institutions. The world as we know it today is being turned upside down."
Marcin and collaborators are designing and building open source industrial machines and publishing the plans online for free. The set of the 50 machines is known as the Global Village Construction Set, and is intended to lower the barriers for people and communities to build their own lives. Their challenge is economic sustainability of open enterprise – where open design and collaboration are inherent parts of the development process. Open Source Ecology is developing the Distributive Enterprise business model – an enterprise with not only open blueprints for products and services, but also open enterprise and operations blueprints – as part of their viral replicability criteria. The overarching goal is to develop a generalized framework for innovation – accelerated by open sharing of best practices – so problems are solved faster than they are created.
See Marcin's bio.
Community Manager
The Community Manager is responsible for talent search and volunteer placement and management. Jonathan has been supporting OSE since 2012, has co-organized the MicroHouse 4 workshop, and has stepped up to Community Management in 2015.
"The dematerialization of world by the Internet is changing the way we live our lives revolutionizing our relationships and how we work together. The Open Source Economy is not only changing our economics, but also changing our realities such as how communities can collaborate for innovation...openly."
Jonathan has supported and served faith-based and humanitarian organizations with management consulting, organizational development, and other various field services. His technical background has over 15 years of telecommunications experience in network systems and analysis. Jonathan exhibits a passion for people, and technology as means to empower communities and transform lives.
Power Cube Lead
Tom Griffing has a background in Electrical Engineering, Computer Science, Technical Writing and Hydraulics. He runs a small computer consulting business, instructs Tai Chi classes and also teaches "online" computer classes for a community college in Dallas. He has a farm in East Texas with a shop where he practices permaculture farming, works on projects of interest and sells Power Cube kits, parts and other items. He has also led OSE workshops on fabricating the Power Cube and Micro Power Cube. Tom Griffing is OSE's Power Cube Lead and has been in Power Cube development since 2011.
Graphics Lead
The Graphics Lead is responsible for Open Source Ecology's graphics and design style. Jean-Baptiste has been involved in creating OSE infographics, graphics templates, and style guidelines.
Media Advisor
Emily Aiken has been assisting OSE since 2012. Emily has organized an OSE Design Charette, assisted in drafting OSE's Character Stand and Promise, and has been providing feedback on OSE's media presence. She runs a media strategy consultancy at The Story Studio.
Project Advisor
Project Advisors serve various roles at OSE. Diana Leafe Christian has joined the effort in 2015 and is currently advising OSE on governance and team building issues. She is a consultant and trainer on Sociocracy.
Organizational Advisor
Catarina Mota advises OSE on issues related to open source hardware development, collaboration, and standards. She has been involved in OSE collaboration since 2012, and is supporting OSE because, in her words, "Open Source Hardware is the future."
OSE Board of Directors
Marcin Jakubowski, Board of Directors, Chair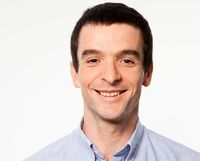 Bio: Marcin came to the U.S. from Poland as a child. As a farmer, technologist and ambitious entrepreneur, he is working to start a new civilization from scratch in Midwestern USA. He graduated with honors from Princeton and earned his PhD in Fusion Physics from the University of Wisconsin. Frustrated with the lack of relevance to pressing world issues in his education, he founded Open Source Ecology in 2003 and began development on the Global Village Construction Set, a DIY tool-set of 50 different industrial machines that it takes to build a small civilization with modern comforts. The aim is to enable everyone, from the remote villages in developing countries to the rural farms of Missouri - to access powerful, appropriate tools for creating better lives. Marcin says his goal is to create the Open Source Economy; an efficient economy that optimizes both production and distribution, while providing environmental regeneration and social justice - an economy that promotes autonomy and meaning.
As Founder, Marcin's role at Open Source Ecology (OSE) is to lead the clarity and vision for the development of the Global Village Construction Set - as a step towards creating the open source economy - OSE's core mission. See Marcin's TED Talk.
---
Cameron Colby Thompson, Board of Directors, Secretary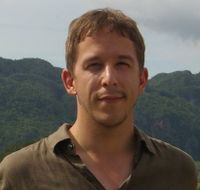 Bio: Colby's life project revolve around relocalized production, long term thinking, and fixing the insurance industry. He serves on the Farm Committee of Community Crops, an organization working to create community based agriculture. He co-founded and serves on the board of the idea community Turbine Flats, a prototype local innovation center. In 2012, he served as an American delegate to the G8 Young Leaders Summit. In the long-term thinking area, he served as Director of Strategy at the Singularity Institute for Artificial Intelligence, and helped develop the Singularity Summit. He is an occasional adviser at Singularity University, a Thiel Fellows Mentor, and a collaborator in Silicon Valley futurist groups. In the insurance arena, Colby co-founded Allied Strategy in 2003, with the goal to solve problems with the insurance industry. He co-founded and served as CEO of SEMCAT Corporation - the largest commercial application built on Mozilla Foundation's open source web framework. He currently serves as CEO of Honest Policy, a company creating tools for consumers to compare price and quality of insurance providers on the web.
Colby's role at OSE is assisting with the foundations, accounts, writings (Journal, strategic issues, business issues like legal/accounting/recruiting, and with investor/donor/team relations.
See more information about Colby
---
Sunny Bates, Board of Directors
Bio: Sunny operates wherever executives, thinkers, artists, creators, innovators and entrepreneurs connect and collide around the globe. Her medium is people, her expertise human network development. Author, serial entrepreneur, mentor and advisor, her client roster has included some of the world's most prominent organizations, from GE, TED and Credit Suisse to MTV, the National Academy of Sciences, Techstars and Kickstarter, of which she is a founding board member. Sunny's approach to unleashing potential is unique: it puts people, network building and management at the center of growth and possibility. Sunny finds the connecting threads that exist all around us and brings them together in new and imaginative ways.
Sunny's role on the board is to provide her expertise in strategic network growth and development to make open source ecology synonymous with open source hardware.
See more information about Sunny.
---
Alicia Gibb, Board of Directors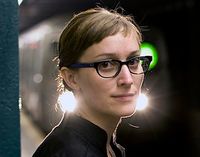 Bio: Alicia Gibb is an advocate for open hardware, researcher, and a hardware hacker. Alicia has worked within the open source hardware community since 2008. She is the founder and Executive Director of the Open Source Hardware Association (OSHWA), an organization to educate and promote building and using open source hardware. She directs the BTU Lab at CU Boulder, where she teaches in the areas of physical computing and information technology. Previous to serving OSHWA, Alicia was a researcher and prototyper at Bug Labs where she ran the academic research program and the Test Kitchen, an open R&D Lab. She was awarded a National Science Foundation SBIR grant for her sensor-based data collection module while at Bug Labs. She is a member of NYCResistor, where she has curated two international art shows, founded and co-chaired two Open Hardware Summits, and sits on the board of the Ada Initiative. Her electronics work has appeared in Wired magazine, IEEE Spectrum, Hackaday and the New York Times. When Alicia is not researching at the crossroads of open technology and innovation she is prototyping work that twitches, blinks, and might even be tasty to eat.
Alicia's role on the Board is to provide her expertise in open source hardware logistics and connections to further the mission of sharing open source designs.
---
Joshua Pearce, Board of Directors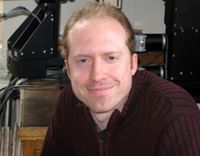 Bio: Dr. Joshua M. Pearce received his Ph.D. in Materials Engineering from the Pennsylvania State University. He then developed the first Sustainability program in the Pennsylvania State System of Higher Education and developed the Applied Sustainability graduate program at Queen's University in Canada. He currently is an Associate Professor cross-appointed in the Department of Materials Science & Engineering and in the Department of Electrical & Computer Engineering at the Michigan Technological University. He runs the Michigan Tech Open Sustainability Technology Lab, whose research concentrates on the use of open source appropriate technology to find collaborative solutions to problems in sustainability and poverty reduction. Specifically he is interested in exploring the way solar energy can be used to provide clean sustainable electricity with photovoltaic devices and how the sharing of open source hardware and software can create sustainable and equitable means of production. His research group frequently contributes to Appropedia.org and has become well-known for cost annihilation using open hardware including the first viable low-cost metal RepRap 3-D printer, the recyclebot waste plastic extruder, and a wide array of scientific equipment covered in the Open-Source Lab. '
Joshua's role on the Board is to provide his expertise in open-source hardware development to help validate and latterly scale the Global Village Construction Set.
See more information about Joshua.
---
OSE Developers
See OSE Developers for the requirements and to apply for the team.
True Fans
See
True Fans
page.