Wiki Log
This is a log of wiki issues, performance, improvements, organization, and other issues related to the effective functioning of the wiki. See OSE Wiki Bugs and Wiki Issues.
Other pages to see:
Dec 3, 2021
This link did not work, but the following email did still allow me to create an account. I assume it is because you manually approved me.
---
Forwarded message ---------
From: Open Source Ecology <contact@opensourceecology.org> Date: Fri, Dec 3, 2021 at 8:58 AM Subject: Open Source Ecology email address confirmation To:

Someone, probably you from IP address 127.0.0.1, has requested an account "Skeshelman" with this email address on Open Source Ecology.
To confirm that this account really does belong to you on Open Source Ecology, open this link in your browser:
https://wiki.opensourceecology.org/index.php?title=Special:RequestAccount&action=confirmemail&wpEmailToken=4872550bf6abff2d2e30162e318a6031
If the account is created, only you will be emailed the password. If this is *not* you, do not follow the link. This confirmation code will expire at 14:58, 2 January 2022.
Sun Feb 7, 2021
Thu Feb 4, 2021
Trying to reproduce the error on File:VersionBug.fcstd
User:Pizzooid was not able to reproduce the error: Steps tried to reproduce:
Upload version
Download version
Upload new version
Download new version
the new version is correctly downloaded on my computer. Is this different on your end?
View discussion at Talk:Wiki_Log#Discussion_Thu_Feb_4.2C_2021
Sat Oct 17, 2020
Saving SVGs doesn't work -
Thu Dec 27, 2018
Check out this interesting bug - the picture is not updating when new version of a picture is uploaded. The next to last picture is the latest one - but the image that shows up shows the older picture: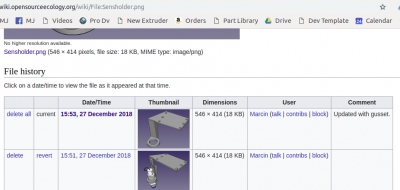 Wed May 23, 2018
Mass Delete in special pages - for mass delete of spam by one user
Use the User:Name and Tools: email this user to contact users
Thu Feb 2, 2017
Wiki Outstanding Items
Get proper sidebar on new wiki
Speed up wiki response
Get main page up
Approve users manually
Learn how to navigate between instructionals view and regular wiki view
After all formatting is done - first update database for last time - and swith DNS record at Dreamhost
Main OSE blog, Factor e Farm, Opensourcewarehouse.org, old Forum
Other databases have different logins - fef wp site, opensourcewarehouse wp, old forum in vanilla
wp-config.php has the password info to find other databases -
localsettings.php has initial settings for wiki software. We had that password already. Read only vs. write only login was shown.
We got so far as to getting the database for the fef site, by extracting password from the wp-config. We copied to new Hetzner. We archived also the entire fef wordpress database file and working directory into one archive and moved it to the new Hetzner.
Next steps are to move main ose wordpress, and the opensourcewarehouse.org wp database. And finally look up old forum database password, and then move that.
Ok. Bye.
Let's fix up the new Hetzner - how to make it look good.
Tue Feb 23, 2016
Changing license information at bottom of page from 3 to 4:
Marcin;
1. Log onto the server via ssh (assuming that you have the hetzner key in your .ssh folder, named as shown below): $ ssh -i ~/.ssh/id_rsa-hetzner -p 222 -l osemain dedi978.your-server.de
2. Change to the "public_html/w" folder and edit the file "LocalSettings.php": osemain@dedi978:~ cd public_html/w osemain@dedi978:~$ nano LocalSettings.php 3. Change the text from 3.0: $wgRightsUrl = "http://creativecommons.org/licenses/by-sa/3.0/"; $wgRightsText = "CreativeCommons by-sa3.0"; to 4.0: $wgRightsUrl = "http://creativecommons.org/licenses/by-sa/4.0/"; $wgRightsText = "CreativeCommons by-sa4.0"; I just changed it for you using the steps above.
Wed Dec 3, 2015
Need to enable email capture from wiki registrations. Currently, the email is lost after registration is approved.
Mon Sep 21, 2015
Larger than 50MB files can't be uploaded still - trying the Cold Saw zipped CAD file upload.
Thu Sep 10, 2015
Marcin;
It appears to delete all attachments after the user account is confirmed, by an automated maintenance script.
In the database, it holds a record of the file while the account is pending, but afterward, there is nothing about it in the database.
I haven't found where it keeps the files meanwhile. It appears to encrypt the file name, as I see two values for its name, but not the file itself: 82a8f59a58588754c6ac4a8016c581ee3d37703f.pdf and 150622_CV_EN.pdf The weird thing is that when I click on the file name "150622_CV_EN.pdf", it somehow finds it. Weird.
Tom
Thu Sep 3, 2015
Example - http://opensourceecology.org/wiki/User:Pcharwood - upon registration, his resume - I clicked on it - and got it. But the second time I clicked on it, it was a bad link - http://opensourceecology.org/w/index.php?title=Special:ConfirmAccounts/authors&file=01ef55cbe8049485974417e742b372eeb73612df.pdf .
Sat Aug 29, 2015
Account registration fields - where to find them? When a person registers, there are other fields filled in, such as contact info. How to find this once a user is approved? Further, the uploaded CV - when clicked upon - it was a broken link but link was blue. Status: not resolved.
Sat Aug 22, 2015
Are Terms of Service visible upon a person registering? This refers to a Contributor Agreement. With this said - how do we find a person's profile and CV that they submit upon registration? That is critical to Wiki Culture and Collaborative Literacy. Status: not resolved
Fri Aug 14, 2015
Had an error -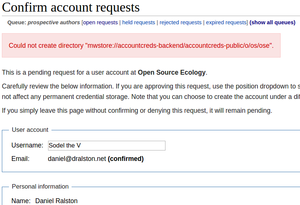 - and Tom fixed it. He set the upload directory to the same as the photo upload directory. BTW: This setting is made in the file: /usr/home/osemain/public_html/w/includes/DefaultSettings.php. "I also document my changes in the file with the original lines intact so they can easily be returned to original settings."