Aaron Log
Wednesday, April 24, 2013
Called the Missouri Department of Revenue and got information about the sales and unemployment tax numbers.
Tuesday, April 23, 2013
Covering tax information and strategy with Adrian. Grants research - almost finished with first phase.
Monday, April 22, 2013
Tons of grant opportunities - creating archive of thousands of opportunities on the wiki with links, contact information, total assets, etc. for all relevant funding areas - this will prevent OSE from having to get another subscription to the FDO. See - Grants Research. Handled Trademark information and contacted Legalzoom. Checked in with Elifarley about uploading the true fans beta to http://opensourceecology.org/true_fans/html - should be good to go for in-house testing this week.
Friday, April 19, 2013
Downloaded latest GIT repository of True Fans Platform. Everything seems to be working - I'm polishing the design styles, and I'll upload it to a test wiki page when I'm done. Did a bunch of Foundation Directory Online research - see grants research.
Thursday, April 18, 2013
Grant research using selected keywords.
Wednesday, April 17, 2013
Did some bank-related things for Adrian to facilitate wire transfer. Prepared wire transfer for Adrian through IFBM. Followed up with JP regarding the local installation of the true fans platform for local testing. Filled out tax id forms online.
Tuesday, April 16, 2013
OSE - Fundraising - Search Criteria - went through a list of 1300 field of interest keywords and highlighted subjects for further research. Extracted list of select keywords for further research Double-checked list to make sure I got ever opportunity. Imported BFI contest entry writing into the modular proposal system.
Monday, April 15, 2013
Closed Campaign Monitor and mailed subscriber list to Adrian and Marcin. Updated Adrian on overall status on multiple projects. FDO - list of foundations that support agriculture in Missouri or nationally. Created list of all paypal donors and their contact info for 2012.
Friday, April 12, 2013
Preparing final draft of USAID LOI. Accounting housekeeping with Ellen from DRKF. Updated Adrian on status of microfunding platform - preparing to do personal design tweaks before bringing it to the team. Sent JP auto screen-capture resource for use with the platform - http://vidthumb.com/. Submitted USAID LOI.
Thursday, April 11, 2013
Met with JP - Microfunding platform is functional - webpage can dynamically reference videos from a spreadsheet and display them from a grid, paypal links and email truefans@opensourceecology.org is set up - some tweaks to make before bringing to the in-house team. Working on finishing first draft of LOI to USAID DIV before sending to Todd Huffman. Finished first draft and sent to Todd. Coordinated so Colby can do the NBC interview for the Rev Up contest.
Wednesday, April 10, 2013
Working on USAID DIV LOI. Todd Huffman agreed to review the LOI before we submit it - he has a background working with DOD and USAID grants.
Tuesday, April 9, 2013
Uploaded all INDEX:Award materials to the ftp server and notified Mette that we have our entry materials in. Finished application to the Buckminster Fuller Institute contest and sent to Adrian for his review. BFI Contest Application. Heard back from JP - he's ready to demo the microfunding platform, so I'm meeting with him sometime this week to go over everything. Test run of microfunding platform is set for Wednesday, so I'm meeting with JP on Thursday to review it with him.
Monday, April 8, 2013
Sent INDEX:Award imagery candidates to Adrian for review before submitting. Followed up with Jere about clarification concerning her invoice (accounting). Banking housekeeping with Adrian. Sent out request for BFI fee payment.
Friday, April 5, 2013
Administration work with Rev Up/DRKF. Background research on Buckminster Fuller Institute Challenge. Writing proposal for contest entry. Finished first draft of BFI contest entry. Preparing to send to Adrian - due next Friday.
Thursday, April 4, 2013
Banking information consolidation for Adrian. Made final changes to annual report. Updated 2012_Annual_Report page. Buckminster Fuller Institute Challenge Connected Adrian and Marcin to Curry Stone.
Wednesday, April 3, 2013
Grants research - engineering/technology - see Annual Fundraising Plan - added lists of top funders for Missouri and Kansas City - also - national foundations that support research in technology
Tuesday, April 2, 2013
Coordinated with Adrian on grant opportunities and sent him list of alternative options for insurance with input from the Ewing Marion Kauffman Foundation.
Monday, April 1, 2013
Finished list of 20 grant opportunities for under $75,000 and sent it to Adrian. Meeting with Curry Stone. Submitting LOI to John Templeton Foundation. Submitted LOI to the John Templeton Foundation for $50,000. Met with Carissa from Curry Stone about our progress - we have until mid-may to get them any updates before the jury meets in June.
Friday, March 29, 2013
Preparing list of 20 grant opportunities for under $75,000. The IRS is currently reviewing applications from March 2012 - see here. Set up meeting with Curry Stone for Monday. 2013 Annual Fundraising Plan - OSE Grants Calendar
Thursday, March 28, 2013
Progress on True Fans Platform from JP - he recently moved and was offline, but his team is moving full steam engine ahead - True Fans Platform Log. Added more grant opportunities to the Annual Fundraising Plan 2013 - preparing materials for Curry Stone. Updated overall grant research strategy. Added specific funding area research results Engineering and Technology and Environmental Research. Signed up for a free demo for the Amicus fundraising platform. Made a plan with Adrian. Connected Adrian with Elifarley
Wednesday, March 27, 2013
Began filling in grant proposal language in Modular Grant Proposal System. Continued working on html/css for True Fans Platform Mockup
Tuesday, March 26, 2013
Imported all Campaign Monitor email contacts into CiviCRM under the OSEmail group. We have to craft our emails using HTML now - so I'm playing with html email templates from Mail Chimp. Followed up with JP regarding True Fans Platform. Sent signature form to Adrian for The Feast check. Requested quote on building microfunding platform from Vann to get an idea of what it would cost to get this made from a professional. Met with Vann and talked about logistics to complete the True Fans platform - started live html/css/javascript mockup using Foundation by Zurb.
Monday, March 25, 2013
Set up an admin account with CiviCRM through Elifarley - looking at mailing options and on how to import contacts from Campaign Monitor. Met with Kerrin Mitchell COO of http://fluxx.io/ about their CRM system
Friday, March 20, 2013
Manuel reported that they are bringing in people to film their replications - the harvest in Guatemala ends in May, so that's when prototyping will resume with a full-time engineer working on it at the refinery. Guatemala Log Massive amount of research into funding opportunities - Annual Fundraising Plan 2013
Thursday, March 19, 2013
Asked Adrian for insurance information for quote - Heidi's followup. Researched funders for Shuttleworth Fellows. Research of Revenue Opportunities Through Merchandise Sale. Annual Fundraising Plan 2013. Weeve / Progressive Exchange / Livefyre / Disqus / WebRTC - if WebRTC were combined with a live chatting platform like Disqus and an online image editor like google draw, you would have the basic framework for an online 'smart mob' platform. PeerJS - open source chat client using WebRTC. See Verold Test for cloud-based 3d model viewer with chat and some editing capabilities. Updated Grant_Proposal_Modules with a unique discussion thread for each type of grant question. Fluxx
Wednesday, March 18, 2013
Made last changes to annual report and uploaded final copies to the wiki. Annual_Fundraising_Plan_2013. Added annual report to front page of wiki and cleaned up about section. Heard back from Jere - she will contact us after April 15 to file our extension with the IRS and prepare our 990. OwnCloud
Tuesday, March 17, 2013
Updated annual report and resubmitted to team as candidate for publication. Campaign monitor and CiviCRM work for Marcin. Submitted final proposal to Prix Ars Electronica contest. Annual Fundraising Plan 2013 - began identifying similar organizations and who funded them.
Monday, March 16, 2013
updated annual report and sent to M&A. Got review of insurance application from Colby. sent out insurance quote application to Heidi at Cbiz. Requested quote from Jere regarding 990 filing and tax-extensions with the IRS.
Friday, March 15, 2013
Sent Adrian information about filing for a tax extension. Either we file IRS Form 7004 and submit their paperwork to the State of Missouri to get a state exemption as well, or we file now. The advantage of waiting is our tax exempt status is retroactive, so we would not need to pay taxes once that is granted. Finishing Prix Ars entry form - submitting online uploads.
Thursday, March 14, 2013
Sent updated annual report to Marcin, Adrian, and Kavitha. Sent insurance application documents to Adrian for final steps. Updated True Fans Platform Log. Defined more of the True Fans Platform and identified resources/options we can use to achieve the functionality we want. Patrick_Hogan
Wednesday, March 13, 2013
Sorted out financial statements issue using youtube videos and by referencing Wikimedia's financials. Finished making alterations to annual report. Going back through all accounting for a final double check one final time. Updated Financial Statements.
Tuesday, March 12, 2013
Updating annual report based on Marcin's feedback, double-checking financial statements, index award start.
Monday, March 11, 2013
Added some final tweaks to Annual Report for Adrian. Signed up for the Prix Ars Electronica competition. Updated True Fans Platform Log.
Friday, March 8, 2013
Made final changes to Annual Report and sent to Adrian for his approval. Got 558 hits for the Rev Up Change competition from OSEmail in the last 24 hours and 48 for the Ops Manager recruiting campaign. Finishing financials for wiki. Financial Statement
Thursday, March 7, 2013
Send out Rev Up Change mass email. Finishing up implementing Randy Peterson's final recommendations, will add new reports to Annual Report, and we'll be done with accounting 2012 and annual report.
Wednesday, March 6, 2013
Accounting review with Randy. Annual report review with Adrian - began implementing final changes.
Tuesday, March 5, 2013
Met with Jere and got her advice for moving forward with taxes. She recommended we file for an extension to our tax filing deadline to allow for our IRS application to go through. This would allow for all contributions from the date of incorporation to be retroactively considered tax-exempt. Contacted Velkess and heard back from them. Contacted the Fundacja Barbary Piaseckiej Johnson about a grant opportunity. Contacted Randy about our next meeting after hearing a confirmation from Adrian. Working on first draft of Buckminster Fuller Institute grant (locally). Researched previous winners of the BFI award.
Monday, March 4, 2013
Sent final list of questions to Heidi Walker about our insurance application. Heard back from Jere about accounting - requested a phone meeting. Sent out a wide spectrum of emails about the Rev Up Change grant contest to make sure we win that. Requested follow up from JP regarding the True Fans platform development. I researched the relevant Google API's, and there are some awesome tools out there to harness. Updated True Fans Platform Log. Reviewed Randy Peterson's assessment of our financial statements. Followed up with Manuel about Guatemala. Asked Tristan to put Rev Up on FB - getting more hits. Started Buckminster Fuller Institute Grant. Set up meeting with Jere for Tuesday to discuss things. Heard back from Randy and Adrian regarding the accounting plan. Posted Rev Up grant on the forums and also found a grant opportunity on there.
Friday, March 1, 2013
Finished insurance applications and identified remaining questions. Got second opinion from Patricia Reed through Shumaker Family Foundation. Prepared accounting questions and spoke with Mike Halpert in San Francisco about reviewing our books and financial statements. Send all materials to Adrian for his review. Insurance Application
Thursday, February 28, 2013
Filling out insurance application, tracking questions, we will need some employee-hiring materials (handbook) before even applying, or that will affect our insurance rates. Emailed as many people as I could think of regarding Rev Up Change competition to get out the vote. Talked to Adrian about a local accounting firm in the bay area that can help us file our taxes. Did research for true fans microfunding platform.
Wednesday, February 27, 2013
True Fans Mockup - identified web resources and updated mockup to include instructions. Sent to JP and his team. Heard back from Heidi regarding insurance - Insurance Log. Started filling out insurance application and tracking questions for Heidi.
Tuesday, February 26, 2013
IMFB, SESLOC, UCWU bookkeeping is all consistent with the source files from the bank. Sorting through PayPal line by line. Met with JP regarding updates on True Fans Platform. Touched base with Andres Botran and Manuel Aguilar about Guatemala. Finished checking PayPal bookkeeping against original records. Finished accounting package for 2012 and sent it to Adrian and Marcin. Submitted latest draft of Annual Report with financial statements to Adrian - should be almost finished.
Monday, February 25, 2013
Double-checking all bookkeeping line by line before publishing.
Friday, February 22, 2013
Worked on Adrian's suggestions for refining the price comparison page for the AR. Called Chubb Insurance and had initial interview regarding getting coverage for OSE - talked to Colby about his suggestions. They will get back to us next week with final questions before issuing a quote. Talked to JP's man Peter Fein about his work on the True Fans platform. Wrote blog post inviting everyone to vote for us for the Rev Up Change competition. Paypal, sesloc, and ifbm are now done - just need to do sesloc/generate statements and input data in AR and the report and accounting are done. Ideally, we'd have someone reconcile the accounts - maybe randyp
Thursday, February 21, 2013
Called insurance companies about insurance, asked Tammy Flores for advice, asked Colby for input. The Hartford Group won't cover us due to the risk involved. Chubb looks like the best route at this point - Colby's input and the Hartford Group recommended them - a snowstorm in KC is shutting everything down, so things will be delayed. Workshopping price comparison sheet for AR.
Wednesday, February 20, 2013
Made modifications of AR for Adrian and sent him printout draft for recruiting. Started SESLOC bookkeeping entries to the GnuCash platform. Sent out invitations to people to vote for Rev Up Change contest.
Tuesday, February 19, 2013
Met with Manuel Aguilar - Andres is moving forward with building more machines and improving the tractor design. They are hiring a full time developer/engineer to work on this. Harvest season ends in March, and they can devote fulltime to it after that point. Manuel will take a tractor and possibly a brick press to his land. We spoke about putting a CEB press on a trailer - they could possibly design that. Met with JP about true fans platform. I came up with a few ideas that are already tested using CSS & HTML in the wiki + Clipboard.com's features. Input the rest of PayPal into GnuCash - waiting for Marcin to get me what I need. Started insurance research for Adrian. We are in the finals for 25,000 - started asking people to vote.
Monday, February 18, 2013
Finished final edits on review draft of Annual Report (AR) and sent to Adrian. Tightened up last accounting bits and send to Marcin for his final review/so he can answer final hanging questions. Imported True Fans contributions and fees + all IFBM transactions into GnuCash. Imported SESLOC transactions minus the one's I'm waiting on info about from Marcin. Came up with idea using existing, widely used software for the True Fans platform that already has facebook, twitter, email integration - meeting with JP this week about it.
Sunday, February 17, 2013
UCWU, SESLOC, IFBM have almost zero unknowns now - everything is uniformly cataloged. Slayed the PayPal dragon.
Saturday, February, 2013
Came up with best idea yet for AR cover. Input missing check info from Kavitha. Checking everything over before importing into GnuCash.
Friday, February 15, 2013
Created chart of accounts in quickbooks and took their nonprofit recommendations and consolidated them with Jere's recommendations. Tested exporting CoAs from GnuCash - exports as hmtl file - can copy and paste into a spreadsheet and then convert that file into an IIF for compatibility with Quickbooks or other standard accounting software if GnuCash doesn't work in the future for some reason. Importing all CoA accounts into GnuCash in preparation for importing all transactions from 2012 into accounting software. Created an archived template of the spreadsheet and corresponding GnuCash charts of accounts for others to use. File:Chart of Accounts - Template.zip
Thursday, February 14, 2013
Updated Annual Report according to Adrian's requests. Implemented Jere's recommendations to our chart of accounts. Began importing transactions into GnuCash. Tested Quickbooks to see if its faster - doesn't seem like it/not open source.
Wednesday, February 13, 2013
Finished Annual Report design and sent to Adrian. Submitted all materials for the RevUp Challenge: http://www.feastongood.com/revupchange/
Tuesday, February 12, 2013
Annual Report cover and documentation graphic/UX design mockup. Updated with JP on status of microfunding platform. Got word from Jerri that our gran application was accepted to the finalists campaign - 5 competitors left.
Monday, February 11, 2013
Got all edits done to wording for Annual Report. Finalizing design for media page.
Friday, February 8, 2013
Microfunding - met with JP Bader and Jacob regarding code transfer and completing the application. Tested it and took notes for bug fixing. Put finishing touches on review draft of Annual Report and sent to Adrian.
Thursday, February 7, 2013
Finishing graphic design of Annual Report. Will send out for review shortly.
Wednesday, February 6, 2013
Annual Report - importing all text into layout - integrating overall design. Going through page by page tweaking design. Waiting for Jere, Adrian's accountant, for her feedback on bookkeeping.
Tuesday, February 5, 2013
Annual report. Meeting with Dan McCormick. Set up meeting with Jacob to transfer code to JP to finish it for microfunding.
Monday, February 4, 2013
Met with JP Bader. Met with Randy P. Finished organizing accounting transactions for 2012. Working on finalizing annual report.
Friday, February 1, 2013
Accounting
Thursday, January 31, 2013
Met with Paul Cousens of AutDesk Clean Tech Partnership. He will help with recruiting Ops Manager and connecting us with other orgs in his network who might have the human resource connections we are after. Accounting - categorizing all expenses from 2012 into one of three categories - marking unknowns for Marcin to look over. Set up meeting with JP Bader from the Bader Foundation for Monday. Sent review draft of Annual Report (AR) to Adrian and received his feedback. Submitted Feast Rev Up Change grant application.
Wednesday, January 30, 2013
Annual Report - Collaborative Production Section - Mockup / Annual Report - Financials - Balance Sheet - Mockup / Annual Report - Press and Conferences - Mockup / playing with fonts for cover. Consolidated all bank transactions into a single spreadsheet across all accounts with each account as a subsheet - will extract totals next. Marked all things to investigate in complete transactions log for 2012. Lean_Canvass
Tuesday, January 29, 2013
Working on Rev Up Change Grant. Working on accounting - downloaded all Paypal data - sorted true fans data - starting to get some totals now that we can use for financial statements and reports. Determined the names of all true fans for 2012, extracted their names, found google scripts to capitalize first and last names, alphabetized it, will plug into contributors template for annual report - also identified all individual contributors - interesting information - will make a true fans 2012 report.
Monday, January 28, 2013
Accounting & Annual Report 2012 - finalizing last templates/mockups. Consolidated all UCWU PDFs into a single spreadsheet that contains all account activity (debits & credits) for 2012. Summarizing account activity for SESLOC, IFBM, UCWU - will run some trial fin. reports. Talked to Chloe Holderness about getting a pro bono accountant. Sent media files to Jordan Welty for the World Affairs Council event in San Francisco. Consolidated account info regarding Parker's reimbursement. Set up meeting with Paul Cousens regarding AutoDesk partnership update.
Saturday, January 26, 2013
Annual Report - Financials Section - Mockup - almost done with templates/mockups
Friday, January 25, 2013
Sent Adrian list of things I need to complete Annual Report. Mapped out complete list of things to do for Annual Report and made progress table (end of document). Contributors mockup Documentation Section Mockup did a design for the news/conferences section that needs work still - will upload later
Thursday, January 24, 2013
Made list of final steps for accounting system, worked on Annual Report 2012 and met with Adrian on next steps/general coordination.
Wednesday, January 23, 2013
Annual Report Media and Annual Report - Working Draft
Tuesday, January 22, 2013
Annual Report Media and Annual Report - Working Draft
Monday, January 21, 2013
Installed Adobe Creative Suite 6 to use for Annual Report 2012. Researching templates. Identified references for annual reports and outlined the examples on the Annual Report 2012 page. Sent proposed outline to Adrian for his review. Embedded working document in the annual report page. Created Annual Report Gallery for design reference. Added links to the Replication page (will import pictures later).
Friday, January 18, 2013
Met with Adrian. Added instructional video links to Accounting Manual.
Thursday, January 17, 2013
Started Transaction Examples to guide anyone on how to enter various types of income & expense transactions into account ledgers using GnuCash. This will serve as a guide for OSE as well as future OSE-related communities and makes bookkeeping a simple task that anyone can do. Added Question-based navigation to the Accounting Manual. Received Menu of Services from Mark Halpert, CPA & Associates regarding what services they would offer us in a consultation session. The outline reinforces the work in our accounting manual - it looks like we are covering most of the relevant bases - need to learn how to factor in depreciation. Heard back from Jim Kraft of Lindquist, von Husen & Joyce LLP - he recommended we talk to Joyce Lively and gave me her contact information. If we want to get an independent review of our accounting policies and procedures, we have a couple of sources willing to work with us. Added Cash handling procedure to the Accounting Manual. Created Cash Count Worksheet to log cash receipts. Added Chart of Accounts - Changing section to the Accounting Manual. Added Checks section to the Accounting Manual.
Wednesday, January 16, 2013
Working on Accounting Manual. Contacte Chloe Holderness of Lex Mundi Pro Bono Foundation regarding an accountant who can review our Accounting Manual in an hour or two. Computer is here, speeds up my productivity immensely. Contacted Jim Kraft of Lindquist von Husen & Joyce LLP regarding an accountant who can review our Accounting Manual. Contacted Mark Halpert, CPA regarding the same. Added Other Resources & Professional Networks sections to the Annual Fundraising Plan. To Do: contact Center For Leadership Marin
Tuesday, January 15, 2013
Working on Aaron - Results Summary Updated Annual Fundraising Plan
Monday, January 14, 2013
Set up a meeting for the week of the 28th with Dan McCormick regarding Nicholas Sparks. Set up meeting with Jacob Dalton regarding integrating the microfunding plan with the Annual Fundraising Plan. Set up a meeting with Randy Peterson regarding next steps with the Accounting Manual. Working on Annual Fundraising Plan. Met with Jacob Dalton - got an update on microfunding platform development - will integrate information into Annual Fundraising Plan. Met with randy peterson - he covered cash flow forecasting, how often statements need to be generated, will help with transaction examples and final overview of chart of accounts.
Saturday, January 12, 2013
Added financial statements section to Accounting Manual. Started template for Financial Statements page. Tested generating financial statements and posting them to the wiki in html format here Test 1000. Need to get a few questions answered - working on some internal consistency cleanups with the manual - asked for a meeting with Randy Peterson. Made OSE - General Journal for communicating what transactions are from people with expense authority (ED and OM) to the accountant/bookkeeper.
Friday, January 11, 2013
Working on Accounting Manual. Updated Purchase Request Form following Randy Peterson's suggestion of using this form as a guide. Made Purchase Request Form Log. Started Accounting System Assets in the Accounting Manual. Added Reconciling Accounts section to the Accounting Manual.
Thursday, January 10, 2013
Submitted OSE - Shumaker Family Foundation - Grant Report - January 2013. Working on Annual Fundraising Plan. Finished Receipts - Submitting and Receipts - Filing sections of the Accounting Manual. Sarah's computer is slowing me down - new one is due to arrive tomorrow.
Wednesday, January 9, 2013
Finished Correspondence Log - Ewing Marion Kauffman Foundation. Finished rough draft of Shumaker Family Foundation - Grant Report - January 2013 - will edit this afternoon and submit in the morning after a final review. Finished Ewing Marion Kauffman Foundation Log. Met with Parker - he refined the design of the Expense Request Form and started the Gift Acknowledgement Form Template. He will download all transaction forms in .CSV format where available for 2012 and finish entering all transactions into the OSE General Ledger for 2012.
Tuesday, January 8, 2013
Finished framework for modular grant proposal system. Working on yesterday's goals. Created log of all correspondence with the Robert and Toni Bader Charitable Foundation (confidential) - will do this with all future foundation correspondence - industry standard - will do this for Ewing Marion Kauffman Foundation next. Update: 1/2 complete with Correspondence Log - Ewing Marion Kauffman Foundation
Monday, January 7, 2013
Working on Annual Fundraising Plan - created Grants Template menu for modular grant proposal system - created Vision and Mission Statement and Leader Overview
Goals for Today
create logs for each existing grant
goals and strategies for each major revenue type
identify organizational development needs to strengthen the donor cultivation process
define work plan for grant writing process
Note: I have limited computer access and will need to finish these goals in the evening.
Saturday, January 5, 2013
Today's my birthday
Friday, January 4, 2013
Received confirmation from Luis Diaz that he will generate our budget template that we can customize how we need it - it will be based on the chart of accounts I sent him. Randy Peterson got back to us on how to improve our purchase request forms. I'm working on making our first financial reports for the year based on our current balances then we can plug those numbers into our budget template when Luis is done. I'm also working on our annual fundraising plan for 2013. Added GnuCash files and source excel spreadsheets to Accounting System Log - Updated expense requisition form as per randy peterson's suggestions - here
Met with Parker and made a to do list, in the accounting system archive folder (not publicly viewable) to tie up some loose ends so I can focus on the Annual Fundraising Plan for 2013.
Thursday, January 3, 2013
GnuCash is an open source accounting platform available for windows, mac, and linux. we are using it, because it will be available for other nonprofits/OSE Communities to use in the future without restriction. I am working on importing the Unified Chart of Accounts from the National Center for Charitable Statistics into GnuCash and I will save this template for easy download and use by anyone - I lost my work on the chart of accounts for ose when my computer died.
We need an operating budget for 2013 - I asked Luis Diaz to start that process - asked if he could generate a template we could use based on our chart of accounts - should be straightforward - just need to identify total current assets, develop tiers, and this ties into the fundraising plan for 2013 - I'm working on this - due the 7th - some slowdown because of computer issues. We need an accurate assessment of the value of our fixed assets - buildings, land, equipment - probably the domain of our ops. manager. We need to have a board meeting - communication in-house is slowed dramatically.
Wednesday, January 2, 2013
I'm having computer slowdown issues, because my computer broke - I'm using Sarah's old mac and it has problems. Ordering a new dell (refurbished), but had trouble with paypal's verification - will reorder - also need to order a credit card (not a debit like our current one) from the Maysville bank - need them to send it to me - details.
Rebuilt chart of accounts - learned about FASB 117, which recommends that nonprofits break their chart of accounts - expenses section - into Program-related, Management & Admin-related, and Fundraising-related sections. There is a template issued by the National Center for Charitable Statistics for a unified chart of accounts for nonprofits - the key is that it is designed to align with IRS 990 reporting standards - this makes filling out the annual IRS forms easier and it is easy for foundations and the public to discern how revenues are spent - ratios - etc.
Saturday, December 29th, 2012
Added Cash Receipts Policy to the Accounting Procedures Manual. Updated chart of accounts by removing unnecessary expenses, added 'temporarily restricted', 'unrestricted', 'permanently restricted' accounts under equity - following the standards set by the Financial Accounting Standards Board for non profits - FASB 116. Entered all transactions into GnuCash software for anonymous 2011/2012 grant for 100k - hablab/fablab construction. Tested issuing transaction log summary - works nicely as a grant report - lots of customization options - offers a quick snapshot of how a grant was/is being used.
Friday, December 28th, 2012
Set up online receipt archive organized by year and vendor - this was randy peterson's recommendation - archive is password controlled - set up folder for bank statements and blank form templates
Thursday, December 27th, 2012
Updated all bank information into secure online archive. Clarified bank information with Linda Seeley. Associated OSE bank account with paypal. Sent draft of expense request form to Randy Peterson for feedback. Created spreadsheet with all bank information and secured it in the online archive.
Wednesday, December 26th, 2012
Expense Request Policy and updated Bookkeeping Policy and Expense Request Form
Tuesday, December 18, 2012
OSE Christmas Gift to the World 2012 at Factor e Farm.
Monday, December 17, 2012
Preparation for December 18th production run - cleaned and organized shop - stayed up all night working on finishing build of CEB Press for tristan's video shoot - got it done thank god - met with Luis on our updated strategy - check out our progress here: https://docs.google.com/document/d/1cTGIWf2IYGySBtNcBuBi1XxeYfO8wwEtWcRuBmslAsU/edit#
Saturday, December 15, 2012
Great accounting work session with Randy Peterson. Clear on next steps, how to log receipts and invoices in filing system, how to track inventory, clear on how to get assessments of the value of our property and equipment. Worked with Jacob on the About page navigation system - selected icons, categories, picked color palette, worked on design.
Friday, December 14th, 2012
Downloaded all transaction history from UWCU for 2011 and 2012 in Quicken format - successfully tested importing feature of GnuCash - will work with randy tomorrow identifying proper account identification for imports tomorrow - talked to Linda Seeley of the Terra Foundation about getting internet login for sesloc on Monday.
Thursday, December 13th, 2012
Flying to FeF - facilitated donation to OSE
Wednesday, December 12th, 2012
Smart Mob Test - embedded smart mob platform in wiki page as a test - marcin's request. Helped Tristan and Parker with campaign monitor mailing list. Set up meeting at FeF with Randy Peterson for Saturday at 3:00 to work on accounting. Our plan for the day will be outlined here. Updated Team format - still working out the kinks. Finished work day plan with randy - linked in previous sentence. Worked on Accounting Procedures Manual - almost complete - internal controls are reflected within - linked to references on Accounting System Log page at bottom. Created Fund Accounting page.
Tuesday, December 11th, 2012
Accounting Procedures Manual. Completing internal controls checklist. Culled accountants from smart mob database and asked for second opinions. Requested specific time from Randy Peterson on when he can come meet with me at FeF. Goal is to publish blog post tomorrow requesting review of accounting system. I'll be at FeF on Thursday, will begin testing processes onsite Friday.
Monday, December 10th, 2012
Accounting Procedures Manual Facilitated $500 donation from the Seattle Foundation.
Weekly Goals - December 10th - 16th, 2012
Weekly Review - December 3rd-9th, 2012
Stated Goals
Submit Ewing Marion Kauffman Foundation Update
Finish review draft of graphical design of strategic plan & submit to Marcin & Colby
Finish review draft of accounting system process with Randy & be ready to submit to the public for review next week (9th-12th) so when I return to FeF on the 13th, I'll be able to run with our pilot of it.
Finish building the About page, get it reviewed, and then change link from the OSE main page.
Results
Successfully submitted grant report to the Ewing Marion Kauffman Foundation. Tammy Flores - Mission completed. The update to the narrative is great. I have submitted everything and expect that the check will be sent to you next week before we close."
Finished graphical template of strategic plan and sent review draft of language to Marcin & Colby for their review.
Accounting Procedures Manual - all relevant components are ready to use for when I come and are drafted in the document. Will be ready to send to advisers for review on Tuesday.
About Page - updated with menu and template - waiting for Marcin's approval on language of strat plan to plug in a few pages (logic model, mission vision values, budget to be done in December, financial statements to be done in december). The About page looks clean and the navigation menu works - just need to finalize content by the end of the month.
Sunday, Dec. 9th, 2012
Sent strat. plan graphical design template to Amanda Long for her tweaks. Took all language/goals from the strat plan and put into a google doc. for Marcin and Colby to review. Their approved language will be plugged into the template. Saw Marcin's Org_Stabilization_Tasks. Made great progress on Accounting Procedures Manual.
Saturday, Dec. 8th, 2012
Organized the About page sidebar, created the About template, embedded code in all relevant pages. Started trying to import the code from how the Wikimedia Foundation's staff page works, but ran into some javascript problems, asked Jacob if he knew what was causing the problem. Added petty cash, updated bookkeeping, updated chart of accounts. Practiced transaction examples from online sources, RandyP sent transaction examples and T-chart information. Packaged InDesign document and sent to Tyson Lundbech asking him to polish the design.
Found Accounting Procedures Manual Template
Friday, Dec. 7, 2012
Met with RandyP - he created our chart of accounts in GnuCash (open source accounting software), and we reviewed how the accounts are structured. He is creating transaction examples that he will email me so I can practice inputting them using the double-entry accounting system. Once I'm comfortable, I'll be able to import 2011's transactions and finish out they year generating financial statements so by Jan. 01, 2013, we'll have a fully functioning accounting system. Strat. Plan. is ready for Marcin and Colby's review - also sending to Tyson in Australia for his graphical design input.
OSE - Chart of Accounts - GnuCash
Media:OSE_-_Strategic_Plan_-_2013_Publication.pdf
Thursday, Dec. 6, 2012
Goals for the day: finish the design of the strategic plan publication. Send to Colby and Marcin by Friday for review. Meet with RandyP and go over his chart of accounts work in GnuCash - looks like we're ready to start using it in practice. Will follow up after meeting.
Update: looking good to finalize everything - asked Drew for some needed photos - meeting with RandyP tonight - going home without internet will update in morning on status of accounting and strat plan - used positioning from Emily - very very impressed - helpful wording. Getting close to being done
Wednesday, Dec. 5, 2012
Goals for the day: finish defining all of the goals for the strategic plan, finish importing language from shuttleworth application, distill positioning document into an outline for a 2-page spread that introduces OSE assuming the audience has little to no idea of who we are and what we do.
Actual Results: was asked for some other information by Ewing Marion Kauffman - got needed info to Tammy Flores - then got the language imported into strategic plan and began refining layout - also - was asked for financials from European donor - got information sent to them.
Tuesday, Dec. 4, 2012
Ewing Marion Kauffman Dec. 4th update for second disbursement of $35,000 for 2013. Worked on reconciliation section of Accounting System Log. Looked at paper on Dynamic Strategic Planning for Technology Policy - lot's to take away, but main takeaway insight was to analyze risk as a plan/policy is drafted - began looking at risk associated with accounting errors or delayed reporting.
Monday, Dec. 3 & Weekly Goals, 2012
Weekly Goals
Submit Ewing Marion Kauffman Foundation Update
Finish review draft of graphical design of strategic plan & submit to Marcin & Colby
Finish review draft of accounting system process with Randy & be ready to submit to the public for review next week (9th-12th) so when I return to FeF on the 13th, I'll be able to run with our pilot of it.
Finish building the About page, get it reviewed, and then change link from the OSE main page.
Sunday, Dec. 2, 2012
Started About page - needs about an hour's worth of work. Here is the current version of the design for the strategic plan publication - I need another day with it before I bring it to Marcin for input - then I'd like to send it to some graphical designers for their refinement of the layout - subtle details - needs budget - waiting on cover from two competing sources - needs more images. No real leads in Marcin's inbox for computer donations. Successful agreement with Luis Diaz to work on plan for for-profit development.
Saturday, Dec. 1, 2012
Accounting System Log updating. Marcin asked about the current status of the backhoe work - Josh is running with it now - I'm focusing on strat plan and accounting - check with him and lenny-wayne on all updates on its status. Met with RandyP - he chimed in on the payroll requirements - see his comment under payroll in the accounting system log - he is mocking up a manufacturing accounting chart of accounts in gnucash and also outlining our chart of accounts in the linked document - he will have that to me before wednesday.
Thursday, Nov. 29 & Friday, Nov. 30, 2012
Downloaded 10 strategic plans/annual reports from leading non-profits to compare our design work to it. Synthesizing shuttleworth app and strategic plan - narrowing goals into 5 categories as industry standard. All shuttleworth goals are still reflected in the larger categories. Will upload document on Sunday.
Wednesday, Nov. 28, 2012
Continuing the push to get the strategic plan publication ready for final review this week.
Met with Josh Bond to discuss the backhoe smart mob and the development of the smart mob platform in general. We traded ideas and resources and he's running with the development of the platform and the development of the backhoe with Lenny-Wayne and Ward Holloway.
Met with Luis Diaz and agreed to partner on the writing of the OSE For-Profit Development Plan.
Tuesday, Nov. 27, 2012
Strategic plan graphic design - focusing on trying to get this entire document ready for final review this week.
Monday, Nov. 26, 2012
Asked Elifarley to change link from OSE main page 'About' section to wiki About.
Finishing logic model page & incorporating shuttleworth pitch language into strat plan.
Accounting system work - learning gnucash software.
Weekly Goals, 2012
Please follow Work_Log_Guidelines#Requirements for content and formatting. This makes review quick and effective.
Have review draft of strategic plan ready for advisor review. What does this mean? You mean publish a well-formatted version of strategic plan?
Have all financial information put into the new accounting system and financial statements generated. Please clarify the state of accounting system. I talked to Dan extensively on the need for accounting sysetm PRIOR to making any new hires - thus, hiring is on hold until this is shipped. Need clear deadline on this.
Meet with Josh and Lenny Wayne about next steps - updating our collaboration process. What is the outcome? A work plan? The production run is not happening, so what is the next steps? I propose Production Run prepared for, after all of Josh's details are accounted for - for Fro-Sat Feb. 1-2.
Luis Diaz - touch base and see what collaboration potential there is.
Populate About page.
Research free computer options for remote collaborators.
Sunday, Nov. 25, 2012
Backhoe
Design review meeting with Marcin and Lenny-Wayne.
Saturday, Nov. 24, 2012
Strategic Plan Graphic Design
Received update from Marcus - he is working on the graphic design for the cover.

Accounting
Met with RandyP for 3 hours: chart of accounts, general ledger, fund accounting
He will meet with me again this week
I need to finalize the chart of accounts definitions before we meet
Downloaded GnuCash - open source accounting software - this is a good option.
The crux of the accounting system, since financial statements can be generated automatically, is to understand the different types of accounts and how to appropriately label transactions. The software can take care of the rest.
Financial controls can be simplified.
We can start using accounting for production runs and gather economic metrics comparing the stats of the production run in a way that's compatible with financial accounting systems. This would make our data compatible with business plans/enterprise models, and seamlessly integrate with the tax system. For example, we could know the true costs of a production run, from labor hours, material costs, even depreciation of equipment, and extrapolate that for x number of sales per year to project revenue & the profitability of an enterprise.
I'd like to recruit another accountant to review this process after RandyP and I get it working.

Hay Cutter
Ward Holloway participated in the backhoe smart mob. He downloaded the CAD file and made changes of his own that he submitted.
I asked him to tell me about his skill level and invited him to do a first draft of the hay cutter.

Personal
I need to get internet set up at home. I have to work out of coffee shops right now. There are lots of types of documentation that I'm not uploading right now, because I don't have the time.

Backhoe Smartmob
Lenny-Wayne sent this spreadsheet for calculating the strength of hydraulic cylinders.
Friday, Nov. 23, 2012
Strategic Plan Graphic Design

OSE Main Page - About
Asked Elifarley to alter the link from the 'About' button on the OSE main page to:
http://opensourceecology.org/wiki/About
This is a requirement for grant writing, because we need a single web page where potential donors can get all relevant organizational development information in one location.
I'll update the 'about' page with all the links on the 'transparency' section of the frontpage and include other relevant links for interested donors.

Backhoe Smart Mob
Received first CAD model from a smart mob run by OSE.
Posted invitation to smart mob on the following forums:
other forums require admin review - slows things down - we need standard ose forum accounts so we can quickly submit designs to forums for review.

Accounting
Set up Saturday work session with RandyP.
I'll post an update tomorrow - I have specific goals, but I don't know what RandyP's work process is.
Thursday, Nov. 22, 2012
Thanksgiving
Wednesday, Nov. 21, 2012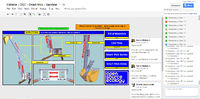 Backhoe Smart Mob
48 people were in the smart mob platform at one point - I think over 60 or more were there in total. Not many people engaged - need in-house review to figure out how to get people to comment.
Published blog post.
Asked reddit for comments: r/Engineering, r/AskEngineers, r/opensource
Sent out OSEmail 3.0

Strategic Plan
This is my main focus - trying to finish this as soon as possible.
Incorporating text from review draft into InDesign document for publication.

Scott Williams
Heard back from Scott - he's probably better doing something other than the hay cutter.
Tuesday, Nov. 20, 2012
Scott Williams
Requested his involvement with the design of the hay cutter.
He responded that he is interested, and we began a dialog about his specific skills and ability to follow through with the project.
If he is interested in committing, I'd like to recruit someone else to do the project management.

Contract
Finished review draft and submitted to Marcin.

Luis Diaz
Dialogued with Luis about working together on strategic development.
We are scheduling a phone call for later this week.

ITT Springfield
Received a CAD package for the LifeTrac IV & fabrication drawings.
She is uploading more, so I'll upload the package once its complete.
This package should include fabrication drawings for the newest version of the tractor.

OSEmail & Backhoe Smart Mob/Blog Post
Waiting for Marcin to green light everything.

Strategic Plan Graphic Design
Began importing content from the review draft written by Marcin into the template created by the graphic design team.
I'm excited to publish this document - it should be a great asset in fundraising and partnership development.
Requested that Marcus LeVere design our strategic plan cover. He works for Lucas Arts doing Hollywood CGI. I hope he says yes.
Monday, Nov. 19, 2012
Backhoe

Trencher
Asked Lenny-Wayne to CAD up the trencher as is for upcoming smart mob review.
He delivered the CAD an hour or so later - needed slight modifications - I'll upload it when I get his final version.
Created Trencher Log
Uploaded Trencher CAD from Lenny-Wayne to the log.

Strategic Plan
Created Strategic Plan Log and uploaded assets.
Asked Andrew to modify the GVCS Packages file.

Scott Williams
Sent an email to Scott asking him if he would like to design the hay cutter.

Accounting System

Backhoe Smart Mob
Wrote backhoe section of the OSEmail v3.0
Finished the backhoe blog post.
Finalized smart mob content with links to CAD, Survey, Video, etc.
Weekly Goals - Nov. 19-Nov.24, 2012
Contract
Finish review draft of contract and send to Marcin - Monday.

Trencher
Trencher blog post w/ Smart Mob & Video posting - Friday or Saturday
Lenny-Wayne did the CAD - I'll post it in the Trencher Log.

Backhoe
Publish blog post - Monday
Initiate smart mob via blog post and OSEmail.

Lenny-Wayne
Determine what machine he works on next w/ Marcin.
How can we manage this design process even more efficiently than last time?

Strategic Plan
Finalize content - language & imagery
Input content into Illustrator document

Accounting System
Set up time for RandyP to come to FeF.
Clarify work plan for him before he comes (1 day visit).
Nov. 17, 2012
Backhoe

Contract
Updated contract - will probably be ready for marcin's review on Sunday.

Strategic Plan
Received graphic designs from Carl - will upload later today
Received graphic designs from Andrew - he rocked it rocked it rocked it - made a graphical layout for the entire plan that we can pick and choose from - based his work on the wikimedia foundation strategic plan - I will upload it soon - downloading updates to Indesign so I can play around with the design. Major time saver and step forward.
Nov. 16. 2012
Contract
Updated Contract according to Marcin's requested standards.

Lenny-Wayne Patterson
Met with Marcin and Lenny-Wayne regarding the backhoe and the pubic review strategy.
Nov. 15, 2012
Accounting System
Basic accounting workflow: General Journal to General Ledger to Financial Statements
Confirmation of industry standards - policy is being written here (research notes are at the end of the document).
Met with RandyP for over an hour. The meeting was comprehensive and educational.
Since we have discretionary funds, we need to incorporate Fund Accounting - grants have limited and specific uses.
We will need manufacturing accounting systems for the production of GVCS machines for sale. Each production needs to have its own account, inventory, etc.
He confirmed the basic accounting workflow.
He volunteered to help us take our accounting system to an elite level. He volunteered to come to Factor e Farm and work on site for an 8 hour period - he has accounting software that he can donate and get us to an institutional level of financial accountability.
He suggested that we get a laptop that is only used for accounting as part of our financial controls.
Open question - he says spreadsheets are a possible use path, but once we scale he thinks we'll outgrow them. The debate arises, because proprietary software is not scalable. Is there an open source accounting package?
He said he can build financial statements from the work we've done, and then build the system for the future moving forward.
More notes are linked above.
Next step - work out a time for him to visit FeF and set this up. He has over 25 years of experience doing this - it is a major help to have his involvement.

Lenny-Wayne
Updated us saying he wants to use a single 4" cylinder on the boom instead of two 2" ones like the current design has. He said he will redraw that up in time for our meeting with Marcin on Friday morning. We should have a BOM from him as well in time to publish the blog post and to initiate the Backhoe Smart Mob in time for the publication of the Friday OSEmail.

Ewing Marion Kauffman Foundation
We spoke today about them inviting us to come show our documentation to their board in mid-to-late Q1 2013.
We have a new grant deadline of June 31, 2012 with a final grant report due June 15, 2013.

Strategic Plan Graphic Design
Tyson submitted the first draft of his project.
I asked him to improve the background and submit the source files so we can modify them if we want.

Dan McCormick
He and I met for an hour today and discussed our general fundraising strategy.
He and I also talked about working with him on a contractual basis. I asked him to tell us what specific deliverables he would give us, and he agreed to map those out for us in detail in a week or week and a half.
He said the important thing, now that we've got our organizational development happening, is to generate the sizzle that draws people to the steak. This is the storytelling. This seems obvious, but it really confirms what many other advisers have told us over the past few months.
He says that everyone who gets grants comes back and thanks the foundation for the money, but the important thing to do is come back and show them exactly what you achieved with their grant - what good did it do in the world.
He confirmed that it is still a possibility to get a grant from Nicholas Sparks.
General Offer:
Funding Strategy
Structural about Management and Organization
Practical working between non-profit and for-profit
Understands lifecycles of organizations
good idea guy about how to get in play our ideas
connections for money
Nov. 14, 2012
Accounting System
Example - subsheets extend to the right

Strategic Plan
Requested general input from the entire FeF team as part of our strategic planning process - fits industry standards to get in-house feedback before publication.
Received first draft of artwork from Carl Christensson. Refined standards and intent with him - waiting for response.
Waiting for positioning work from Parker's dad and Emily.
Requested that Colby provide input.
Received confirmation from Rober McDonald that he would edit the current draft. He began as evident in his comments.

Lenny-Wayne-
Spoke with him on the phone about our review strategy for the Backhoe.
He promised to deliver the BOM by Thursday as long as his pain doesn't get so bad he can't work.
We are meeting on Friday to finalize the strategy - once review in house is finalized we can publish the blog post - 99% finished just awaiting the BOM and final review from Marcin.
Nov. 13, 2012
Backhoe Blog Post
Created Smart Mob google drawing for the open source backhoe.
Blog post draft is underway - will be complete today.
Got the post 99% done - Lenny-Wayne is getting us a working BOM and is adding questions - this should be ready to go by Friday.

Dan McCormick
Heard back from him - we have a meeting set up for Thursday at 4:00 Central Time. He has feedback on the Guatemala Pilot and our strategy for raising money.

Ewing Marion Kauffman Foundation - Tammy Flores
Got an update from them - they want to give us our second disbursement.
I owe them a grant update by December 4th.
They want to do a site visit - we have a great opportunity to get further funding from them.

Strategic Plan - Graphic Design
Heard back from Carl Christensson - he confirmed that he will do the project I asked of him - creating cover art or an artistic depiction of the lifetrac/OSE logo.

Dalayna Williams - ITT Tech Springfield
She will send us a detailed update tonight on the progress of the LifeTrac IV model and drawings.
One of their students got a new job that pays more than he's ever gotten (he's 53) partially because of his work for OSE on the PowerCube VI drawings that he listed on his resume.
We are planning on doing a blog post once the tractor drawings and model are submitted.

Echoing Green
Looked into the application rules since the deadline is coming up - we don't qualify anymore because we are more than 2 years old and we have already received a significant amount of seed funding. Plus Marcin is only 3/4 black.
Nov. 12, 2012
Strategic Plan- Graphic Design
Received confirmation from Tyson Ludbech and Amanda Long that they would take on their assigned projects.
Requested that Andrew Currie designs a general template for graphics and text that is customizeable
Requested that Carl Christensson designs a cover or artistic rendering of the lifetrac or logo.
Dan McCormick
Requested meeting with Dan for this week.
Backhoe Blogpost
Wrote outline for backhoe blogpost and organized all backhoe cad from Lenny-Wayne since August
Nov. 11, 2012
Strategic Plan - Graphic Design
Uploaded design elements to High Resolution GVCS Media
Requested that Tyson Lundbech design the GVCS packages graphic - Example
Requested that Amanda Long designs the Global Village Construction Set Design Specifications 2-page spread.

Guatemala Log
Uploaded all CAD, Photos, Videos, and email co