Factor e Farm - Old
Introduction
The Factor e Farm (FeF) experiment aims to take everything that civilization has learned to date, to create a working blueprint for communities that work. Starting with 30 acres of raw land in rural Missouri, we are building a path to Evolve to freedom.
Marcin Jakubowski - part 1 from East Bay Pictures on Vimeo.
Name Factor e Farm is not a factory farm. But a place where we create the technology for ecology.

Those coming for Dedicated Project Visits are advised to be aware of the Factor e Farm Participation Standards and Rules of Conduct.
Infrastructure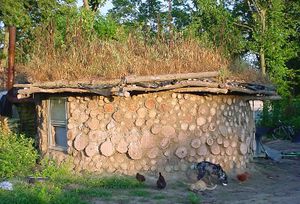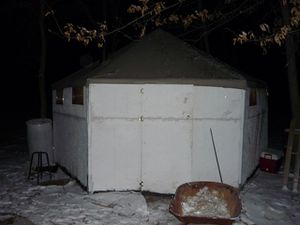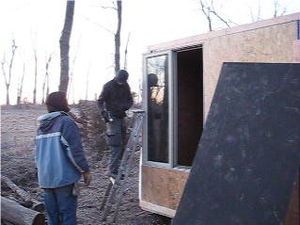 Shelter

HabLab

Kitchen
Bathroom
Bedrooms

SolarCubes
Tents
Workshops

Main Workshop
Lathe Workshop
Water

Well Pump and Rainwater catchment
1000 Gallon tank reservoir
2nd water pump brings water from the reservoir tanks to habLab kitchen and bath.
Sanitation

HabLab has a septic system (please limit/don't use antibacterial soaps!)
flush toilets and composting toilets
3 compost bins for cooking scraps
Recycling system has outdoor segregated storage for plastics, metals, and paper products, which are brought to local recycling center.
Heating/Cooling

Wood stoves
Thermal mass earth roofs.
cross-ventilation
Electricity (there are two electrical "grids" at the farm)

Solar Panels system - 1.4 kW peak

charger
battery bank
120v inverter
Gas Generator system (needed for MIG Welders)

72v Forklift Battery Bank
72v Chargers
120v and 240v Inverters (10 kilowatts)
Communications

Very low cellphone reception
Wireless Internet (DSL)
Food

400 tree fruit, nut, and berry orchard (still growing)
Grapes, tomatoes
Free-range chickens - eggs;
We buy food that we don't grow on the farm
We try to eat together
Finances
Finances and food are handled individually.
1000 True Fans campaign provides ongoing funding.
Governance
Legal
Legal structure and land tenure is discussed at Transparency
Learning
We are a learning community, and we are all expected to help each other grow in practical, mental, emotional, and spiritual techniques.
Highly value Education
Tools
Location
NOTE: It is NOT ok to visit Factor e Farm without an invitation. Please see Visit Factor e Farm.

View Factor e Farm in a larger map
OpenStreetMap View
NOTE: It is NOT ok to visit Factor e Farm without an invitation. Please see Visit Factor e Farm.
Climate
See also Temperature
What to Bring
Think "Camping with Power Tools". The HabLab has a kitchen, bathroom, common area, bedrooms and storage space. The kitchen has a full oven, a top loading refrigerator, and a sink with filtered drinking water. The bathroom has 3 dividers between 2 flush toilets and 2 stand up showers, the bathroom also has 2 sinks. The common area has couches seats and tables, there are also standard electrical outlets. The bedrooms vary in size, there are 4 couple rooms and 2 single rooms, there are about 4 desks and 6 beds too. There is parking are for about 10 cars. Of the 30 acres about 8 acres is forested. The forested area is nearby hablab and the workshop, and there is space for tents and hammocks.
The village of Maysville, Mo is a 50 minute walk, 20 minute bike-ride, or a 5 minute car-ride away. The town of Cameron, MO is 90 minute bike-ride, or 20 minute car-ride.
Workshop Safety Gear

Safety Glasses
Steel toe boots
Workshop clothing (jeans, long sleeves, steel-toed boots)
Shared gear includes: work gloves, welding gloves, welding helmets
Clothing

Pack appropriately for the season
Electronics

Camera
Laptop (low-power if possible) (screen-size is a large part of laptop power consumption)
mp3 player
cell phone (poor cellphone reception, Skype phone number strongly recommended)
Tools

large and small notebooks
pens/pencils
Multi tool
Flashlight
Food

Try to limit food that must be refrigerated.
Ask about current farm status (if anything will be ready for harvest soon, and how much.)
There is potential to produce all food on-site.
It is a 5 minute drive to
water bottle
Embed
See also
See the weblog for the latest updates.
You can view videos from Factor e Farm on our Youtube Channel.
Pictures from Factor e Farm.