File:Peg 8mm rods.stl
Warning: This file type may contain malicious code. By executing it, your system may be compromised.
Notes

Hint: Need to resolve the bug. Last upload is correct, but it uploads the former version of the file from 2 versions ago. This means that 00:06, 3 November 2019 downloads 15:51, 23 August 2018. The 22:35, 2 November 2019 version the actual correct one, and it can be downloaded. This means that there is always one dummy file on top, which can't be downloaded as it downloads the 2 versions earlier - and one must know that the correct download is the second file.
New production engineering - D3D Pro and Universal - 1.2 nozzle, 0.4 layers, 0.8 wall thickness to resolve peg walls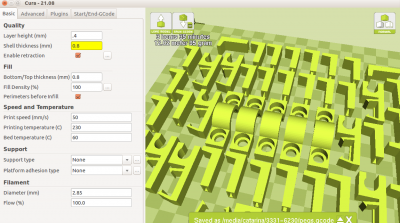 On D3D v18.12, 95% works in PLA for tight fit, and 90% works to stick peg all the way in. Recommended: maybe 92%
Peg was generated by a Boolean subtract in last version prior to 8/23/18. That is less editable, so I made the hole a straight through pocket on the small side - using the standard workflow of creating and extruding sketches on flat sides. An example of design-for-manufacturing mindset - where features are holes and straight through - as opposed to more advanced Boolean subtractions which outside of 3D printing cannot be made easily. - MJ
File history
Click on a date/time to view the file as it appeared at that time.
You cannot overwrite this file.
File usage
The following 8 pages link to this file: