College Tour 2014
See Calendar:
Note: The image is a Google Drawing with hyperlinks to the different events. To access the links, click edit below the image.
Notes
This year, we will have:
The College Tour
Extreme Production Workshops - 3 day events which involve experiential learning, 1-Day builds, real-time documentation, and open enterprise exploration in one.
Lectures - including College Tour - recruiting students for alternative breaks, summer vacations, and Dedicated Group Visits on site and remotely
Extreme Development School - at Factor e Farm - parallel design-builds involving college students, Dedicated Group Visits,.
Fab Wagon - Taking Extreme Production on the road with our mobile equipment trailer
Residency Program - inviting select open source hardware developers to Factor e Farm for immersion development experiences.
Map
Legend: vibrant purple dot is top 25 overall, purple is 25-50. Dark blue is top 25 engineering, and gets lighter down to top 100.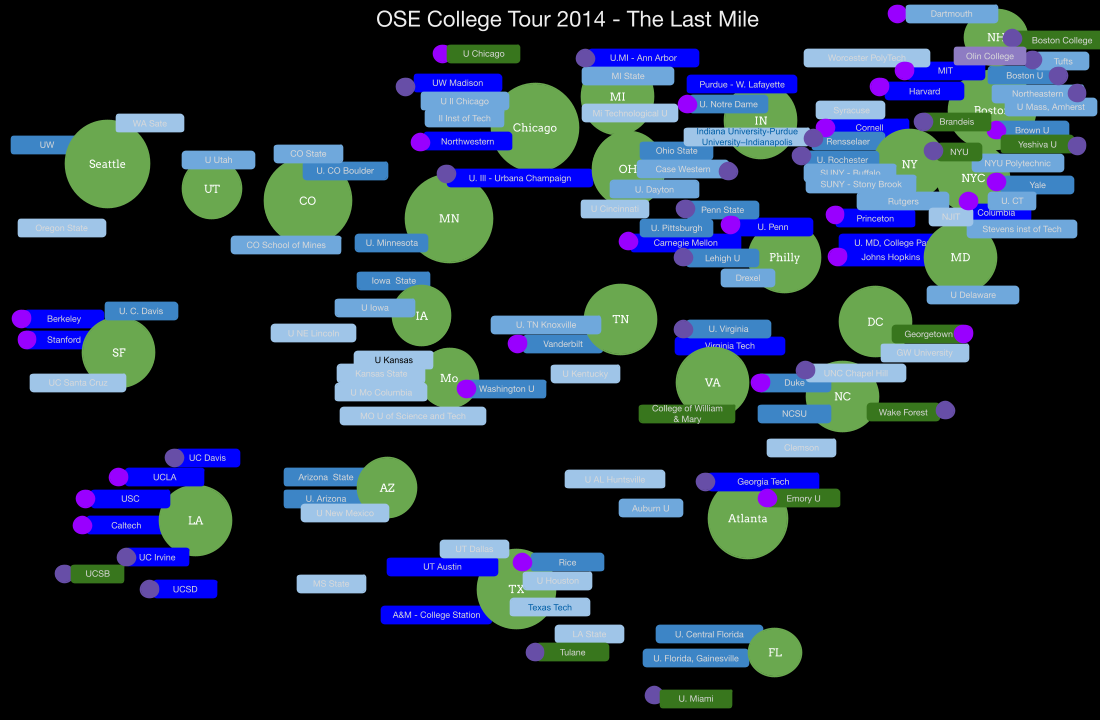 Links
Schedule for 2014 - [1]
Microhouse Potential Clients List - [2]
Machine Product Interest - [3]
Top engineering universities in the world - [4]
Top 100 Engineering Schools - USA - [5]
College Tour Dogfood Session - presented at Shuttleworth Fellows Gathering - Edinburgh 2013
Media