Electricity
Overview
Links to research on various electrical components of the GVCS.
Main
Universal Power Supply
Generation
Fuel-based Generators
Human Generators
Hydroelectric
Solar PV
Storage
Tools
Ammeter
Variable Power Source
Voltmeter
Interfaces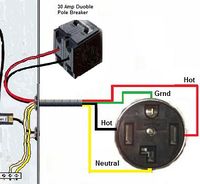 4 Prong 240V 30/50A socket to 3 Prong 240V 30/50A receptacle instructions (for miller generator conversion)

Use 3 strand (3+ground) 6 gauge wire.
For 4 prong socket:

Connect bare copper ground to round, top prong
Connect white to bottom, square prong
Connect black & red (hot) leads to side, square prongs
Connect bare copper ground to center, square prong
Connect red & black leads to other two prongs
Cut white lead at base of plug. Do not attach.
Yahoo answers source for cutting neutral
Images source
See Also