Wind Turbine
Overview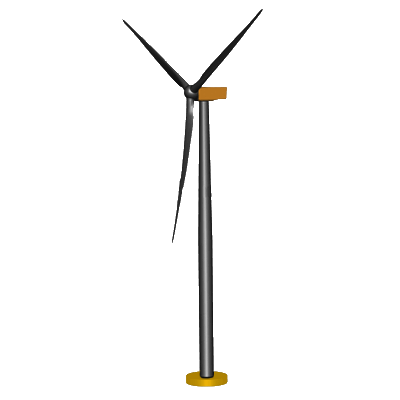 The Wind Turbine is a machine that converts mechanical kinetic energy of the wind into electrical energy. As a part of the GVCS it enables the generation of clean, renewable power.
Details
Small wind turbines are currently the main class being considered as a community-scale solution for power. These turbines may be as small as a fifty watt generator for boat, caravan, or miniature refrigeration unit. Small units often have direct drive generators, direct current output, aeroelastic blades, lifetime bearings and use a vane to point into the wind.
Product Ecology
Product Ecology
Wind Turbine
From
Uses
Creates
Enables

Components

Blades
Tail
Hub
Diode
Sensors
Mount
Wires
Tower
Bearings
Status
Open Source Ecology Europe and -Germany are working on a prototype VAWT design: Germany/Wind_Turbine. Research and development is currently concentrated at TiVA, a tiny wind turbine prototyping platform. With this very small turbine, we can easily change parts, try out new ideas and increase the quality of the design on a small scale in a fast and inexpensive way.
The wind turbine is currently in the Research phase of product development.
There are a wide number of Open Hardware turbines, that are currently under consideration for adoption/consideration as a part of the GVCS.
portable wind turbine that can fit in a tube; wind lens.
OS Projects
See also
Wikipedia
External links
Main > Energy > Wind energy
---